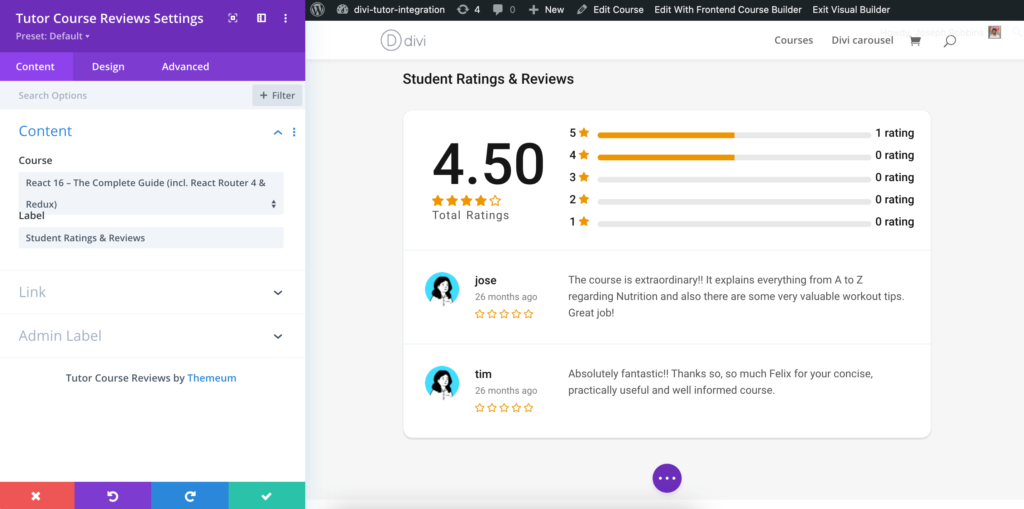 Tutor LMS provides the students of a specific course to showcase the reviews given by them for an instructor. Use this Course Reviews module to add the ratings to the course page.
Content
Content: In the Content section, you can customize the following attributes.
Content
Course – You can Select which course you want to import the content for.
Label – Set what the label describing the Course Reviews will say.
Link
Module Link URL – When clicked the module will link to this URL.
Module Link Target – You can set whether or not your module link opens in the same window.
Background
Background – Adjust the background style of this element by customizing the background color, gradient, image, video, pattern, and mask.
Admin Label
Admin Label – This will change the label of the module in the builder for easy identification.
Design
Make edits to the Course Reviews module visual design from this section. In this design section you can make changes to the following attributes.
Content
Section Title
Review Average Title
Review Average Text
Review Average Count
Review Average Star
Right Rating Bar
Review List Author
Review List Author Name
Review List Time
Review List Comment
Review List Star
Spacing