Page Shortcodes
Student Registration – [tutor_student_registration_form]
Instructor registration – [tutor_instructor_registration_form]
Dashboard – [tutor_dashboard]
You can use the shortcodes from the Gutenberg blocks option directly by clicking the buttons as shown below. You will not have to memorize the shortcodes or search the documentation every time you need to use them.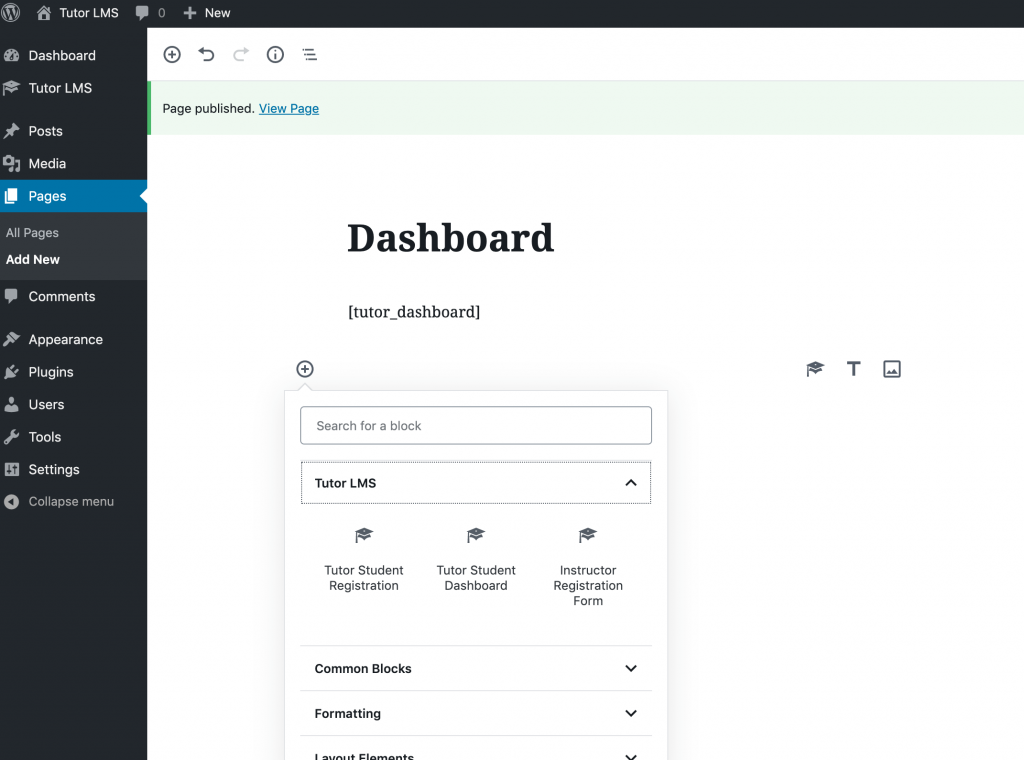 Courses
You can embed a single course or multiple courses based on course ID and category. You can also exclude certain courses and limit how many courses you want to show. We have also added a parameter to sort the order.
Here is an example with all the possible parameters-
[tutor_course id="20,64" exclude_ids="567,332" category="18,19" orderby="ID" order="desc" count="3"]
id – You can use the course ID here. To find the course ID, you have to open the edit screen of the post. You will see something like /wp-admin/post.php?post=5605&action=edit. Here 5605 is the course ID. You can use multiple course ID here. You have to separate each course ID with a comma.
exclude_ids– You can use specific course IDs from the list you are going to render.
category – you can use one or multiple course ID here. The process to get the category ID is the same as getting the post ID.
orderby – this parameter helps you define which criteria you want to use to order the courses.

ID – using this option will sort the courses based on the course ID.
Title – using this option will sort the courses based on the title. The course titles starting with A will get priority, then course title starting with B, C, D, etc.
Rand – this will randomize the order of the courses shown.
Date – this parameter will help you to display the newly published courses at the top.

order – this option has two parameters. You can use asc or desc to define the order to arrange the courses. If you are embedding one single course, you will not need this option.
count – this limits the number of results. Like you may want to show the 3 latest courses on a specific category. So, you can use this option to set the limit of results.