If you want to run a seamless migration from your LearnDash to your new LMS of choice to Tutor LMS, you can use the Tutor LMS Migration Tool plugin.
Note: Before initiating any migration process, we recommend you back up your site. It is also recommended you first run the migration on a staging site. This will make sure the final migration process won't break anything in your live site.
You might want to disable some links on the dashboard page on Tutor LMS or want to add new functionality which requires adding a new link. For this purpose.
Pre-requisite
You need to have the following plugins installed to use the Tutor LMS Migration Tool LearnDash migration.
It is advisable that you update to the latest version of LearnDash before migrating. To make the migration process seamless.
Installing The Tutor LMS Migration Tool Plugin
Navigate to WP-Admin > Plugins > Add New and search for "Tutor LMS Migration Tool". Click on Install and Activate.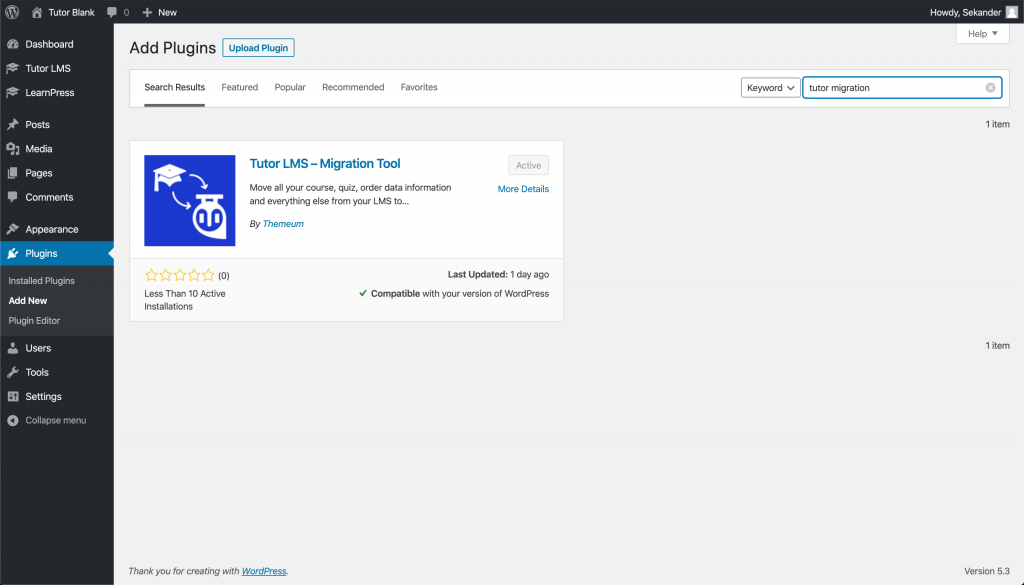 LearnDash Migration
After installing the Tutor LMS Migration tool you will find all its available features in the Tools section of Tutor LMS plugin. Go to
TutorLMS > Tools > LearnDash Migration
From there you will find all the migration process options. You will see real-time data migration status when you click on the Migrate Now button.
Courses: Course information being transferred from LearnDash to Tutor LMS. Then information includes lessons, quizzes, questions, course enrolments and more.
Sales Data: Sales data is being transferred from LearnDash to Tutor LMS. The course order data will also be imported for all the courses both paid and free.
You will find the button for starting the migration process right after this section. Click on the "Migrate Now" button to start the migration process.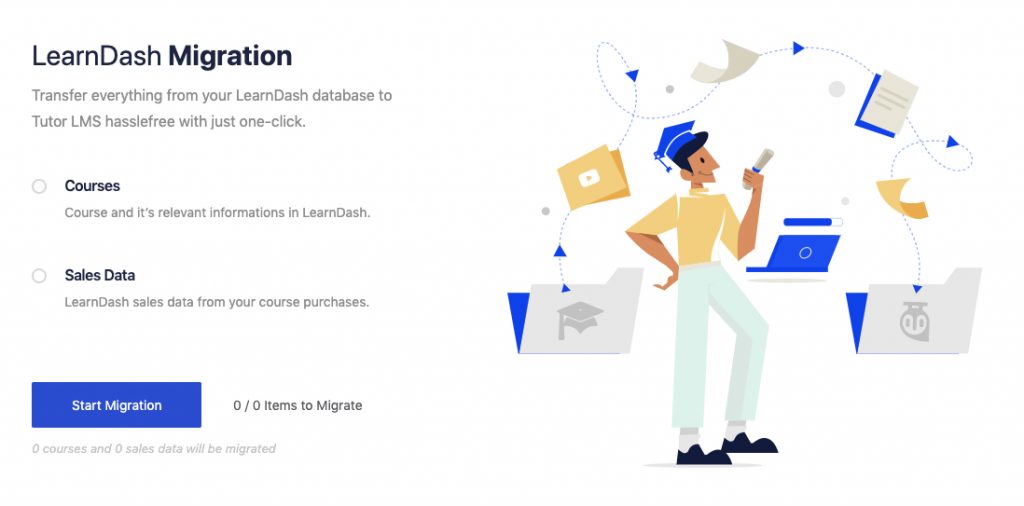 Alternative Method For Migration
If you are facing any problem or are more comfortable in exporting and importing your database XML file than there is also a manual export/import option.

There are two options you can choose from this section. You can
Import: Import an XML file from your local folder and import all the information associated with your previous LearnDash plugin. It will be stored in your preferred location on your local environment.
Export: Export the existing LearnDash database files as an XML file so that you can use the file later on.