The Tutor LMS Certificate add-on allows students to download a Certificate once they have successfully completed a Course. These Certificates can either be one of the pre-built Certificate Templates available or one that you built from scratch using the Certificate Builder.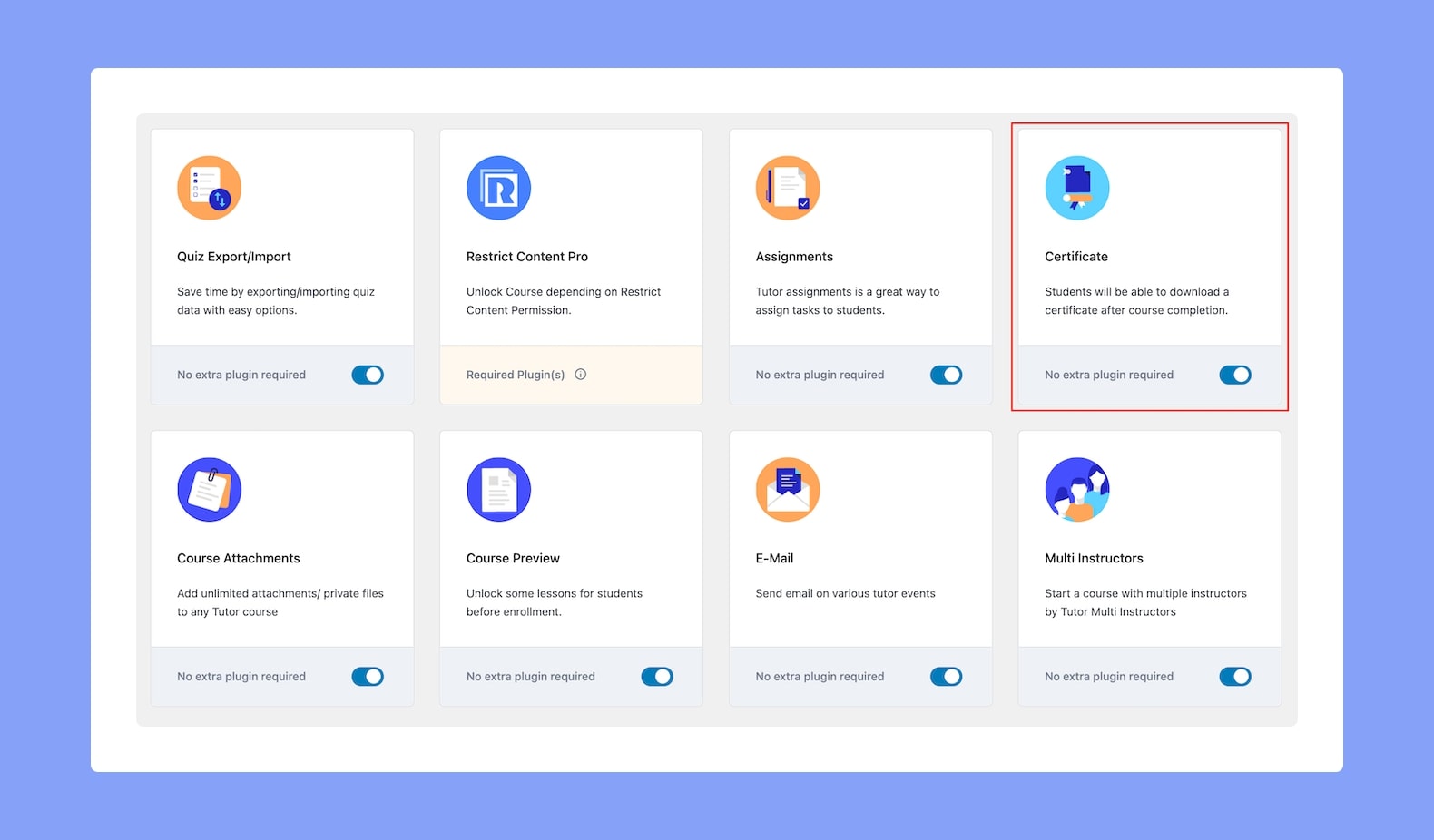 To activate this feature, head over to WP Admin Tutor LMS Pro > Add-ons and enable Certificates.
Configuring Certificate Settings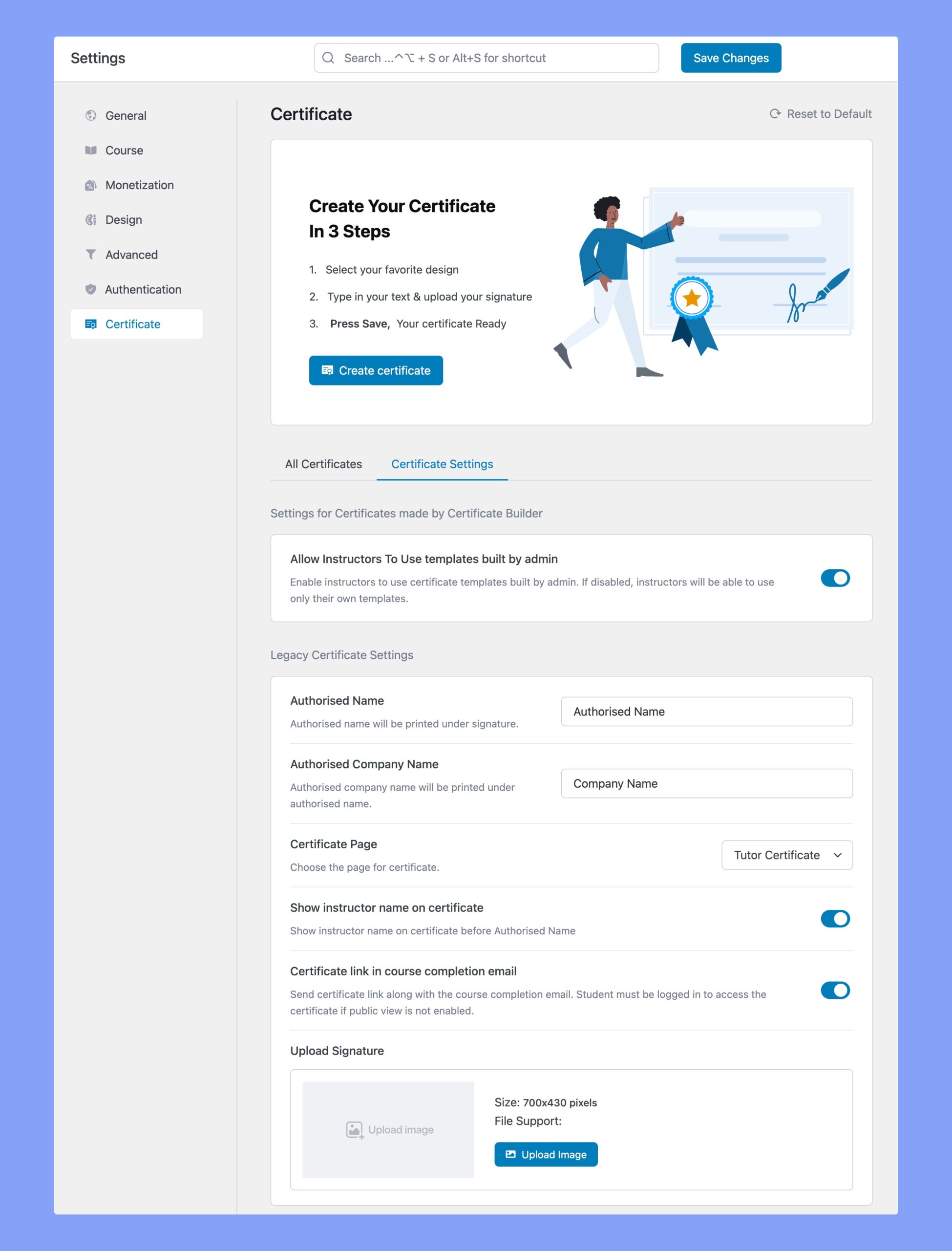 Next, go to Tutor LMS Pro > Settings > Certificate to configure your certificate settings. There are two ways of using certificates in Tutor LMS.
One way is to use Certificate Templates for your courses. Tutor LMS offers a beautiful selection of pre-built templates for you to choose from.
Another way is to install the Custom Certificate Builder extension plugin that comes with the pro version of Tutor LMS. You can use that to build custom certificates from scratch.
Create Certificate
Now if you have the Certificate Builder extension installed and activated, you'll first be greeted with the Create Certificate section under Certificate Settings.
If you don't see this, it means you haven't installed or activated the Certificate Builder extension plugin. You can learn how to do this from this documentation.
Then, go to Tutor LMS Pro > Settings > Certificate. Here, clicking on the Create Certificate button will take you to the drag & drop Certificate Builder using which you can create custom certificates to award your students on course completion.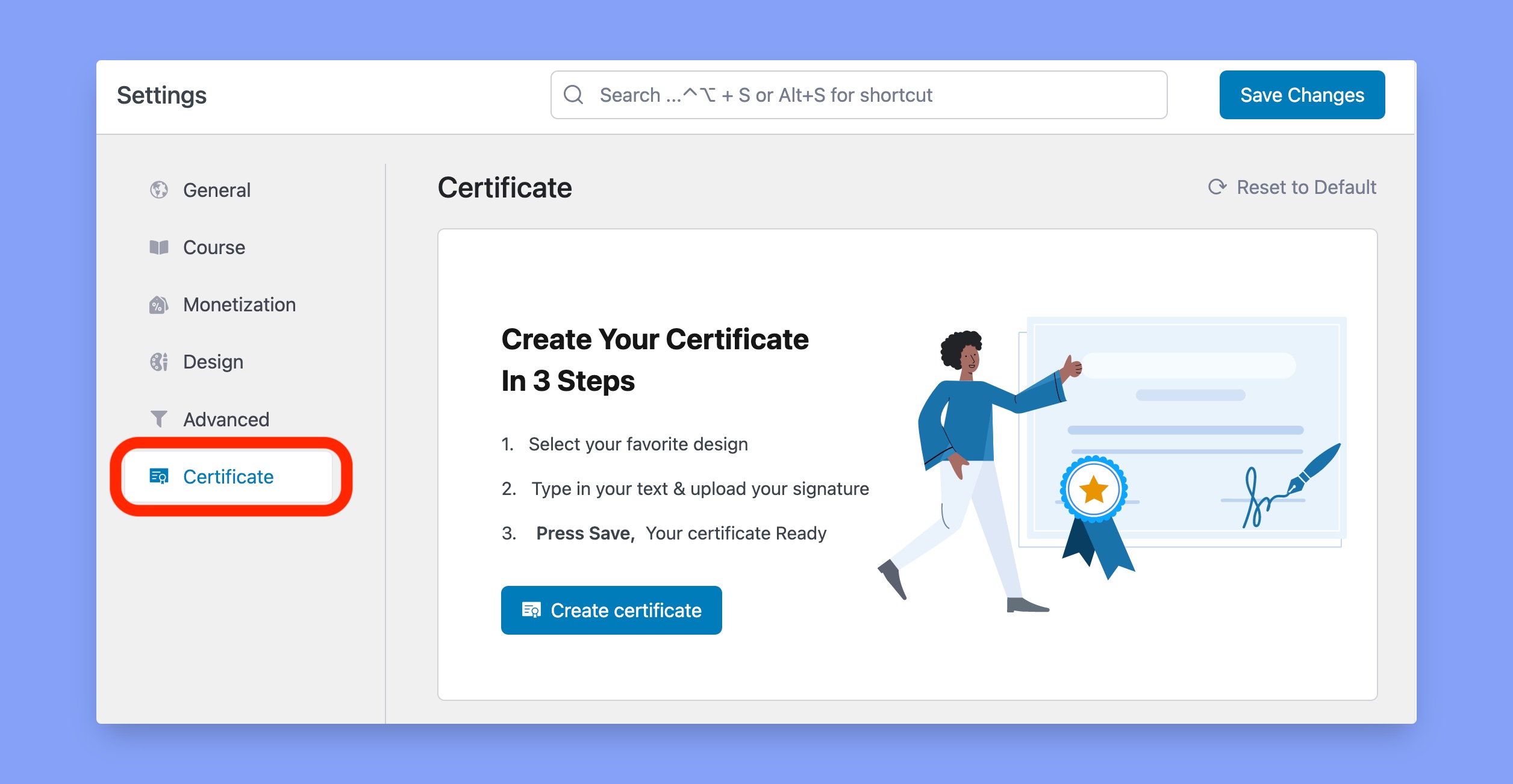 You can create a Certificate in 3 easy steps:
Select your favorite design
Type in your text & upload your signature
Finally, press Save and your Certificate will be ready!
For more detailed information, please visit Certificate Builder's documentation.
All Certificates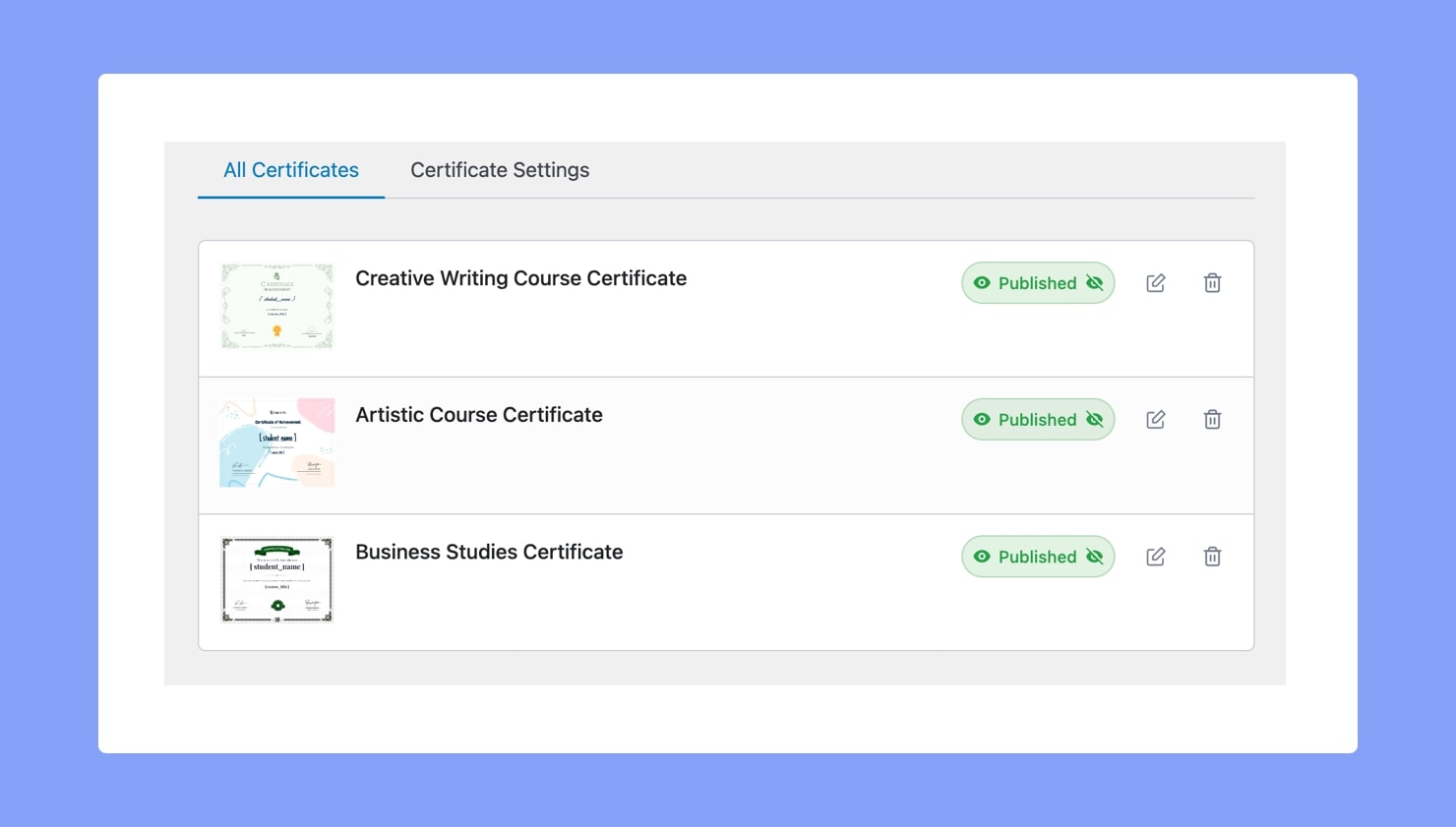 Next, you'll see two tabs. The first one is All Certificates and again this is only visible for those who have installed and activated the Certificate Builder extension.
Under this tab, you'll find all of the certificates you have designed. On each item's right, you'll find the following options:
Change Certificate Status: You can click on the Published status label and select the Draft status option to make to switch to that state and vice versa.
Edit: Click on the edit icon to go back to the Certificate Builder and edit the chosen certificate.
Delete: Click on the trash icon to delete the chosen certificate.
Certificate Settings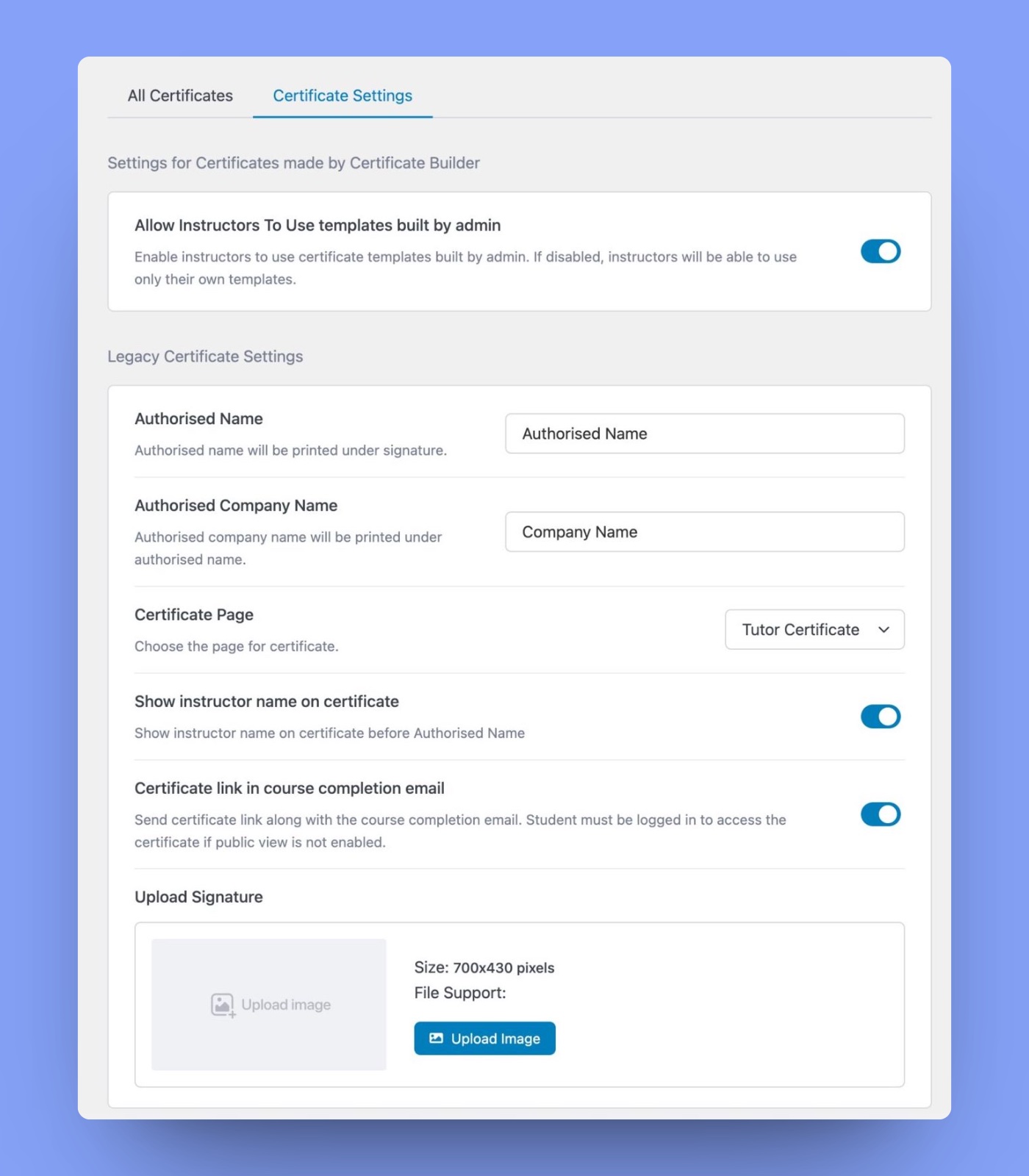 The other tab is Certificate Settings. wThis is actually where all the settings are and you'll find configuration options for both the Certificate Builder specifically as well as Certificates in general.
Certificate Builder Settings:
Allow Instructors To Use Templates Built by the Admins: Enable instructors to use the certificate templates built by the admins. If disabled, instructors will be able to use only their own templates.
Legacy Certificate Settings:
This is where you can define all the information your Certificates will display when awarded to Students.
Authorized Name: Enter the name of the person who is authorized to give the certificate.
Authorized Company Name: Enter the organization's name.
Show Instructor Name on Certificate: Enable this to display the Instructor's name on the certificate.
Certificate Link in Course Completion Email: Enable this to send the certificate link along with the course completion email.
Upload Signature: Upload an image containing the signature of the authorized person, which will be printed on the certificate.
Once your Certificate Settings have been configured, you can assign a Certificate to a Course. Keep on reading to learn how to do this.
Assigning a Certificate Template to a Course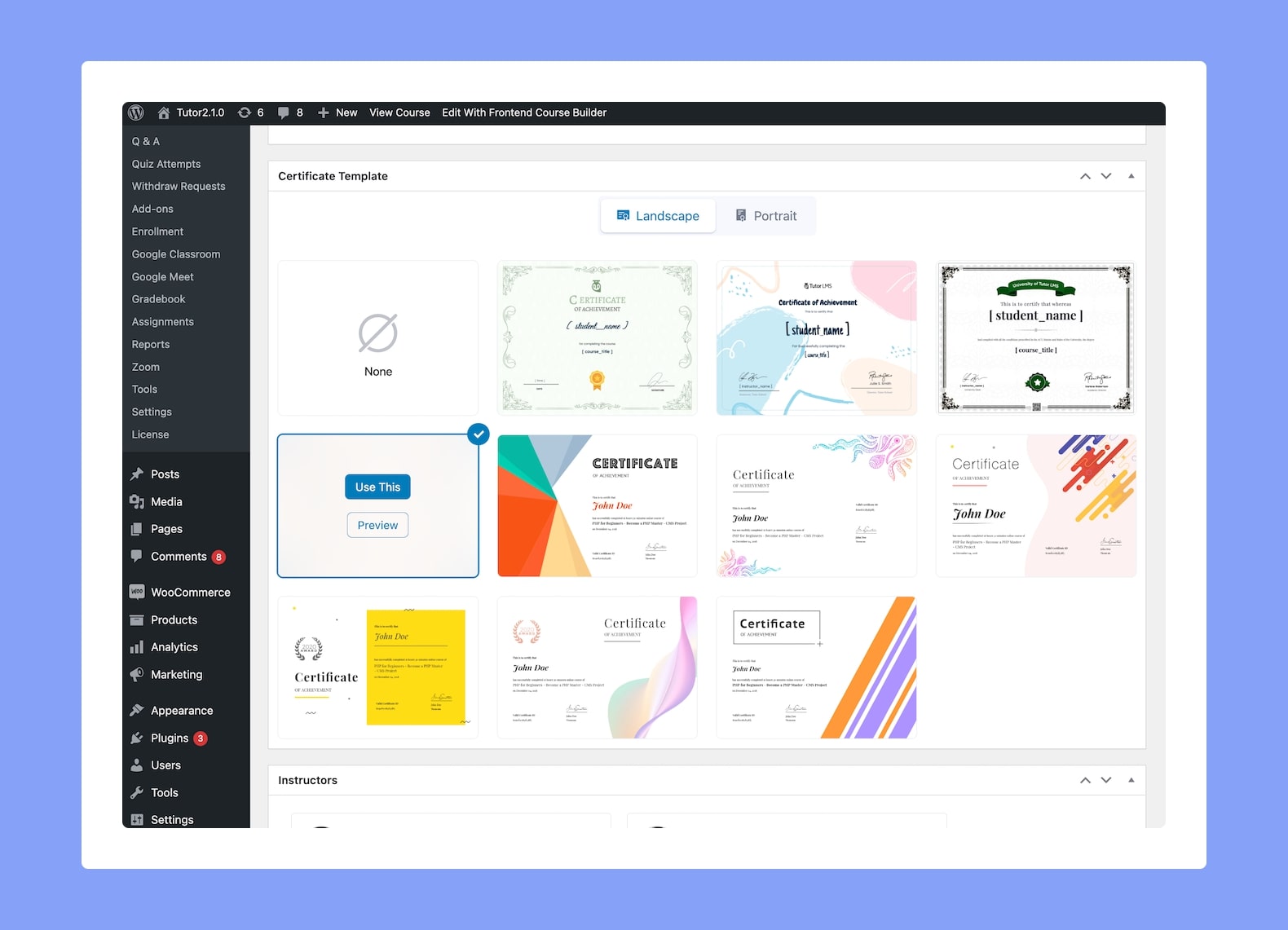 Once the add-on is enabled and configured, visit any course of your choice in edit mode and scroll down to the Certificate Template section. Here, you'll find all of the pre-built templates available as well as any custom Certificates created by you or the admin.
When you hover over the template thumbnails, you'll see a button called Preview which you can click on to see what they look like in full. The preview will open in a new tab.
Now, to assign a Certificate template simply click on the thumbnail. Or, you can also click on the Use This button that appears when you hover over the thumbnail to do this.
Finally, click on the Update button in the Course Editor to save this change.
Viewing and Downloading the Certificate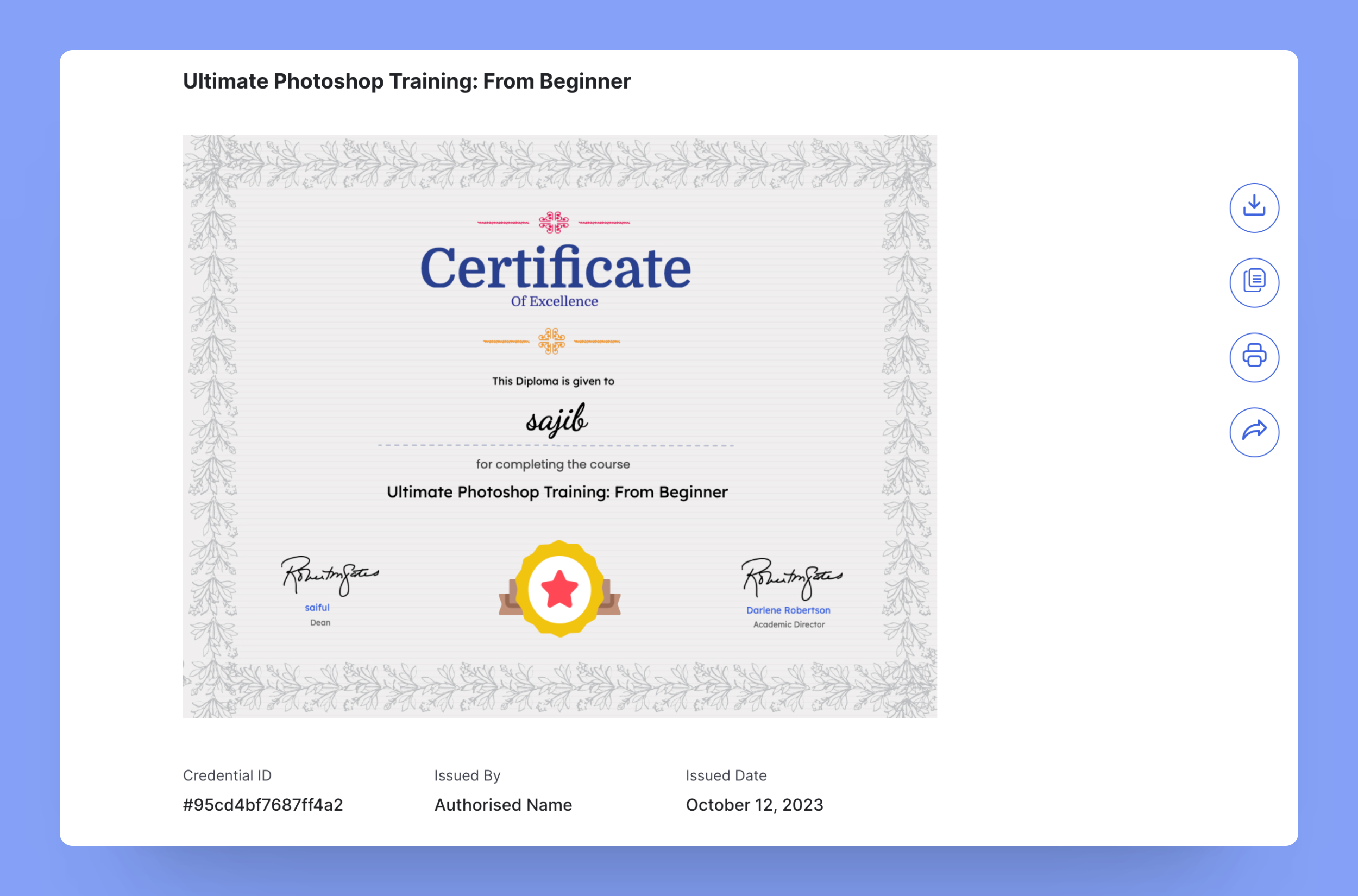 When the students complete all of the course content, they'll see a View Certificate button appear on the Course Overview Page. Clicking on this will take you to a new window where you'll be able to view your Certificate, its credential id, the person it was issued by, and the date it was issued on.
To download the Certificate, click on the Download icon that's on the right of the screen. You'll see a speech bubble prompting you to choose which file format you want to download. Options include PDF or JPG. Select your preferred file type and the file should get downloaded.
Right below this, you'll also find a button to Copy the Credential URL. By copying the credential URL, you can share the digital link of your Certificate with people, even those who are not registered on this eLearning site.
Followed by this is the Print Now button and clicking on it will open the Certificate on a new tab along with the browser's printing interface. Here, simply set your preferred printing configurations and click on Print to produce a hard copy of your Certificate.
Disable Certificate For a Course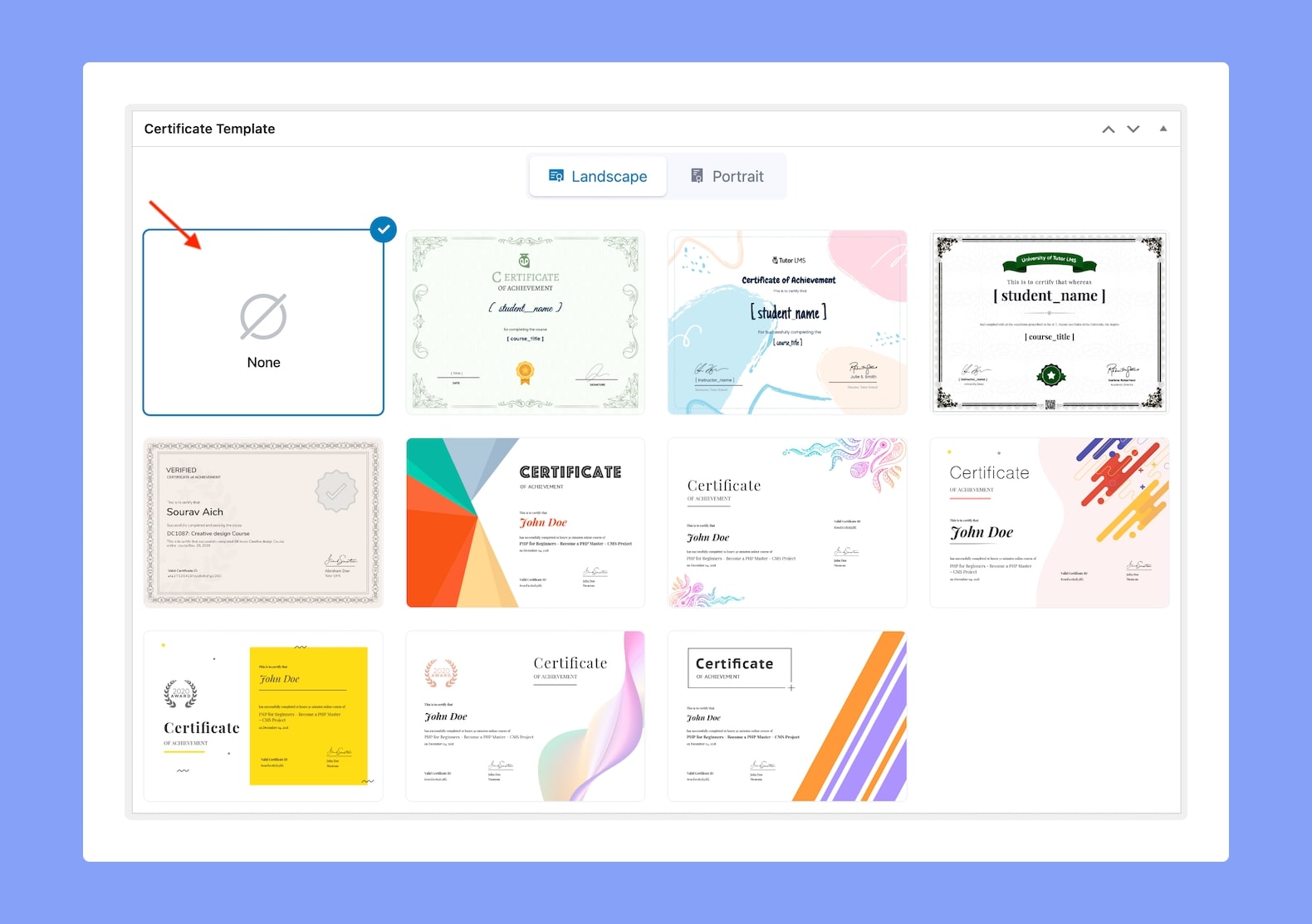 You can also choose to disable Certificates for specific courses by visiting one in edit mode. Then, all you have to do is head to the Certificate Template section and simply select the None option. Finish off by clicking on Update and it's done!