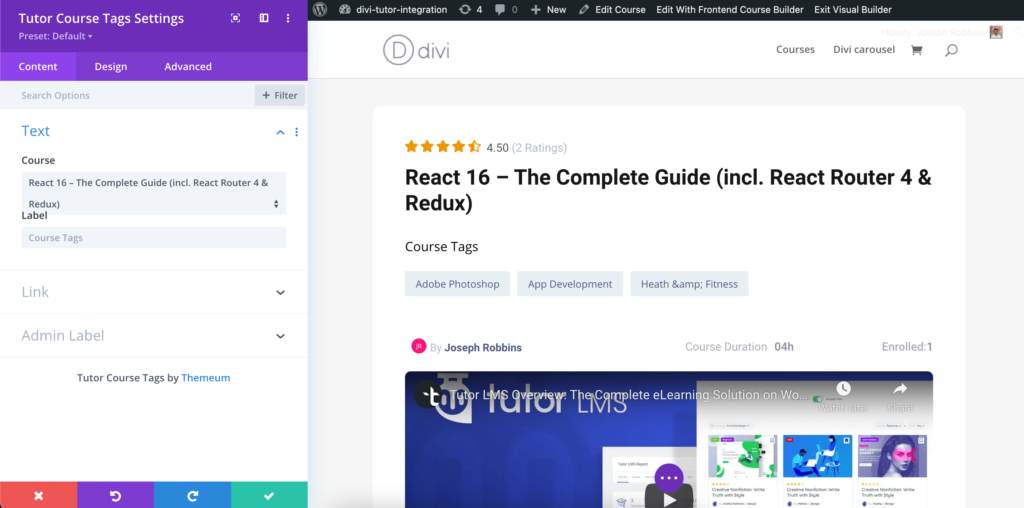 Course Tags modules let you show the Tags found on the Tutor LMS course editor page on the frontend while building your site using Divi modules.
Content
Content: In the Content section, you can customize the following attributes.
Text
Course – You can Select which course you want to import the content for.
Label – Set what the label describing the Course Tags will say.
Link
Module Link URL – When clicked the module will link to this URL.
Module Link Target – You can set whether or not your module link opens in the same window.
Admin Label
Admin Label – This will change the label of the module in the builder for easy identification.
Design
Make edits to the Course Tags module visual design from this section. In this design section, you can make changes to the following attributes.
Section Title
Font
Font Weight
Font Style
Text Color
Text Size
Letter Spacing
Line Height
Text Shadow
Tags
Background Color
Font
Font Weight
Font Style
Text Color
Text Size
Letter Spacing
Line Height
Text Shadow
Rounded Corners
Border Style
Border Width
Border Color
Border Style
Spacing
Box Shadow