The Course Bundle feature in Tutor LMS Pro allows you to group multiple courses together and sell them as a package. Instead of purchasing individual courses separately, learners can access a set of related courses that are bundled together at a discounted price.
Note: To use this feature, you need to set up your monetization method as WooCommerce. To do that, go to Tutor LMS dashboard > Settings > Monetization > Select eCommerce Engine and set it as WooCommerce.
Here's a step-by-step guide on how to create course bundles in Tutor LMS:
Enable the Course Bundle Addon
You need to enable the Course Bundle addon to create course bundles in Tutor LMS.
Access the Tutor LMS backend dashboard and go to Add-ons and enable the Course Bundle addon.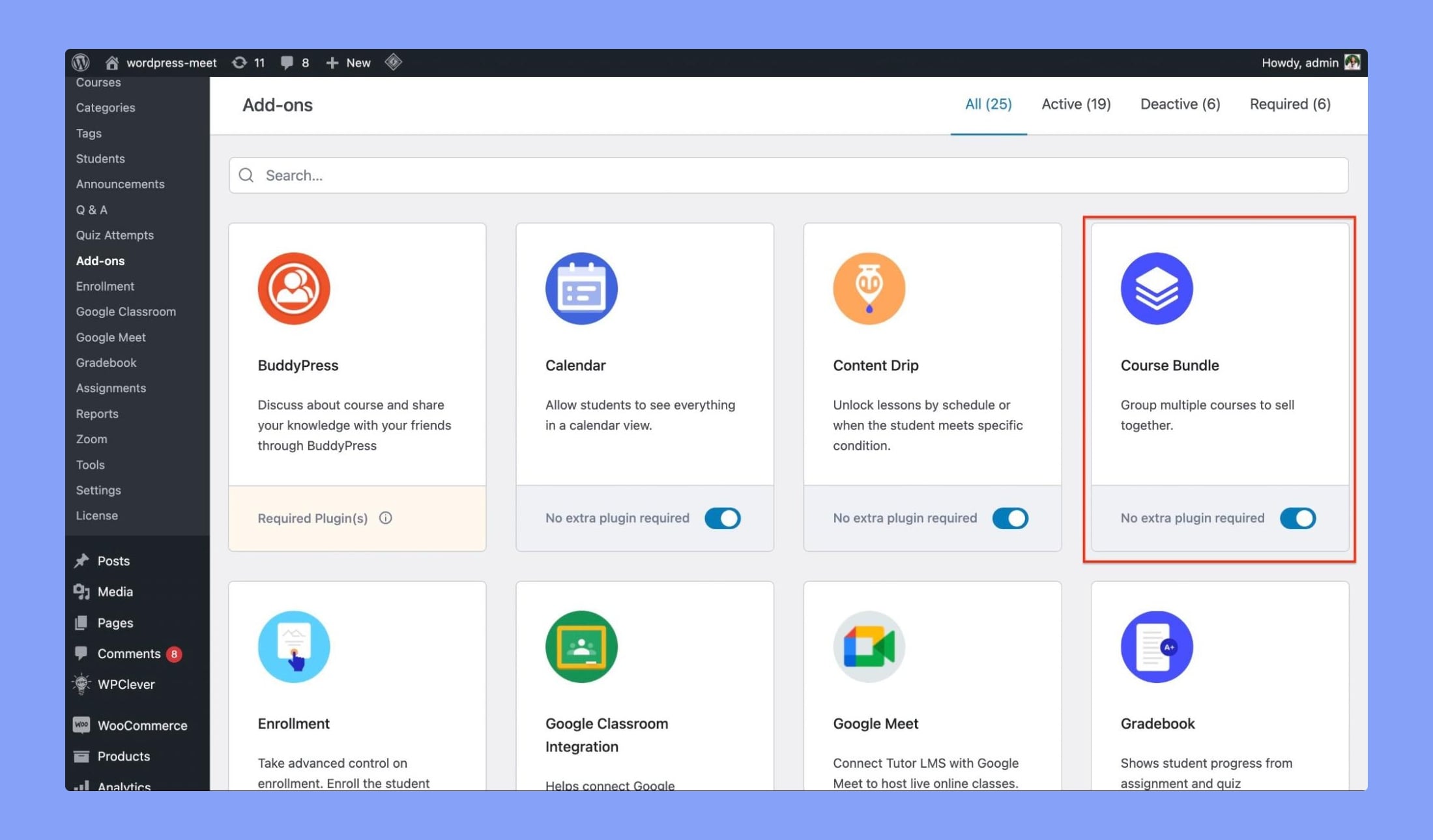 Refresh the page and you will see the Course Bundle menu right under the Courses.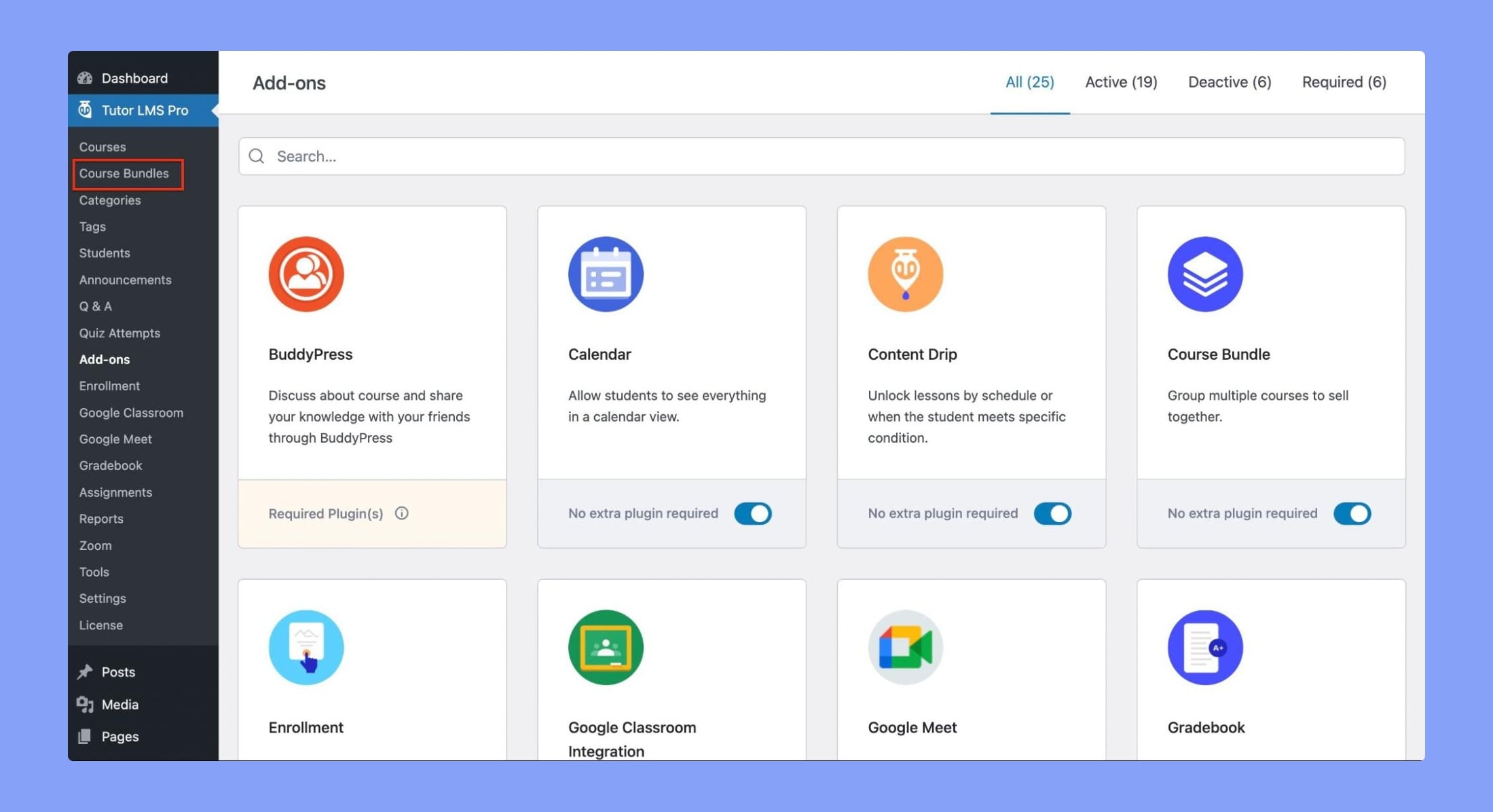 Creating Course Bundle From The Backend
Click on Course Bundles and select Add New.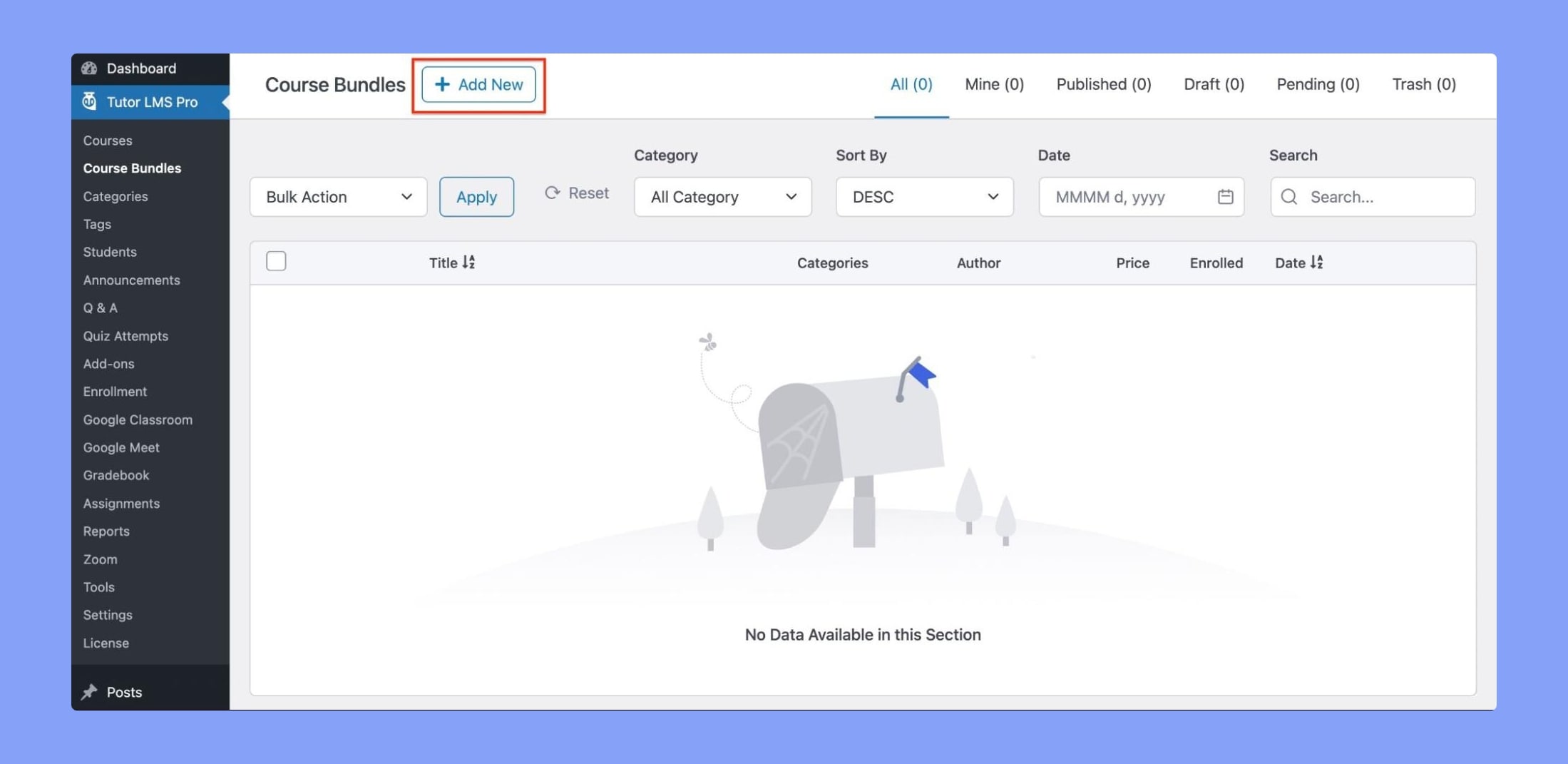 Course Bundle Title: Set a title for the course bundle, ensuring it accurately describes the bundle's content and is catchy.
Course Bundle Description: Provide a course description that gives an overview of what the bundle offers to students.

In the Bundle Courses section, select the courses you want to include in the bundle from the Select Courses dropdown menu.
When listing the courses, remember to create a bundle that makes sense by grouping related courses together. This will improve the student's learning experience and increase the chances of them purchasing the bundle.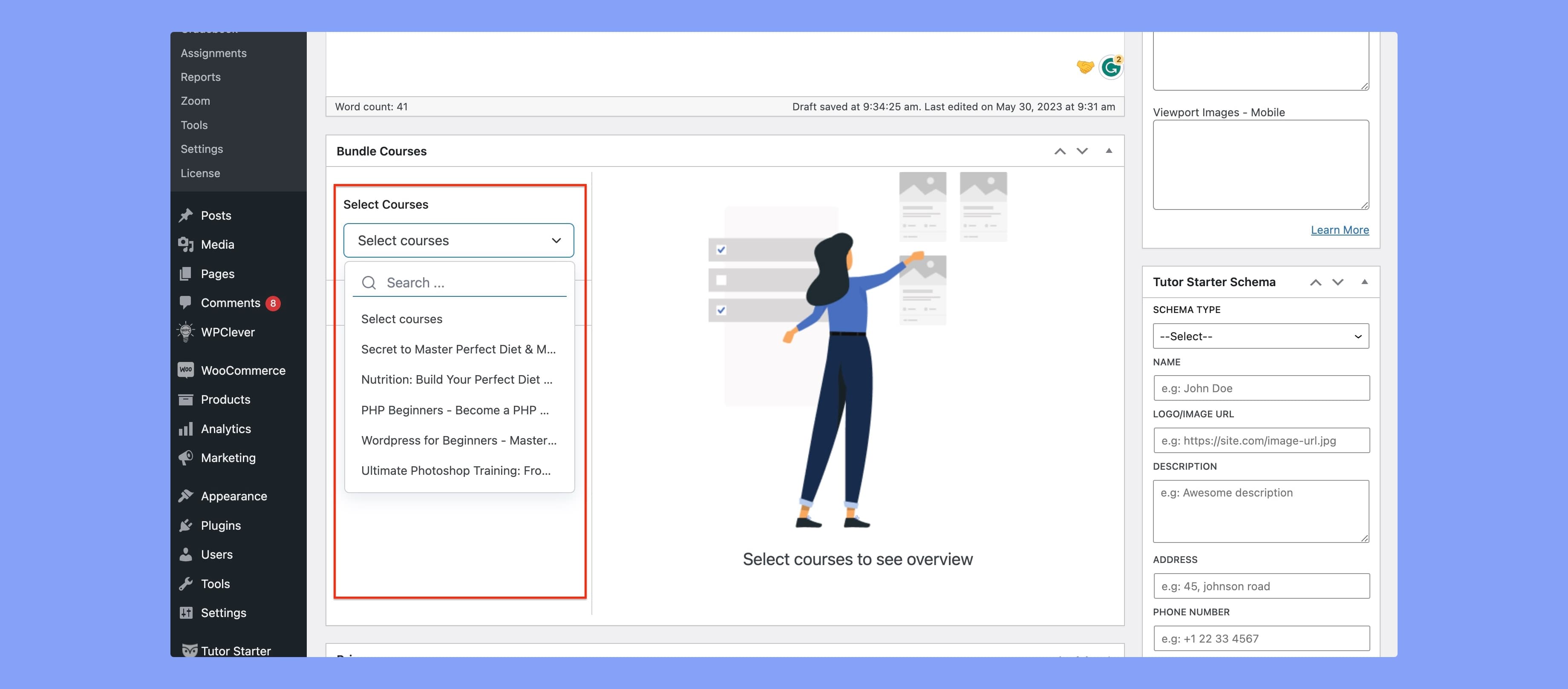 Note: Prerequisites and Enrollment Expiration are not applicable for course bundles
The Subtotal Regular Price of the bundle will be automatically calculated based on the added courses.
Set the bundle sale price and choose how you want to display the discount from the "Select Ribbon to Display" options:
Show Discount % Off: Display the discount as a percentage.
Show Discounted Amount ($): Display the discounted amount in dollars.
Show None: Do not display a discount ribbon.
Hit Publish to save and publish the newly created course bundle.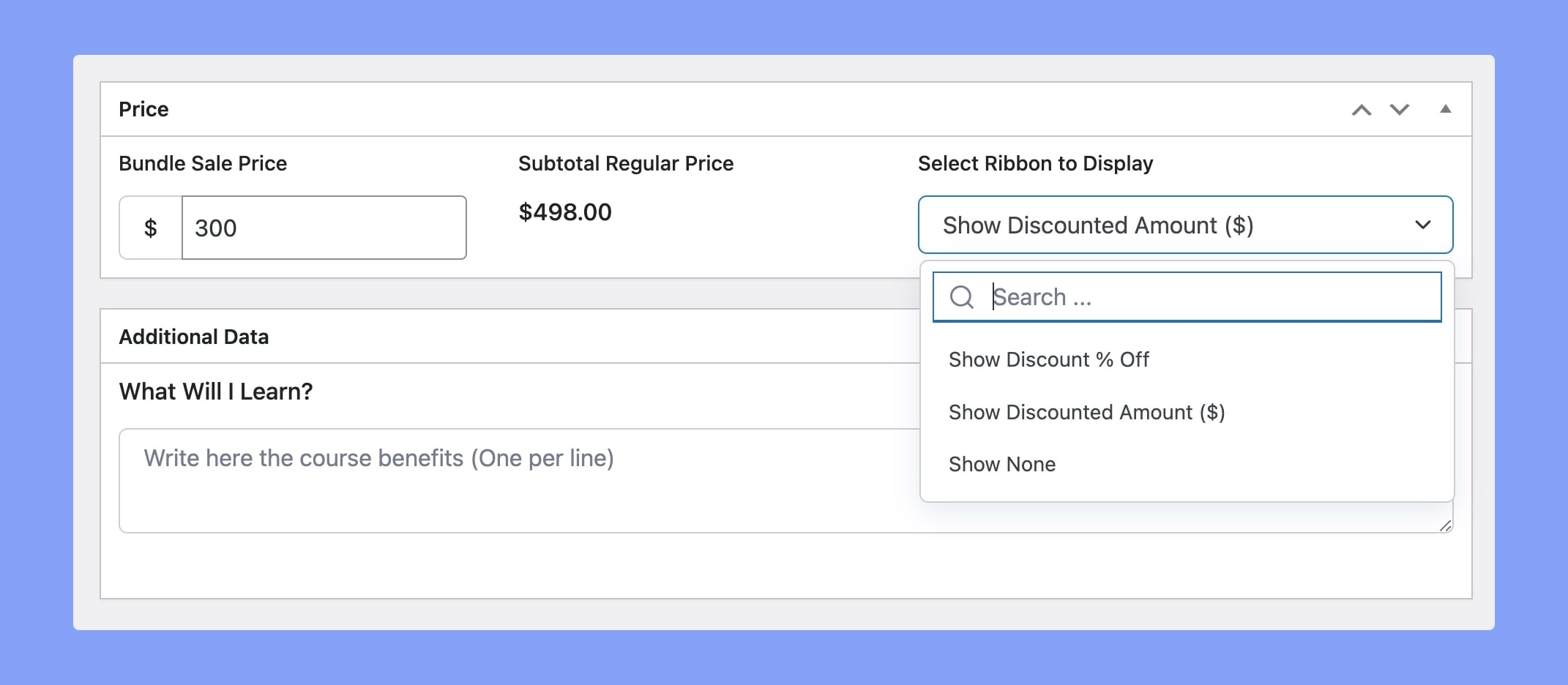 Note: If there are already student(s) enrolled in a course bundle, you cannot add or remove course(s) from a bundle.
Course Bundle Single Page
This is what the newly created course bundle looks like to prospective learners.