The membership feature in Tutor LMS is handled through the Paid Memberships Pro plugin. It is the most downloaded and installed plugin for membership feature as of August 2019. You can download the plugin directly from your WordPress dashboard.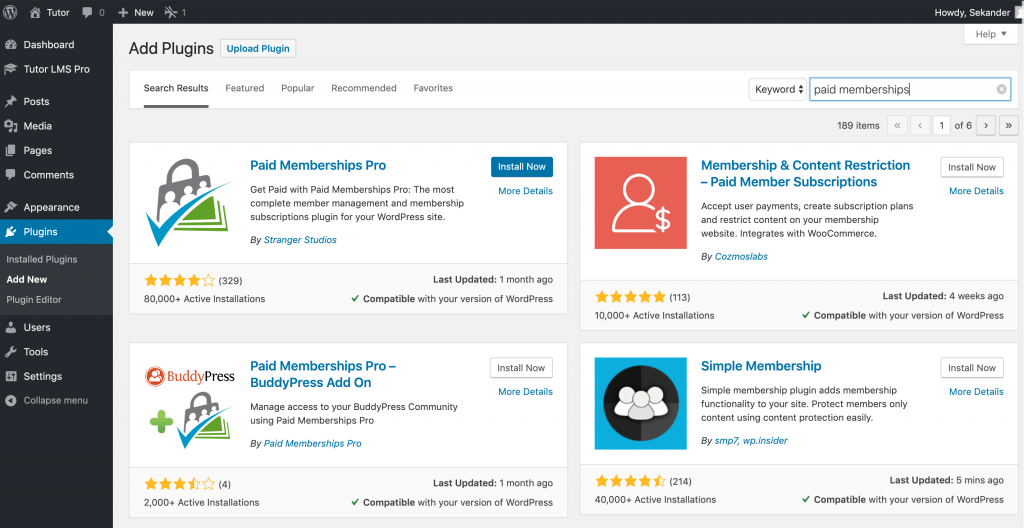 Earning and Commission features will stop working!
Memberships allow people access to a certain course, course category or the entire LMS portal. So, it is not possible to track earnings for courses or instructors. You need to have a separate agreement with the instructors about sales commissions.
Only the admin will have access to sales data from Paid Memberships Pro Dashboard. There will be no sales data inside Tutor LMS.
Requirements to use the membership feature
Installed and activated Tutor free version plugin
Installed and activated Tutor Pro plugin
Installed and activated Paid Memberships Pro plugin
Activated the Paid Memberships Pro add-on from Tutor > Add-ons.
Enable Paid Membership Pro from Tutor > Settings > Monetization.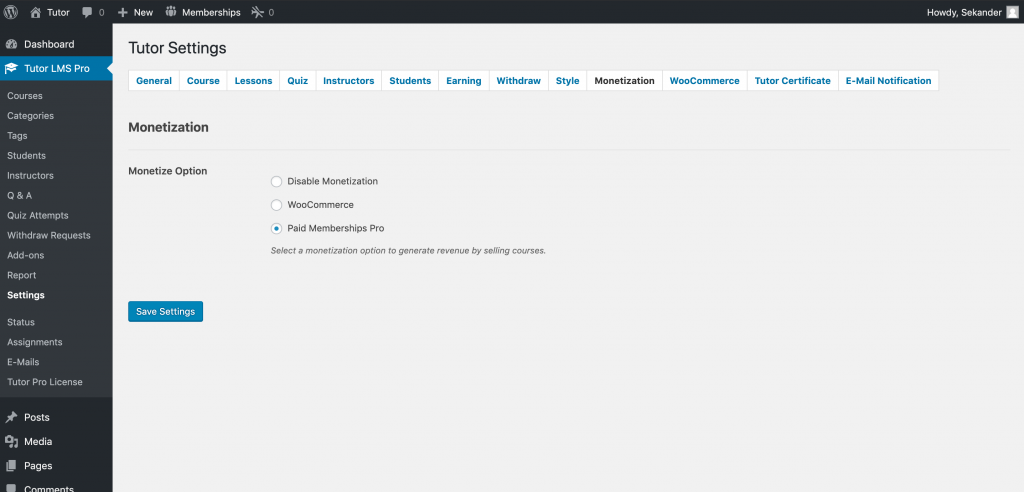 Now you need to read the documentation of Paid Memberships Pro to understand how things work inside the plugin and how to configure and use the plugin. This plugin also has built-in payment gateways. So, you do not need any other extra plugin to handle payments.
You can start reading the documentation from here- https://www.paidmembershipspro.com/documentation/initial-plugin-setup/step-1-add-new-membership-level/
Creating Membership Plans
On the membership creation screen, you will see an option to select a membership model.
Full Website Membership: If you want the students to buy one membership plan to get access to the entire website and all the courses, then this option is for you.

For example, you want to charge a monthly or yearly fee to access all the contents of the website, then you can select this option.
Category-wise Membership: If you want to charge different types of fees for different categories of courses, then this option is for you.
Add Recommend badge: Enable a recommend badge in the Selection process for this specific membership that you are customizing, for when the student is about to choose in the frontend.

For example, you want to charge a weekly fee for the business courses, but you want to charge yearly for content courses. Or the content courses cost 10 USD per month and the software courses cost 25 USD per month. For these types of cases, the category-wise membership is perfect.

Note: The category-wise option works for the selected category only. If you have selected a parent category, then it will work on the parent category only, not the children. If you want to apply the membership level to the children, then you have to select those as well. In plain words, if you select a category, it will work regardless of parent or child. If a category is not selected, it will not work.
FAQ
Students not enrolled automatically
Membership plugins allow access to content. It does not enroll users automatically. Because you might create membership plan for an entire site or a category. Enrolling a user to 10 courses at once would be illogical. The user has to purchase the membership and enroll to the course he/she likes to start with first.