Show the course list of your Tutor LMS site with the Course List Elementor widget for Tutor LMS. After adding it you will see the following options.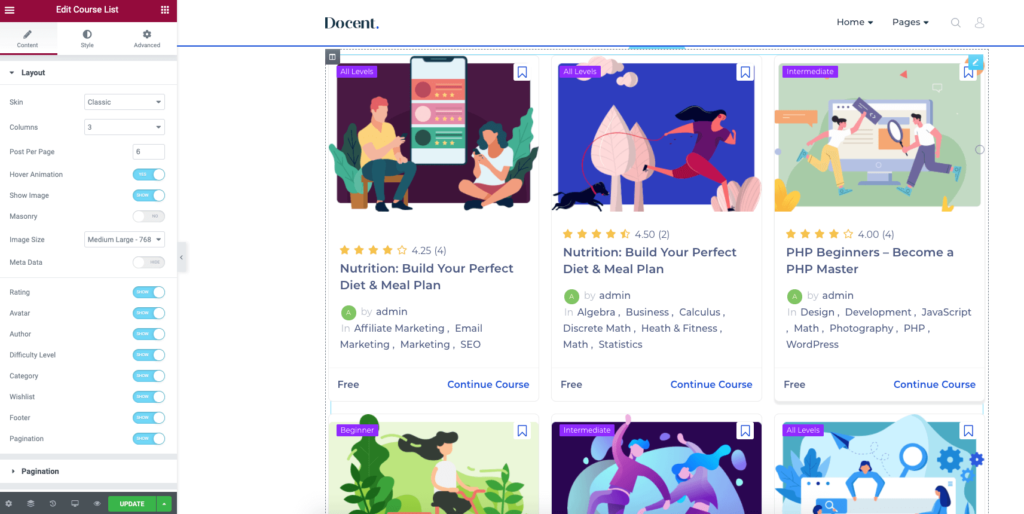 Content
Layout: Select a layout for all the category tags on your course. You will all the customization options for each section of the layout after you collapse the settings menu.
Query: Define the query settings for the course list. There are two settings you can configure. What options you can include for the query of the course list and what options you want to exclude. You will find the following options for both include and exclude options.

Categories: Select the categories you want to include or exclude from the course list.
Authors: Select the authors from the author list from the drop-down menu depending on the exclude or include section.
Order By: You can order the course list by the order date or by their title.
Order: Choose if you want to set the course list courses by descending or by ascending order.

Pagination: Enable/disable the pagination section of the content section along with customization options.
Enroll Button: Define how you want the enroll button to look like from the configuration settings here.
Style
Define the style you want to show for the course carousel. You will find configuration options for all the following sections of the course carousel.
Layout
Card
Image
Content
Rating
Pagination
Footer