Follow These Steps in Order to Install a New WP Theme
Step 1: Login to your site as an admin user. Then go to Dashboard > Appearance.
Step 2: Open the Themes menu.
Step 3: Then click on Add New button.

Step 4: Click the Upload Theme link on the next page.

Step 5: Then click on the Choose file button and select StarterPro.zip file from your computer directory.
Step 6: Now click on the Install Now button and wait for the installation complete. After successful installation of theme click on Activate button and enjoy the theme features. After activating, this theme will be used for the whole site instead of the default WordPress theme.
StarterPro Essential Plugins and Installation
For using all features you have to install and activate all required plugins. All essential plugins are included in the StarterPro theme.
King Composer

King Composer Pro

Themeum Project

Contact Form 7

Themeum Demo Importer

MailChimp for WordPress Lite

Widget Settings Importer/Exporter
Install above essential plugins in 2 easy steps.
Step 1: Go to Dashboard. You will see a notification at the top of the page asking to install the recommended plugins. Install these recommended plugins from there.
Step 2: Then click on Activate link under each plugin title and enjoy these plugins.
Plugins
Themeum Project:

Themeum Project is an essential and required plugin. It has all the core features of the theme, like the post type, all custom shortcodes, widgets etc.

KingComposer:

KingComposer is used for making page layouts. We've developed 10+ dedicated custom shortcodes exclusively for StarterPro.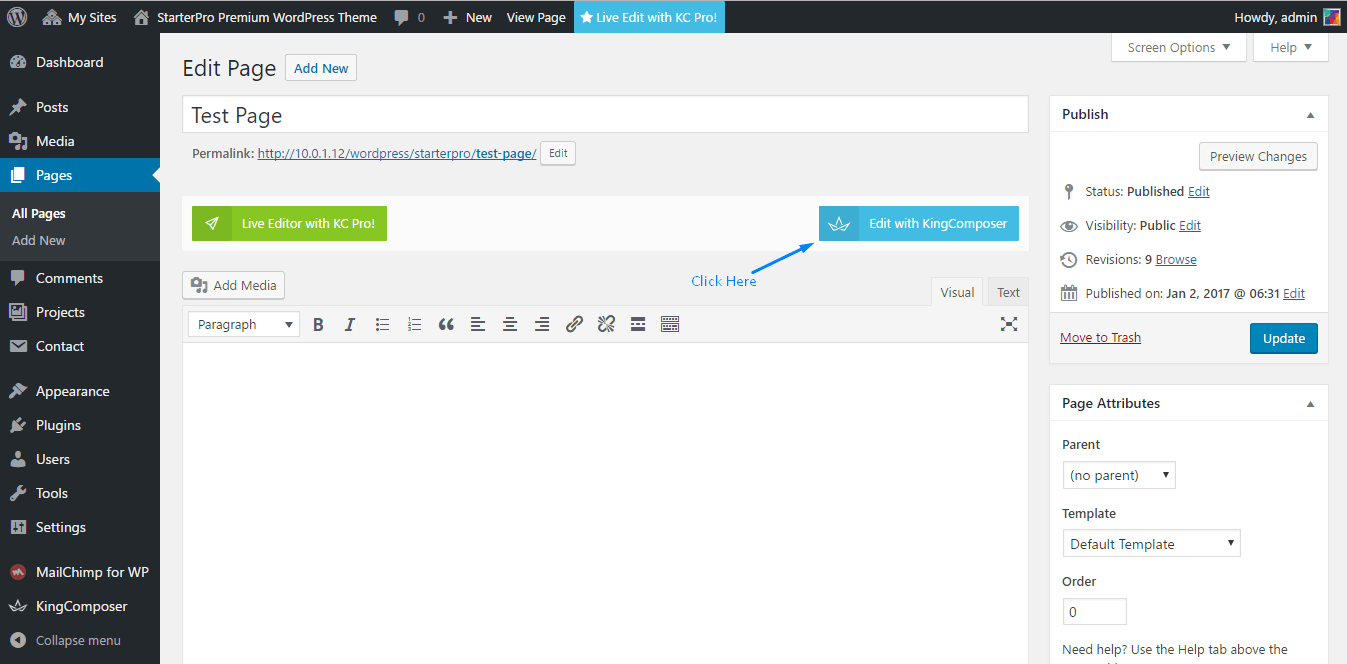 To access our shortcodes go to Dashboard > Edit Page > Edit With KingComposer.
Then click the Element button to open the elements/shortcodes list.

Finally add your desired elements and shortcodes.

MailChimp for WordPress Lite:

You can use this plugin for collecting email addresses and this plugin is not mandatory.

Widget Settings Importer/Exporter:

Import and Export widget settings. This plugin is not mandatory.

Contact Form 7:

You can use this for Contact form and this plugin is not mandatory.

Themeum Demo Importer:

Our require plugin you can use for one click demo importer. It is easy to use for demo importer as like our demo.
Demo Import
Import Sample Data: If you want to experiment with the demo data on your website then you need to import the sample data. From menu, choose Tools > Import > WordPress. Click WordPress, then you will see the "Import WordPress" option which allows you to upload .xml file from / Demo Content folder. If this tool is not installed on your site, you have to install "WordPress Importer" plugin manually.
One Click Demo Import
One Click demo Import Sample Data: When you install our required plugin "Themeum Demo Importer" then you can see dashboard->One click demo Install option and then click here. The following page will arrive.
Menu Settings
It's an important part of StarterPro theme Installation process. Select your menu for Primary Menu Location. Go to Dashboard > Appearance > Menu then click on Manage Locations and select "Onepage Menu" for Primary Menu Locations. You can follow the below screenshot.

Set Static Home Page (Required)
WordPress shows blog posts by default on the front page. If you want to make it look like demo StarterPro site, then you need to set a static Home Page. See the way how to set Static Home Page. Navigate Dashboard > Settings > Reading. From here select static page then for Front page select Home. You can follow below screenshot.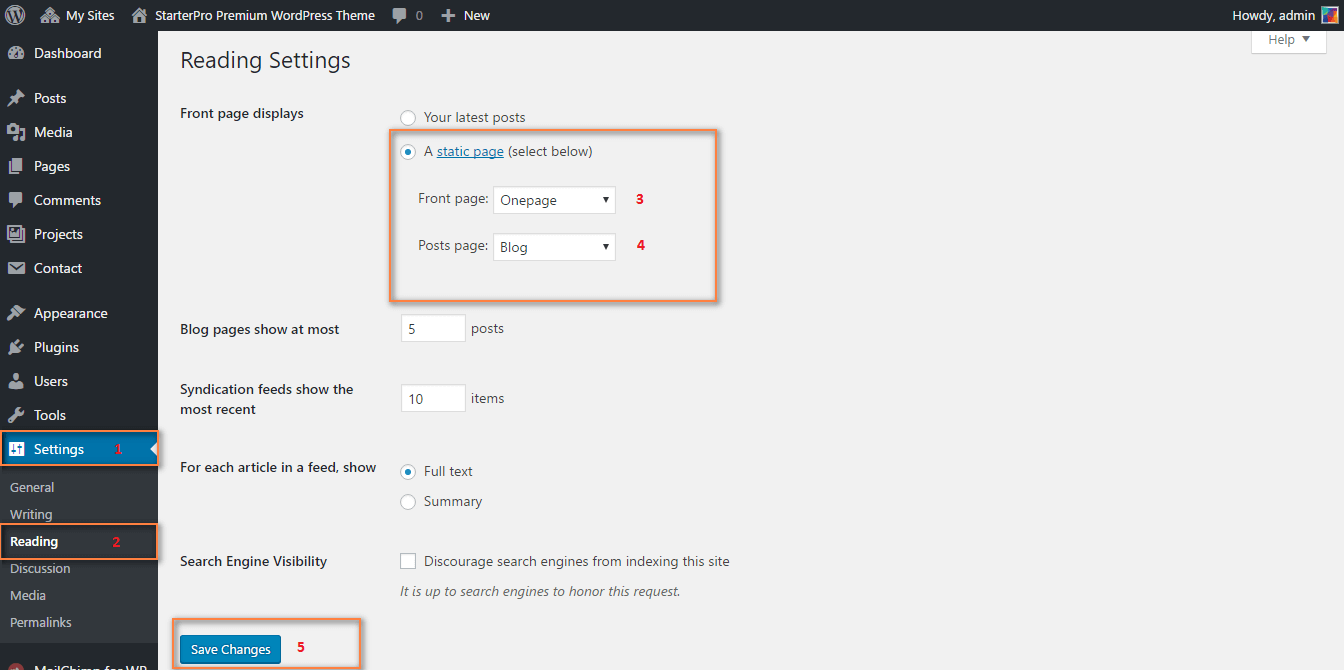 Setup Permalink (Required)
Make sure to configure permalink. By default WordPress uses web URLs which have question marks and lots of numbers in them; however, WordPress offers you the ability to create a custom URL structure for your permalinks and archives. This can improve the aesthetics, usability, and forward-compatibility of your links. From WP admin panel go to the following path Settings > Permalink then select "Post name".
Widgets Settings Import
Import Widget Setting Data: Import Widget Setting Data: If you want to use the demo site widget settings on your website, we recommend to install and activate "Widget Settings Importer/Exporter" plugin which gives you the ability to import the demo widget settings, saved as a .json file type. The import will not overwrite any data currently within the sidebars, but will increment the widgets and add a new instance of the widget. Choose Tools > Widgets Setting Import then select widget_data.json file from Demo Widget Settings folder directly from the demo content folder (found inside the StarterPro theme package you've downloaded). Then click on Show Widget Settings Button. Select all or those widgets which you really need and use "Import Widget Settings" button. All widgets with registered sidebars will be imported.
King Composer Documentation