The Realesta theme comes with the amazing addons of WP Page Builder. To know more about WP Page Builder addons, click here. All addons come with 3 setting options: General, Style, and Advanced to ensure maximum utility.

In addition, you get 7 more addons specifically for Realesta that helps you create a professional real estate website.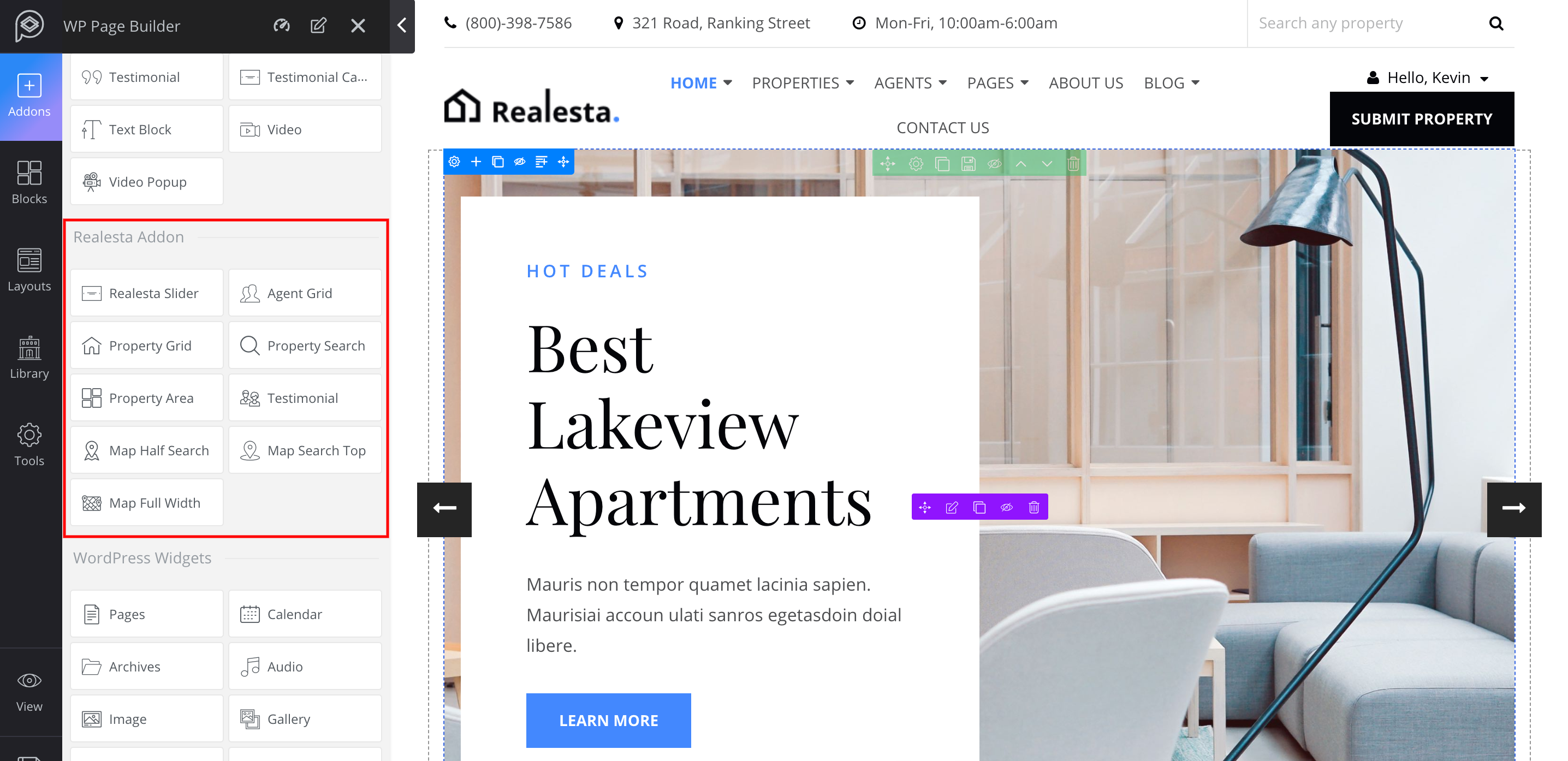 Realesta Slider
The Realesta slider is to a highly customizable slider addon. It comes with a multitude of settings that help set and style the slider with navigation option, dots, content and so much more.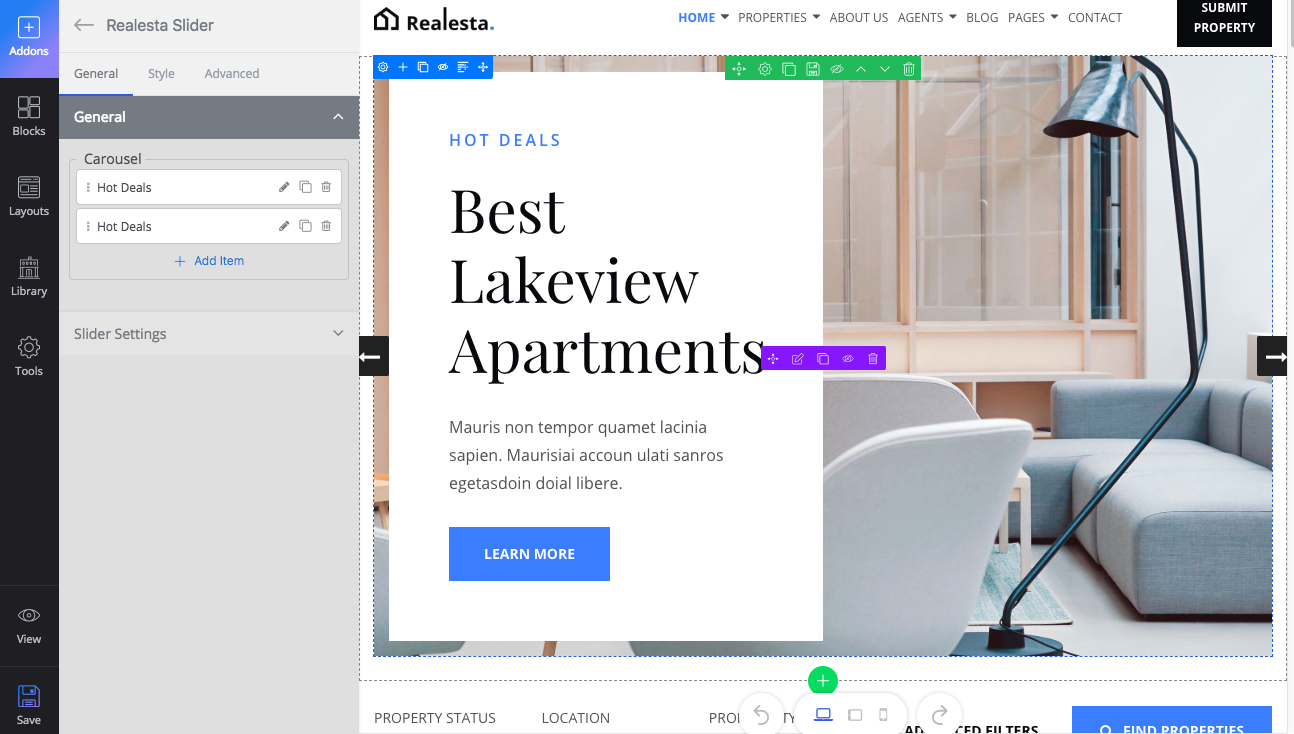 Realesta Agent Grid
The agent grid addon in Realesta allows you to display agent profiles seamlessly across your real estate website. You can showcase your desired number of agents to display, layout and so much more.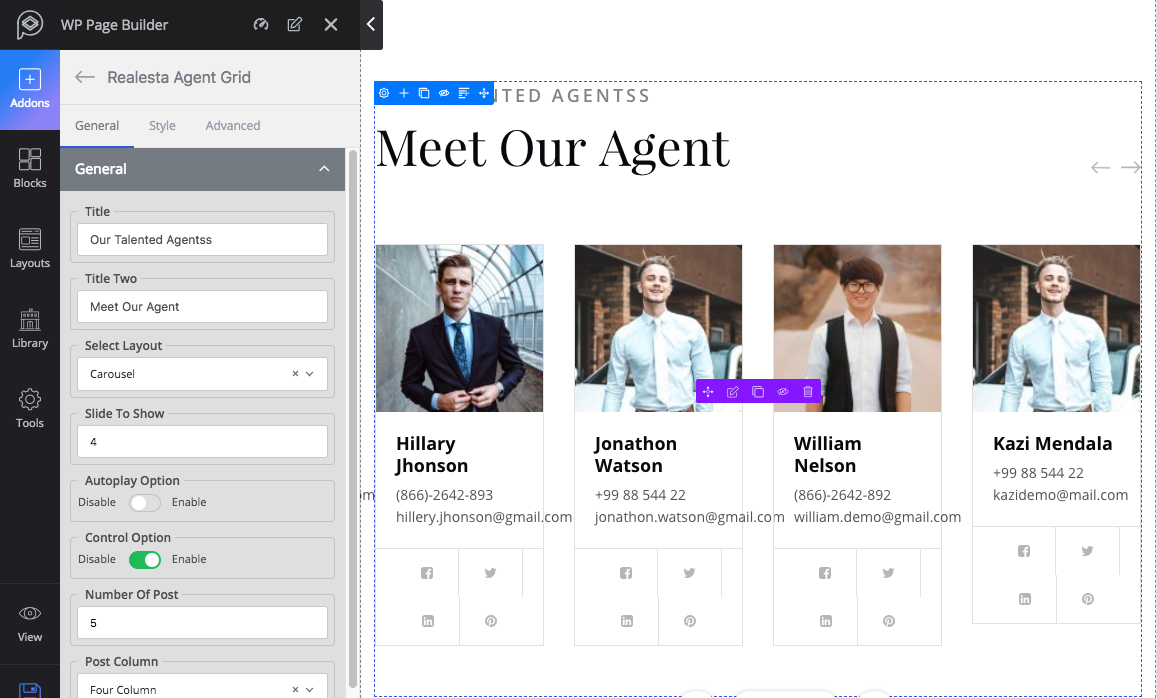 Realesta Property Grid
The property grid addon is there to let you showcase all the real estates in your website beautifully. You can customize the addon by deciding the number of properties you want to display, the order you want to display them, title color and so much more!

The addon comes with the option to customize:

Title
Title two/Subtitle
Layout type (Grid Layout/Slide Layout)
Property type (Latest/Featured)
Number of post
Property location
Post Order (Ascending/ Descending)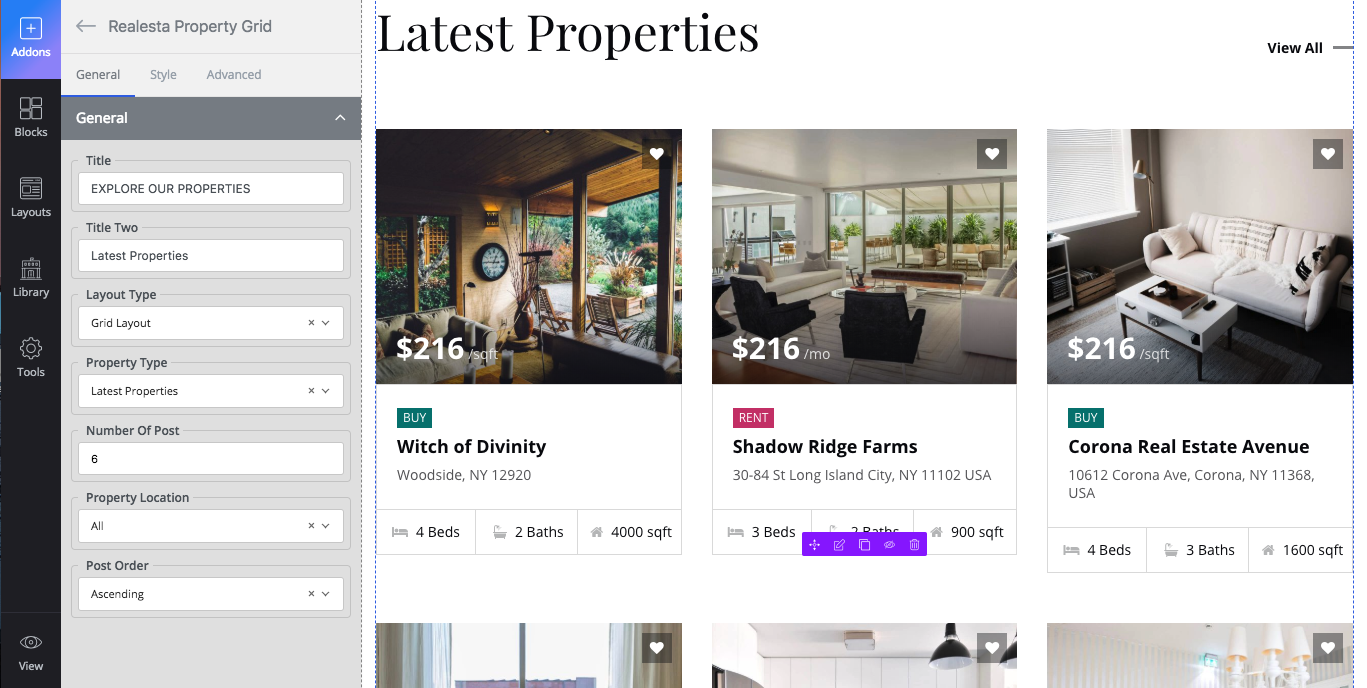 Realesta Property Search
The Realesta search option allows users to search for properties easily and use advanced search options as well. You can style the search option by changing background colors, padding and so much more.

Realesta Property Area
The property area addon allows visitors to view properties by area. You can choose the number of areas you want to display at a time, enable autoplay option and so much more!

Realesta Testimonial
The testimonial addon in Realista allows you to put a number of testimonials in different ways throughout your real estate website. You can select to put testimonials of your clients, agents, staff with different layout options. There are a lot of style options in this addon as well to allow creative displays of your testimonials.

The Realesta Testimonial addon comes with customization options for:

Title
Title two
Select Layout (Carousel/Grid)
Slide to show
Autoplay option
Control option
Number of post
Post column
Post date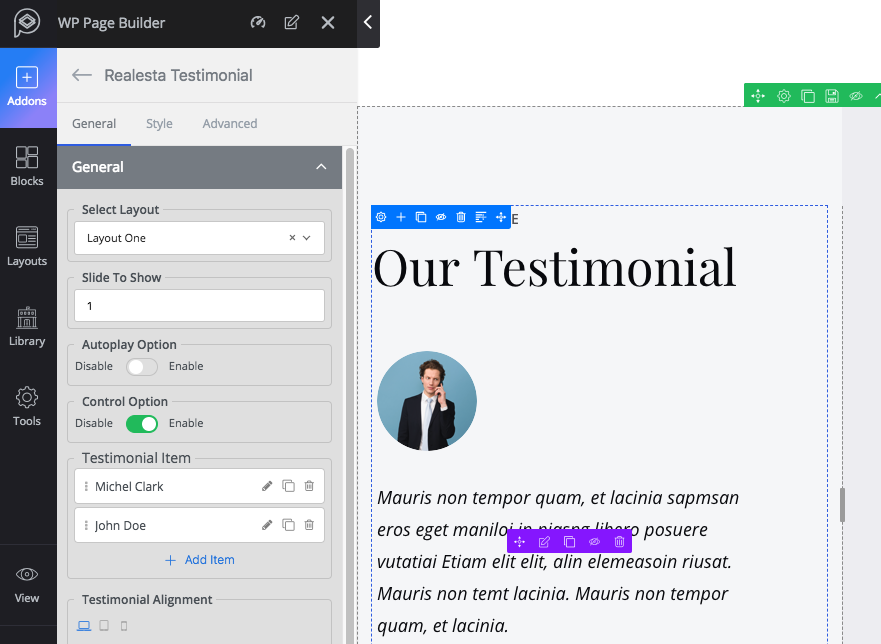 Realesta Map Search
Realesta has the Map Search addon to ensure that your customers can even search locations right from the map. The can drag and drop the cursor and place it on the location they want to search properties. The results are then displayed according. The map search along with the advanced search addon will make sure that your users get the best utilization from your Real estate website.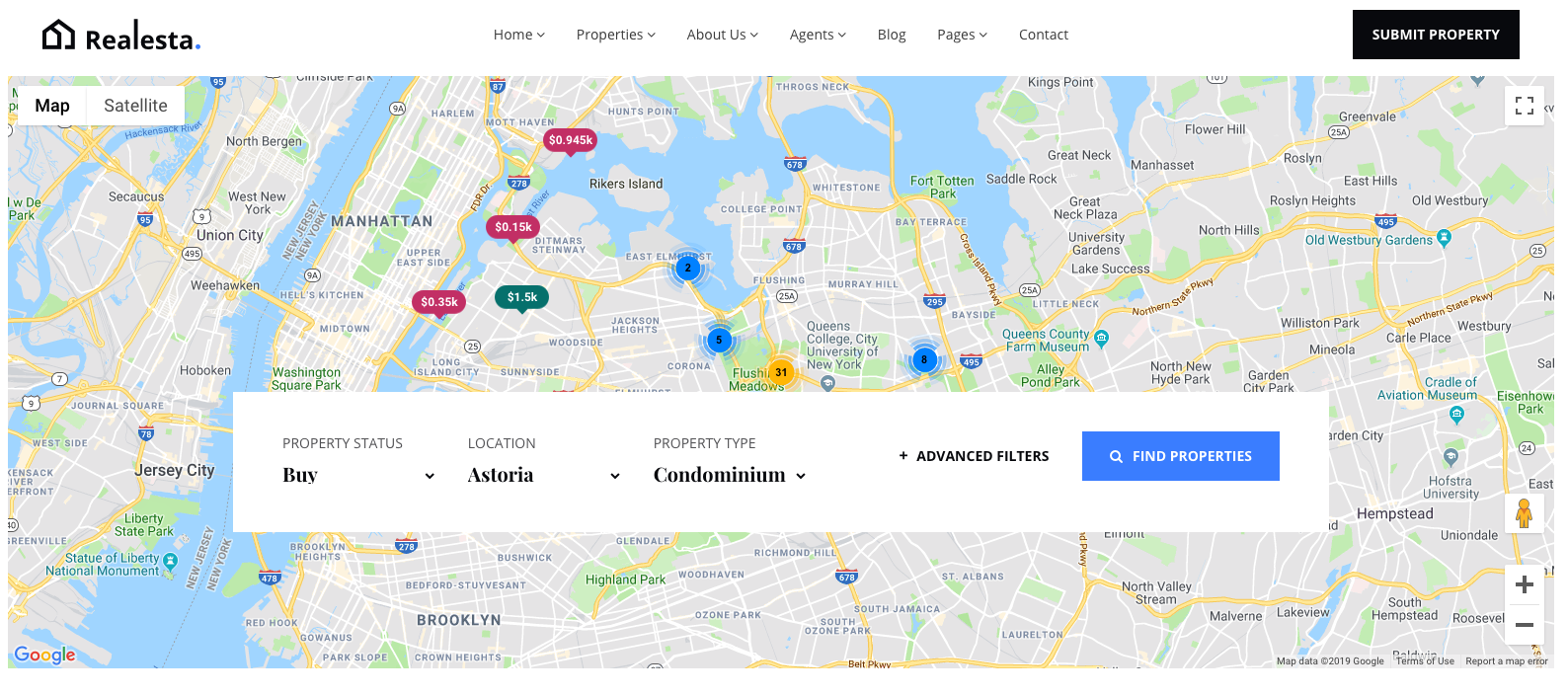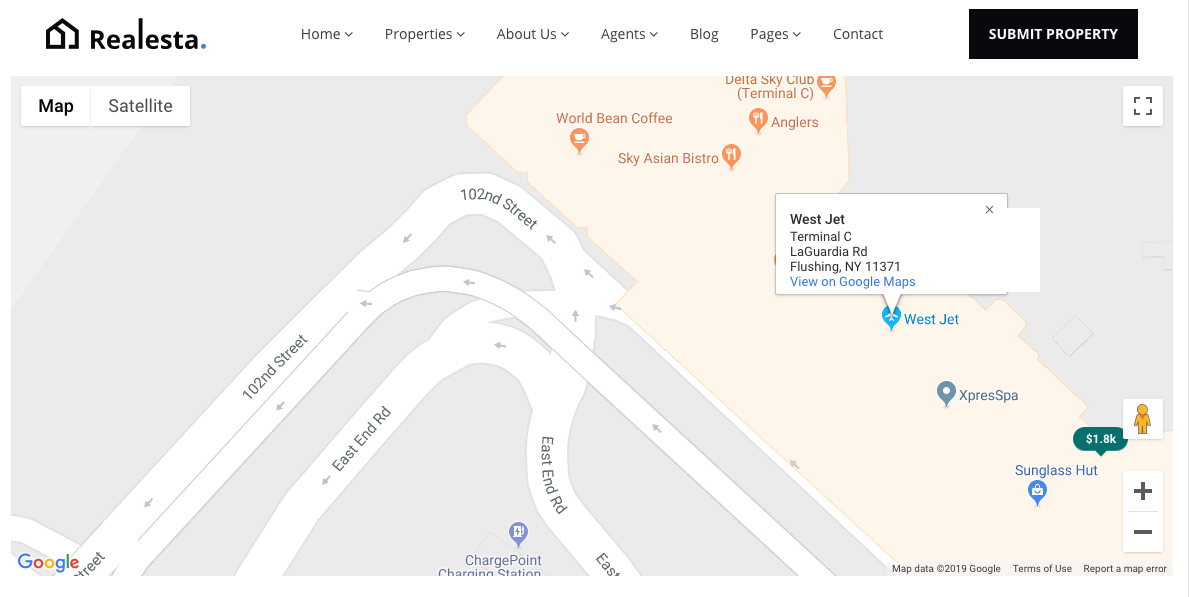 Pin point locations on Google Maps.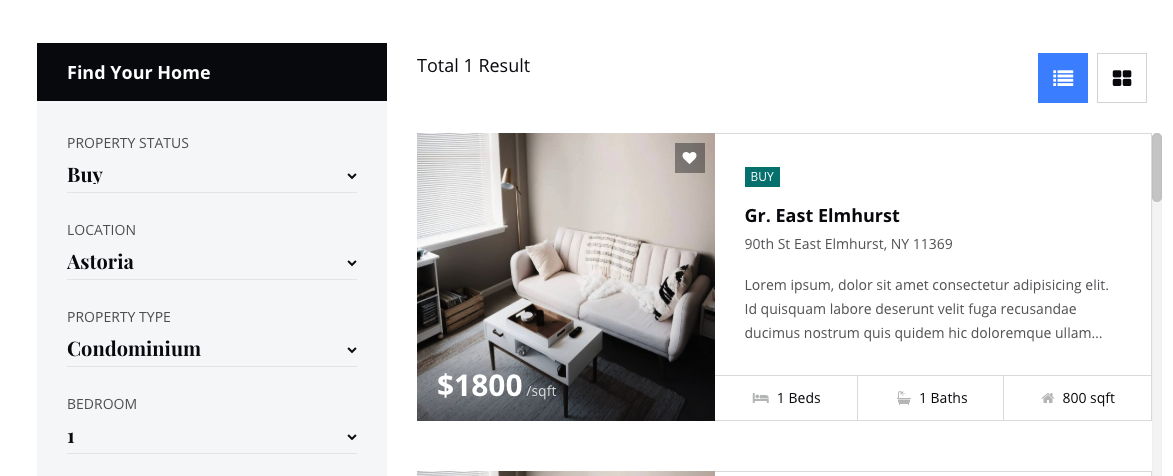 Results appear instantly.
WP Page Builder addons list
WP Page Builder addons are as unique as the plugin itself. They are highly functional and well-sorted with user interface in mind. There are over 30+ addons and you get the Realesta addons as well with the Realesta theme.