This section will provide you an in-depth guide on how to use the Realesta Options. To access the Realesta Options page, go to: Dashboard > Appearance > Customize.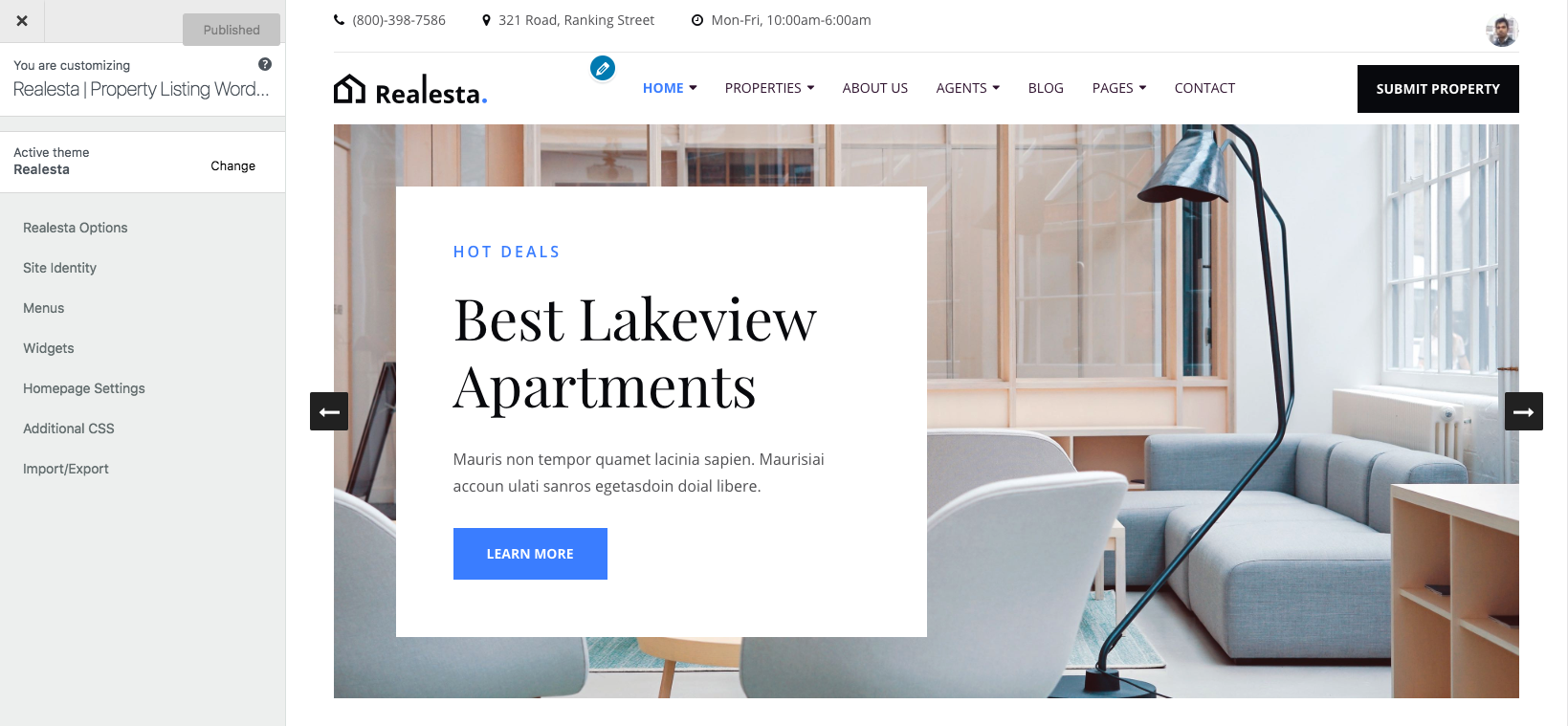 Here is a screenshot of the Realesta Options page. The default settings are shown in the following image.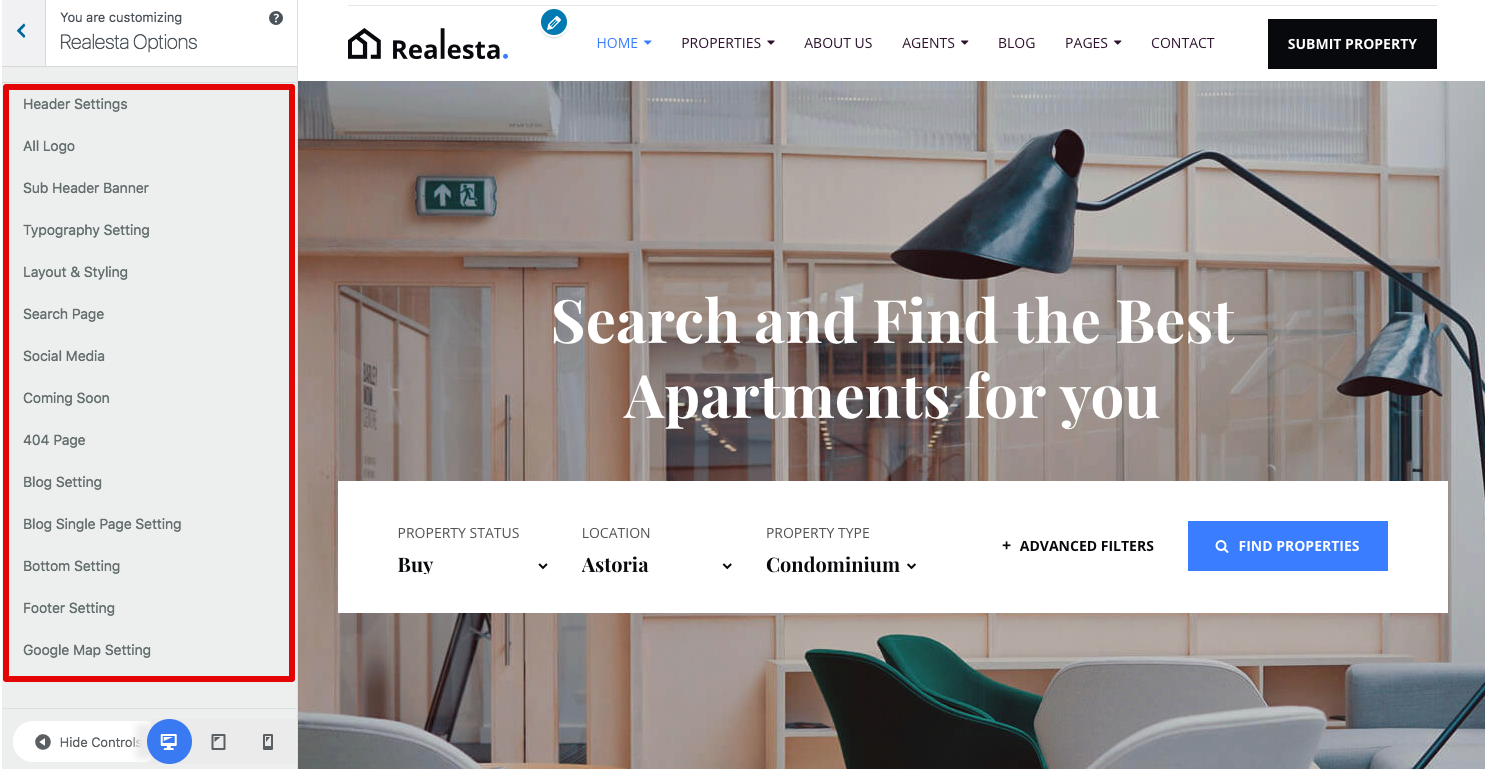 Realesta Settings
It provides primary theme controls like enabling/disabling preloader, you can also turn on/off login option in the header. You can choose the default currency for your site – the most common 32 currencies are listed here if you don't see your preferred currency in this list, you can add your own currency by going to theme customizer file – …/plugins/realesta-core/customizer/customizer-config.php
You can also define the property single page, property submit page, and the page to showcase the dashboard of Realesta theme.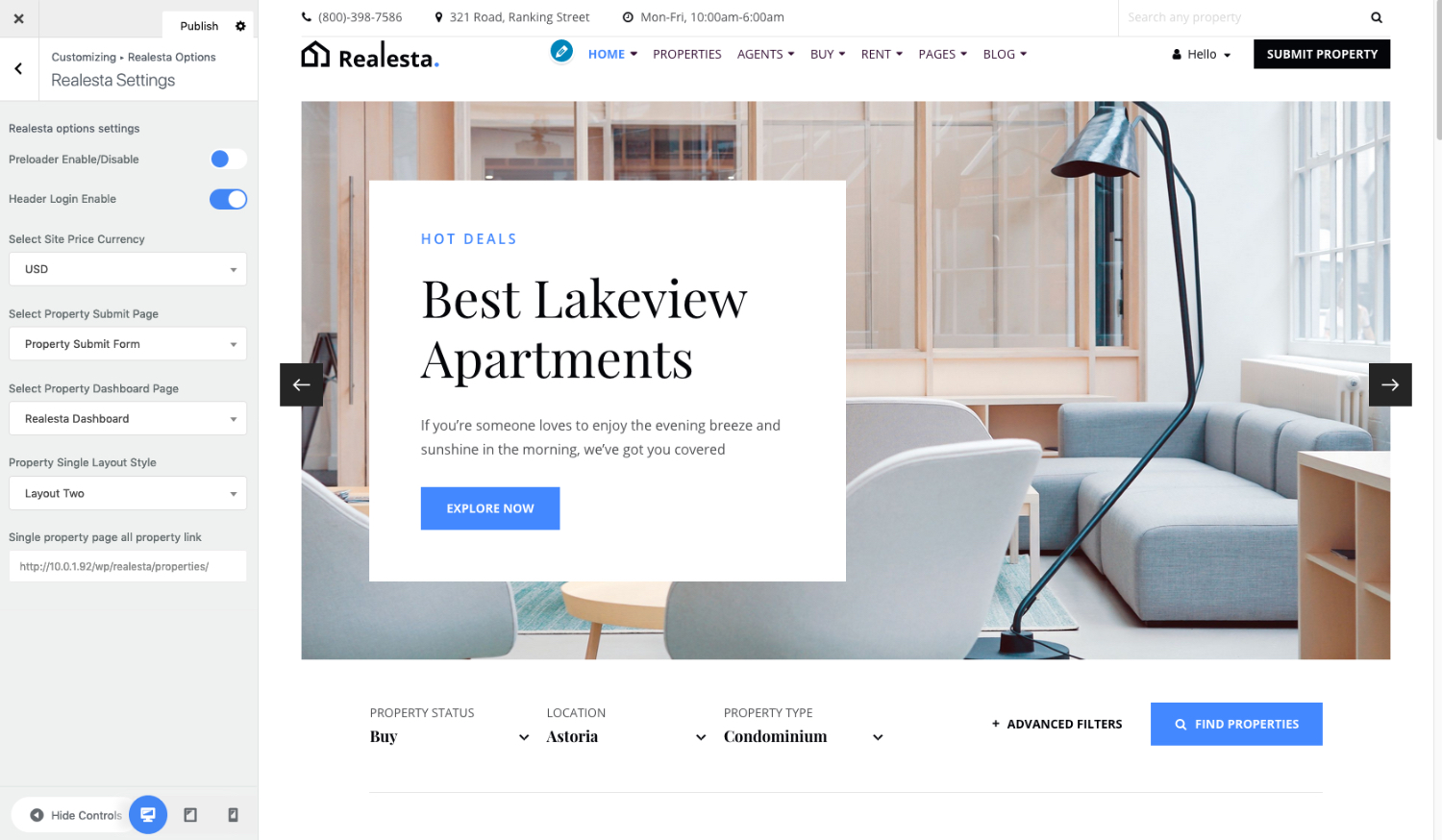 Header Settings
In the Header Style settings section, you get lots of header customization options. In this section you can get three Header Style. In the Header Settings section, you get several header customization options such as Header Styles (solid/transparent), header background color, header border color, header padding, sticky header, sticky background color and so on.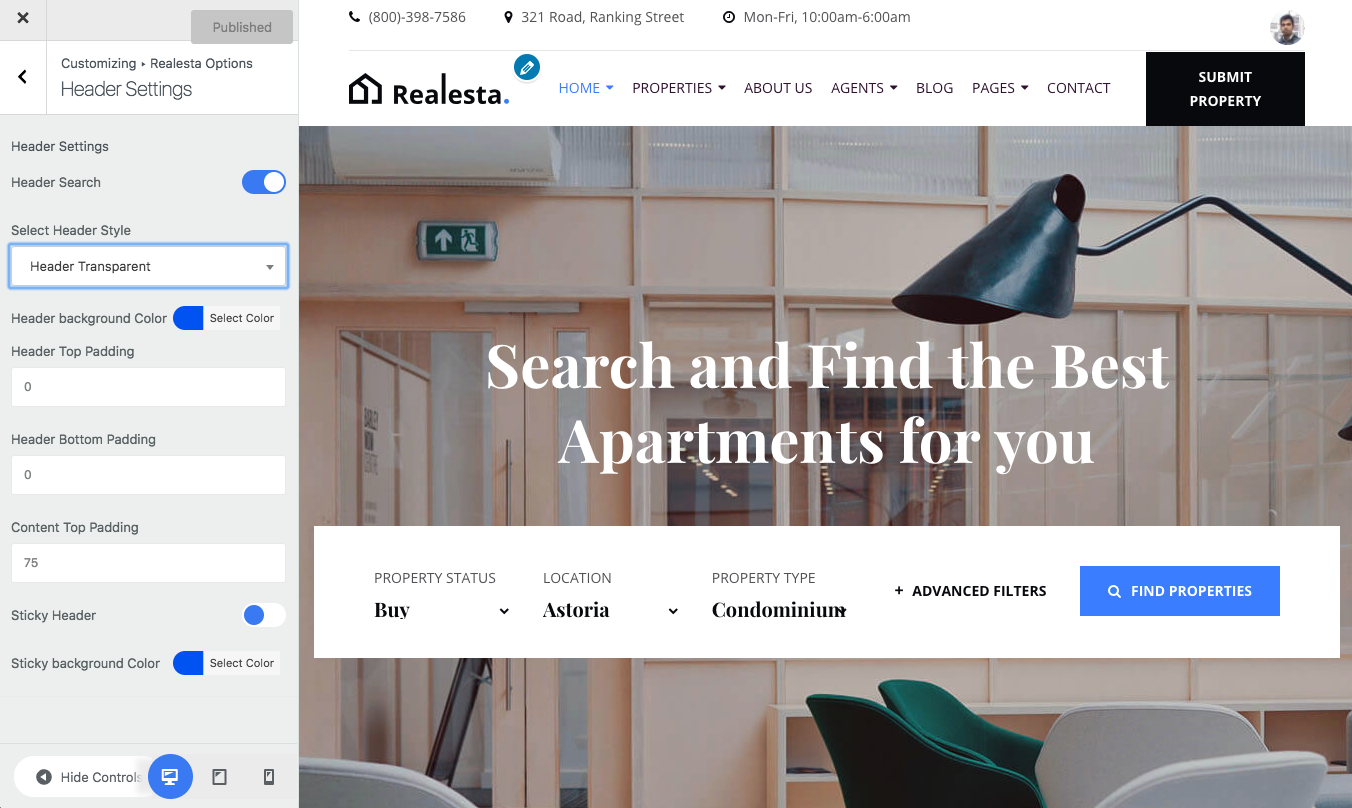 All Logo options
This section will let you set everything related to the logo. You can define whether an image or texts will be used as the logo and customize them.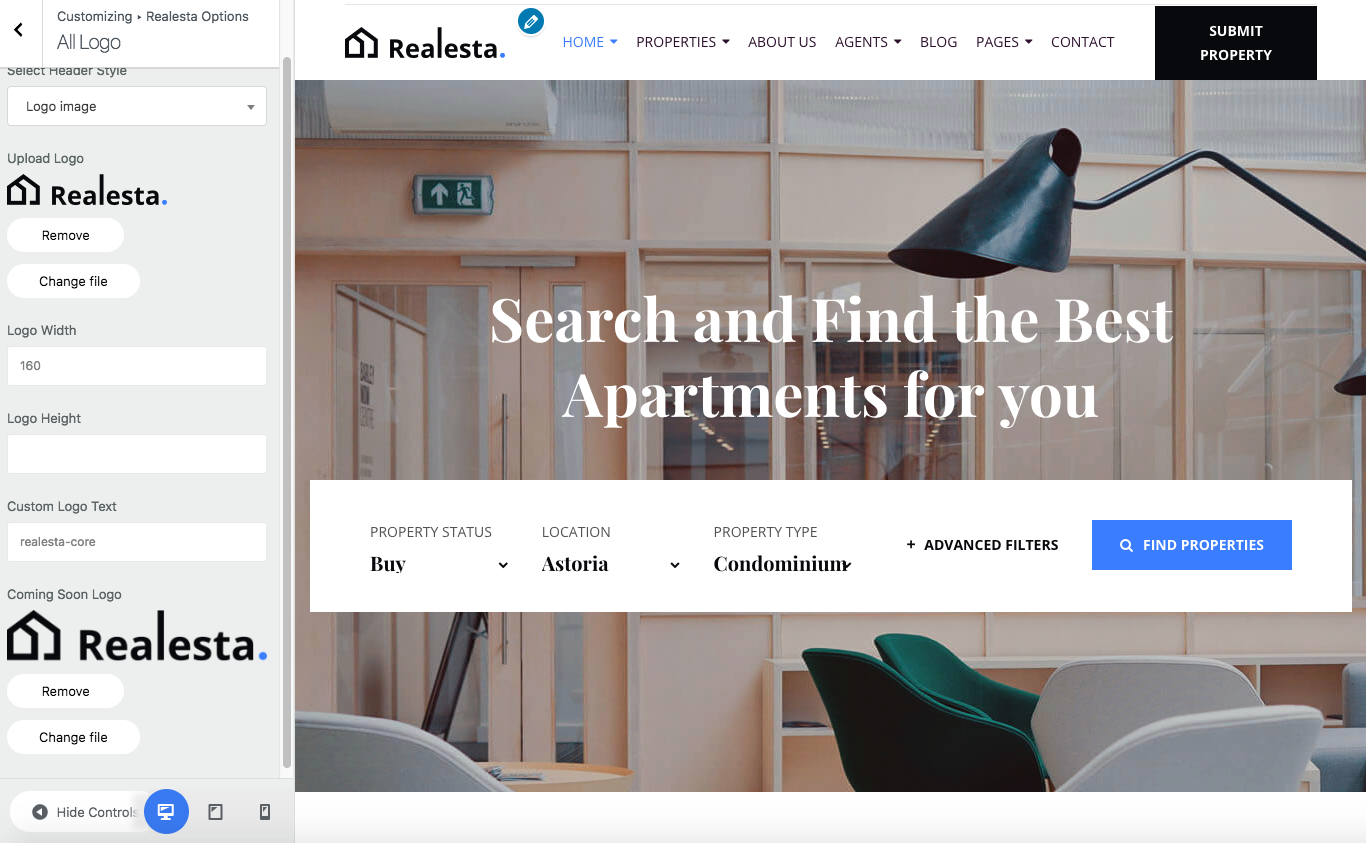 Sub Header Banner
This section will let you set a background image for the site's sub header.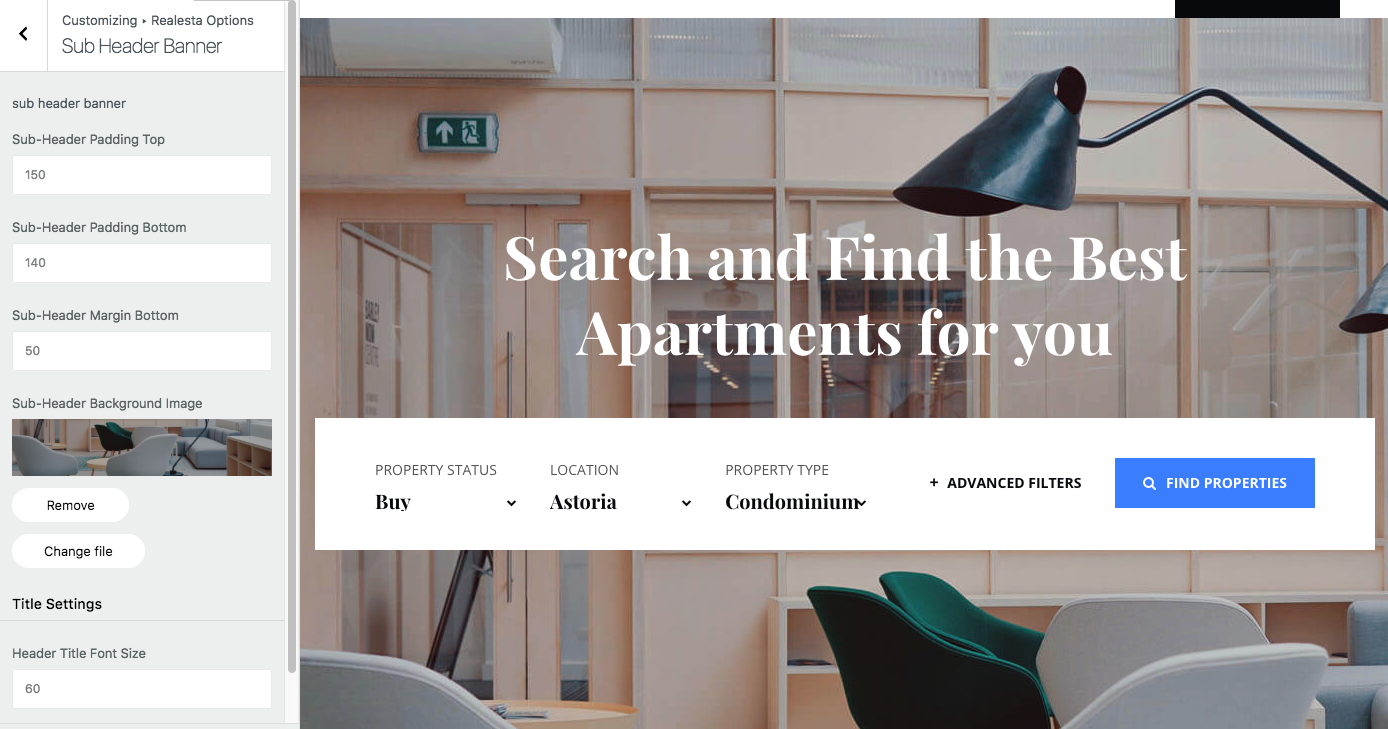 Typography Settings
On this page, you can change your site font-family, font size, font weight, font color, alignment etc. 600+ Google fonts added in this font selection options.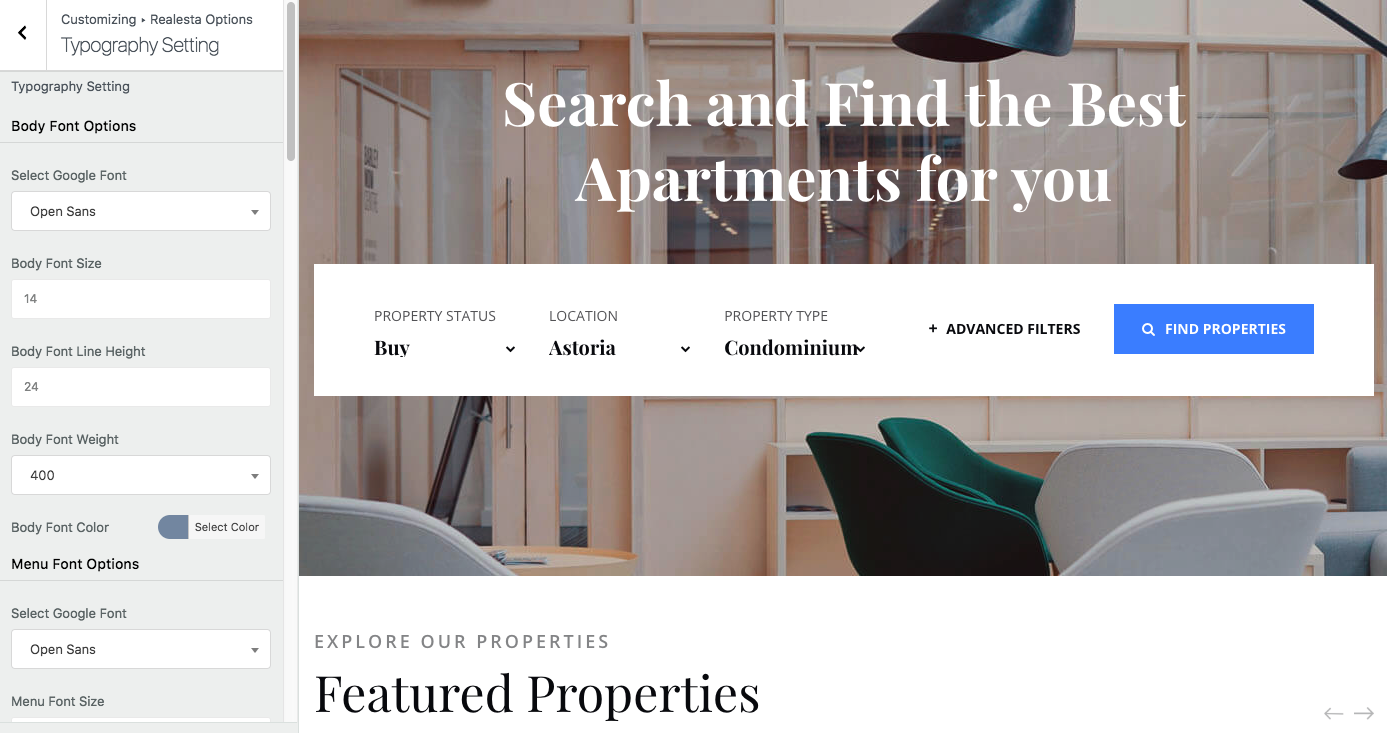 Layout & Styling
These options manage the layouts and color variations of your theme. You can choose site link color, hover color, background color or images and many more. You can also use color with opacity (rgba color pattern).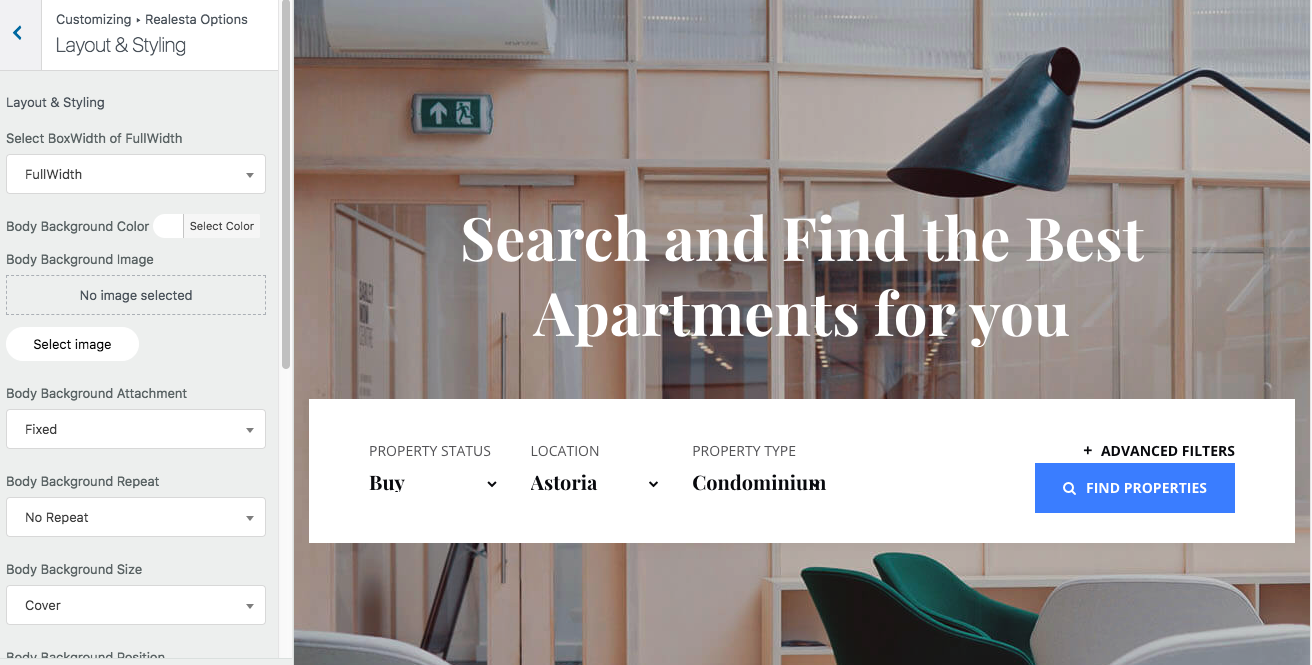 Search Page
The options show search results on your website. Customize the number of search results shown per page, call-to-action title, images and URL.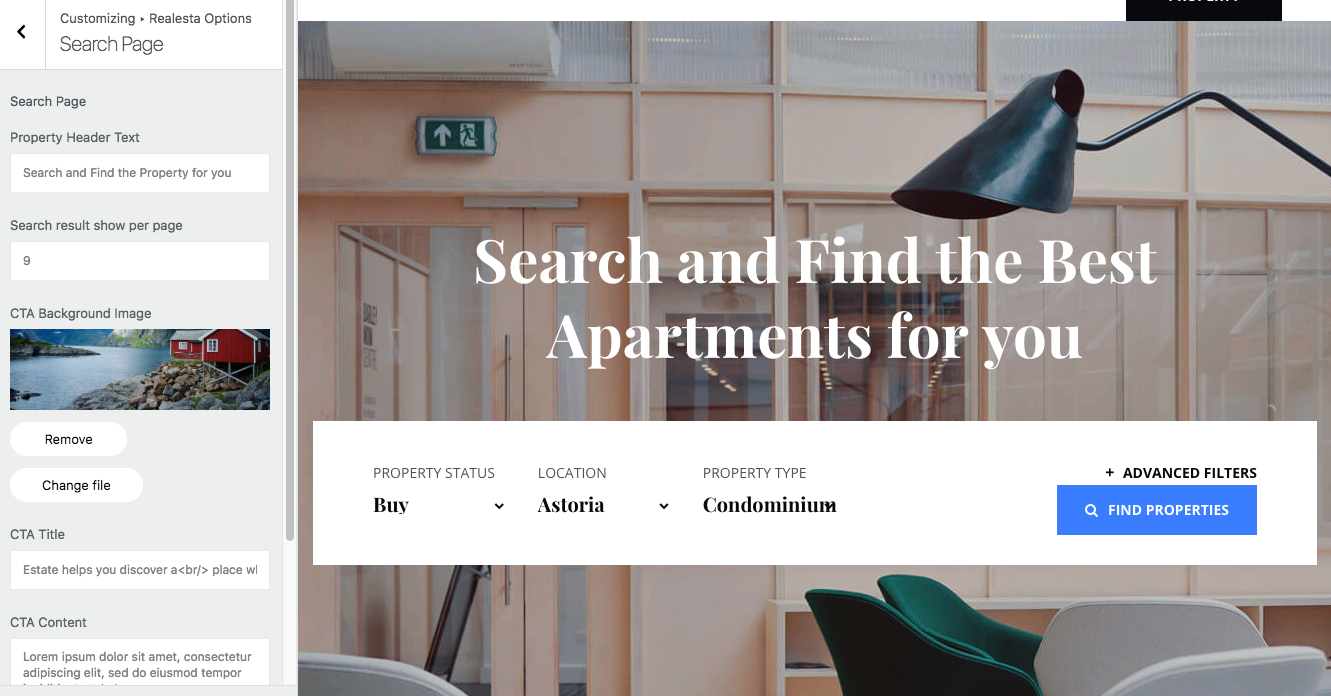 Social Media
This section lets you enter all of your social media profile links and then you can use them elsewhere of the site using Realesta social features.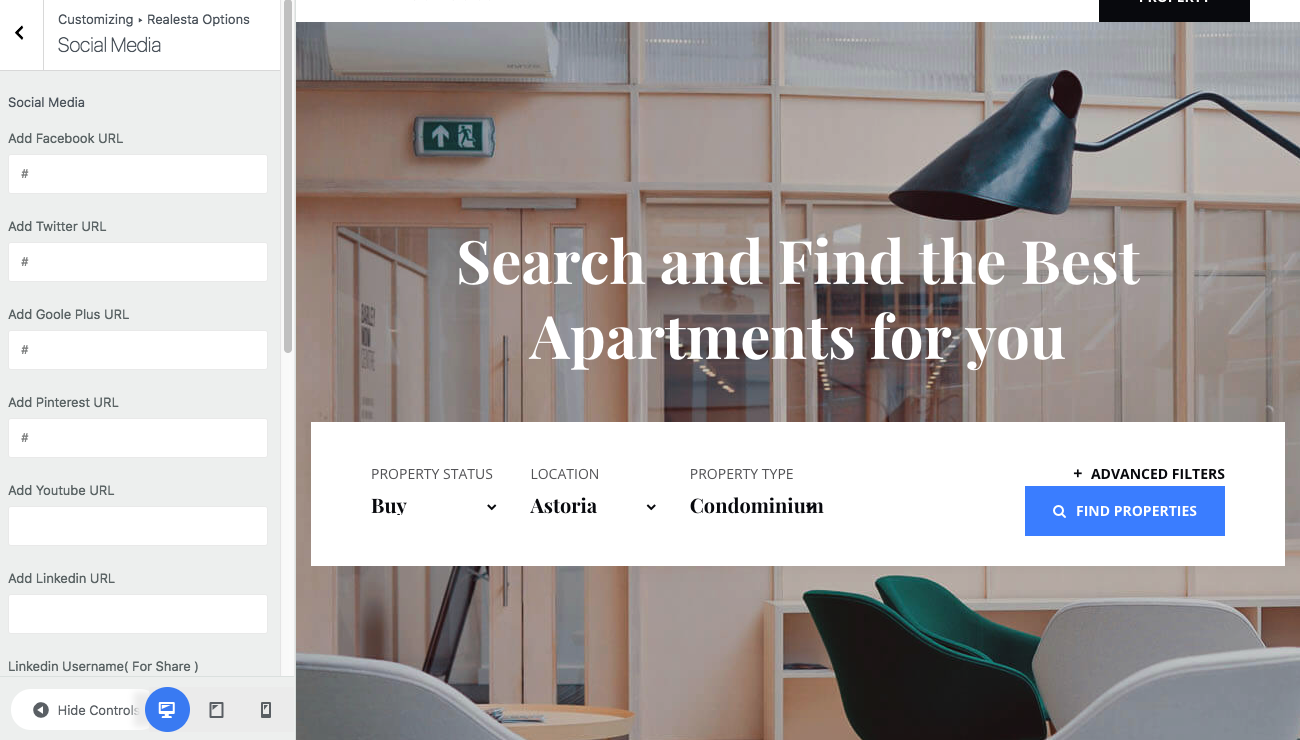 Coming Soon
We've provided preset coming soon page options. Create a new page with Coming Soon template and then customize it from the Realesta Options page's Coming Soon section.
404 Page
We've provided preset 404 page options. Customize it from the Realesta Options page's 404 section.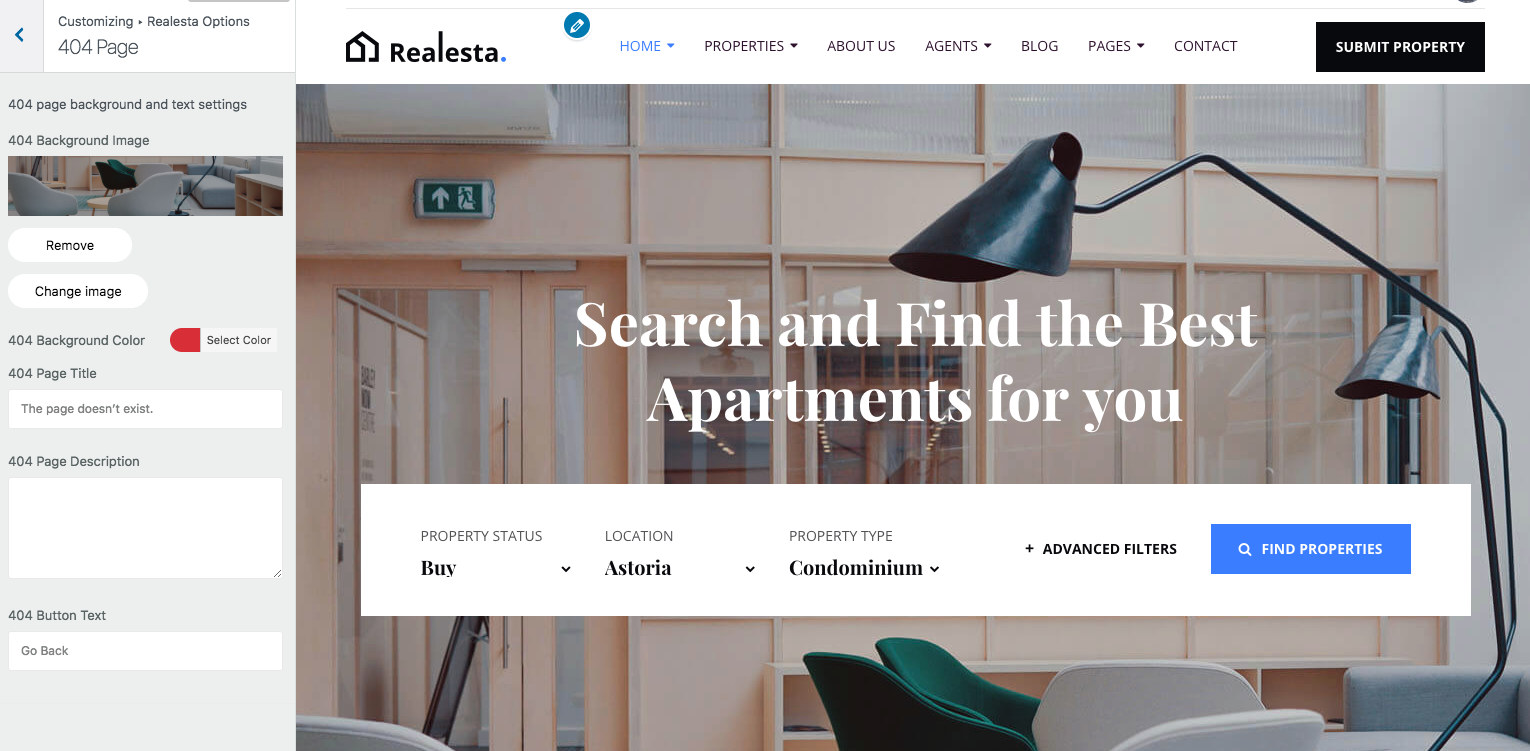 Blog Setting
This section controls the look and feel of your real estate website's blog. Set the number of columns of the blog section here. You can determine whether the blog pages will show pageviews, categories, authors, date etc. Enable or disable these options here as you want them to be.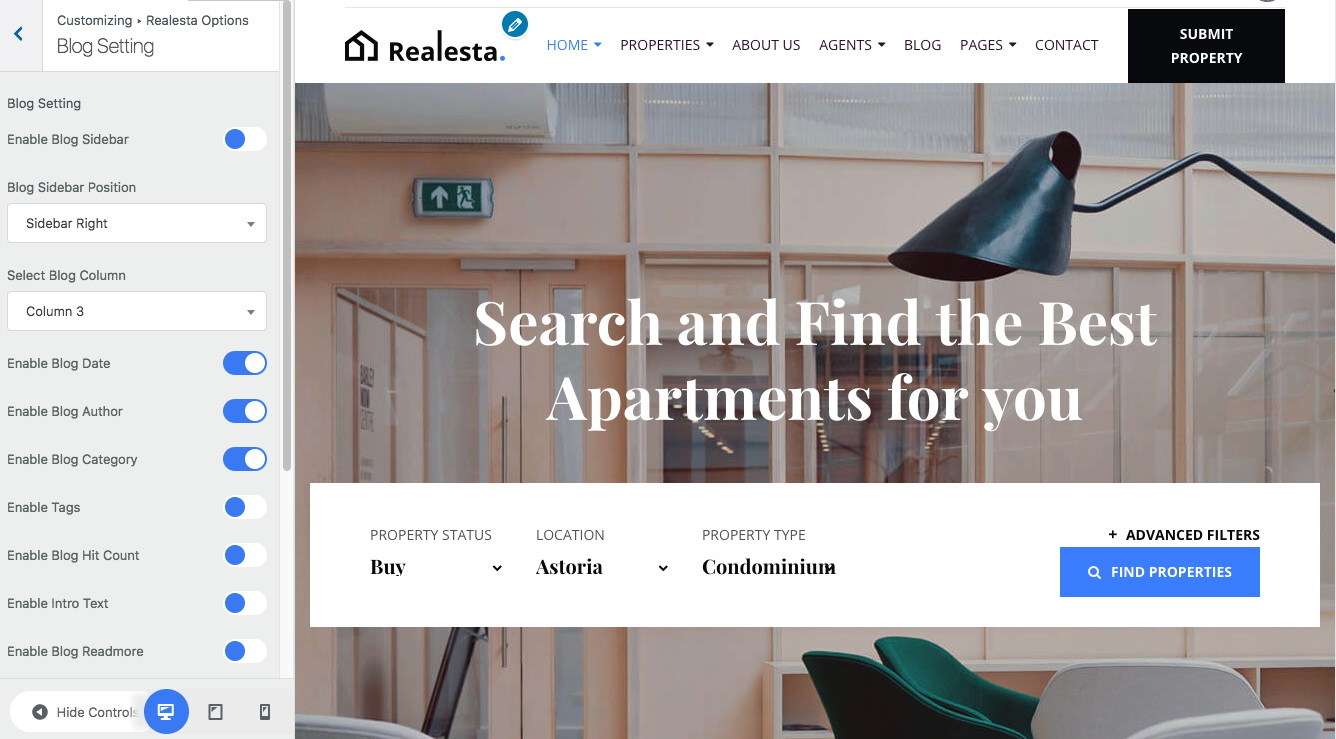 Blog Single Page Setting
This section helps you customize attributes to your blog single pages. You can choose the blog sidebar position from here. Moreover, you can enable blog date, author, category, tags, hit counts and comments. So you have settings specific to your individual blog page right on your blog page.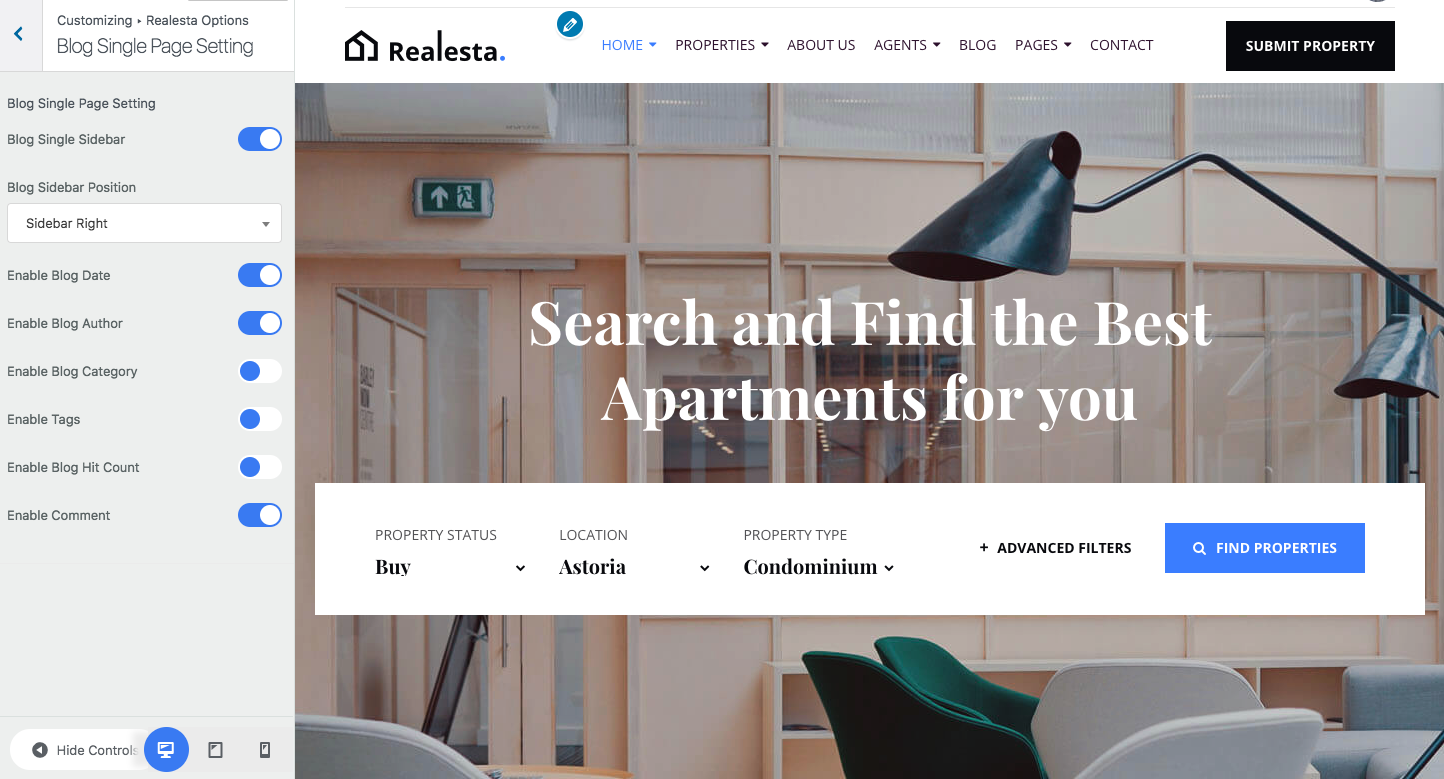 Bottom setting
Realesta options allows you to personalize the bottom setting of your real estate website that goes perfectly with your agency. You can enable the bottom area and customize each column of the bottom. Choose the background color, title color, link color, link hover color, text color, etc. Set the bottom padding values right from the bottom setting.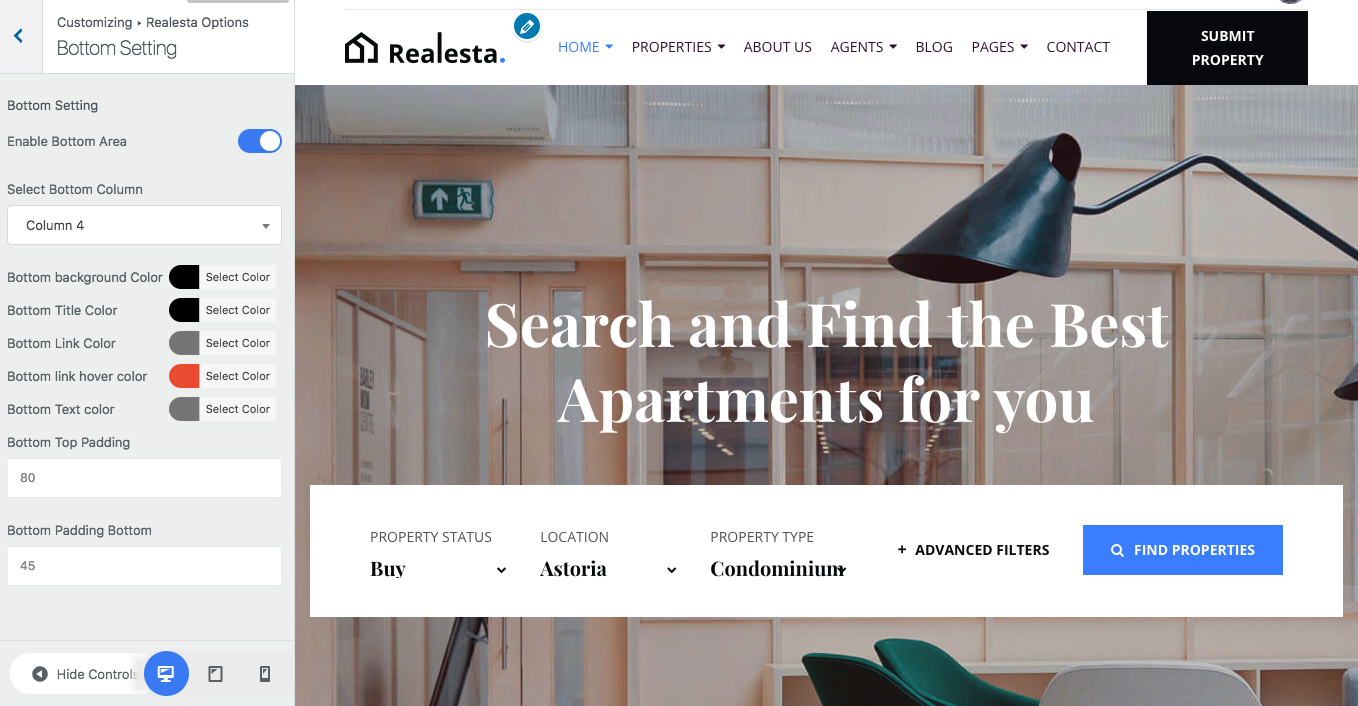 Footer
If you want to show some texts (e.g. copyright notice) on your website footer, turn on this option, define the number of columns and put the text here. It will be displayed on your site's bottom.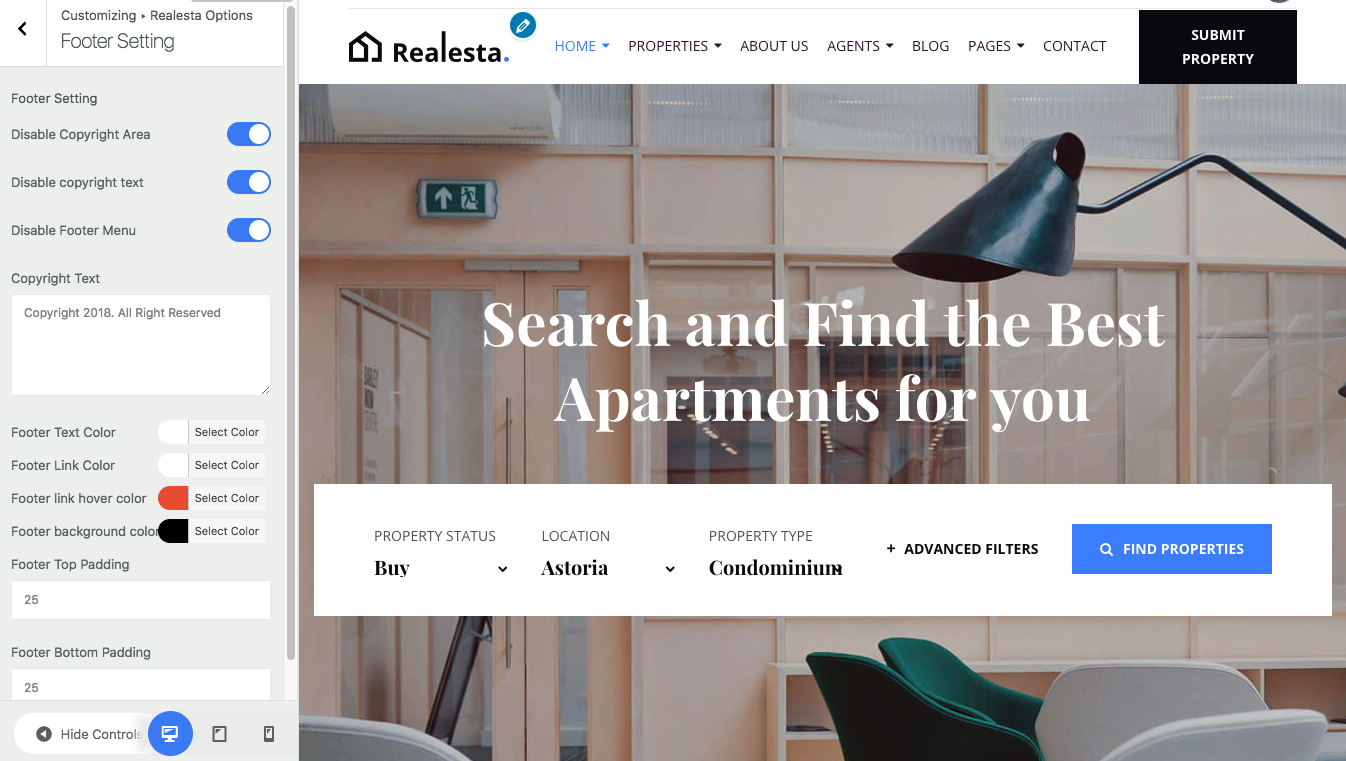 Google Map Setting
Showing Google Maps is a huge advantage for your real estate website. Realesta lets you add Google Map location to your website to ensure interested customers get all the details they're looking for in your website. All you've to do is insert the Google Map API Key.