This section will provide you an in-depth guide on how to use the Kidzy Theme Options. To access the Theme Options page, Go to: Dashboard > Appearance > Theme Options
Here is a screenshot of the Kidzy Theme Options page. The default settings are shown in the following image.
General
You can see, Topbar is the first section in Theme Options settings. Let's take a closer look at it.
The top bar is a bar positioned at the upper side of the top menu bar. You can enable or disable it by changing the top bar setting. You can place an email address, a phone number and social links on the top bar.
When the top bar is on, the homepage looks like this.
The social links can be shown or hidden from the top bar. If you want to show social media profile links, you need to put them in the Social Media section from the left side.
Now we are going to turn off the top bar.
We have turned off the top bar.
Header
The second section of the Theme Options is Header. Here you can customize the appearance of your site's header. You get the following options to tweak.
Logo & Favicon Options
This section will let you set everything related to the logo, favicon, coming soon page, 404 page and so on.
You can upload a favicon (the tiny image shown on the browser tab for your site), define whether an image or texts will be used as the logo, the logo and background for 404 and coming soon pages.
Banner Image
Here you can set a banner image/background for the blog/news section of your school site.
The banner will be shown on the upper side of the section. A background color can be set in the place of this banner.
Layout & Styling
These options manage the color variations of your theme. You can choose site link color, link hover color, background color or images and many more. You can also use color with opacity (rgba color pattern)
You can select full width or boxed layout whichever you like. A general background image/color can be defined for the whole site. Use the color options to tweak everything related to colors.
Typography
We've used Google Fonts service in Kidzy typography. Choose the body font, menu font and heading fonts on this section.
Social Media
This section lets you enter all of your social media profile links and then you can use them elsewhere of the site using Kidzy social features.
Coming Soon
We've provided preset coming soon page options. Create a new page with Coming Soon template and then customize it from the Theme Options page's Coming Soon section.
Here is a screenshot of an example Coming Soon page.
Blog
This section controls the look and feel of your school website's blog. You can decide if the blog pages to show pageviews, categories, authors etc. Enable or disable options there. Here is a screenshot.
Creating a page to show the latest blog posts one after another is easy. Just create a new page with a specific Blog page template and confirm additional settings. Now link that page wherever you want to provide access to your blog.
Footer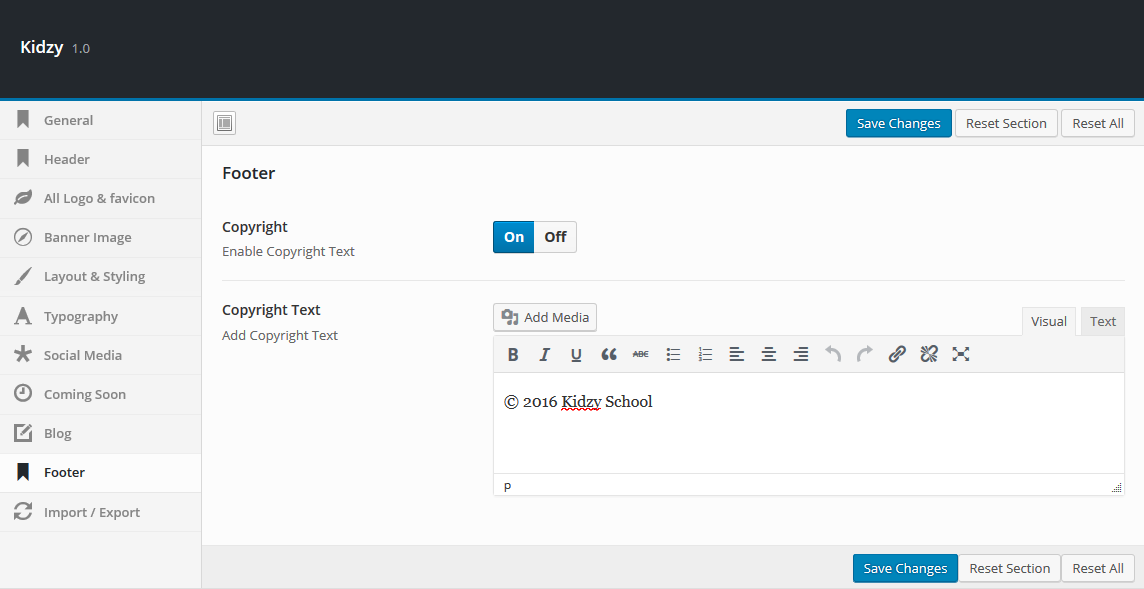 Import/Export
Using this interface, you can import Kidzy theme settings from another Kidzy powered website. You can also export your site's theme settings. Use the options shown in the following screenshot. It's very easy.
You can see this example video to learn how to import theme settings.