N.B. Skip this part of the documentation, if you are not using Toolset plugins.
Floox's integration with Toolset makes it Custom Types Ready! This means that you will be able to create and display different types of content using Toolset plugins on your website like "Services", "Jobs", "Testimonials", "Team Members" etc.
One of the advantages of using Toolset to customize your business website is that it doesn't require any programming knowledge. On top of that, it won't result any conflicts with Floox theme features.
It's worth mentioning that the company behind Toolset also develops WPML. This ensures that all the custom content that you create is multilingual-ready.
What Kind of websites can I build using Floox and Toolset?
Floox is a multipurpose theme that is suitable for business and company websites. It's integration with Toolset allows you to customize your website to match your specific needs. For example, you can build brochure website featuring service offerings provided by your company. In this guide, we will go over the different functionalities that you can add to your website using Toolset.
The basic setup to your custom website includes:
The Floox theme
Toolset Types
Toolset Views
Toolset Layouts
When you purchase Toolset you get access to the full suite of interconnected plugins we just mentioned above. Depending on the kind of site you want to build, you will need additional Toolset components.
What are the different functionalities that I can add to my Floox website using Toolset?
Apart from adding custom content types to your website (also called Custom Post Type "CPT"), Toolset allows you to customize the custom post types that ships with your theme by adding custom fields and taxonomies. Furthermore, you can customize the layouts of the CPTs you created/modified using Toolset. Additionally, you can create custom search and filters, add frontend submission forms, display your content on Google maps, design a custom layout for your WooCommerce Shop page and customize your single product page, etc.
To demonstrate the different functionalities that Toolset offers, we built a company brochure website that includes the different services that the company offers, a home page with a custom layout displaying the company services, the latest company news, and a testimonials section.
Adding custom content to your website
We created the CPT "Services" that has some custom fields (Font Awesome icon code, Price) and custom taxonomies (Marketing, Development, Media etc.). Additionally, we created the "Testimonials" CPT that includes (The author webpage and The author photo) as custom fields.
The custom post types on the WordPress dashboard main navigation menu are: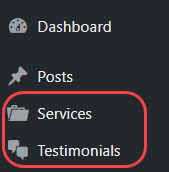 Our "Services" custom fields:

Our "Services" custom taxonomies: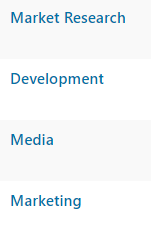 On the frontend, each Service will be using the same template but will display their own information: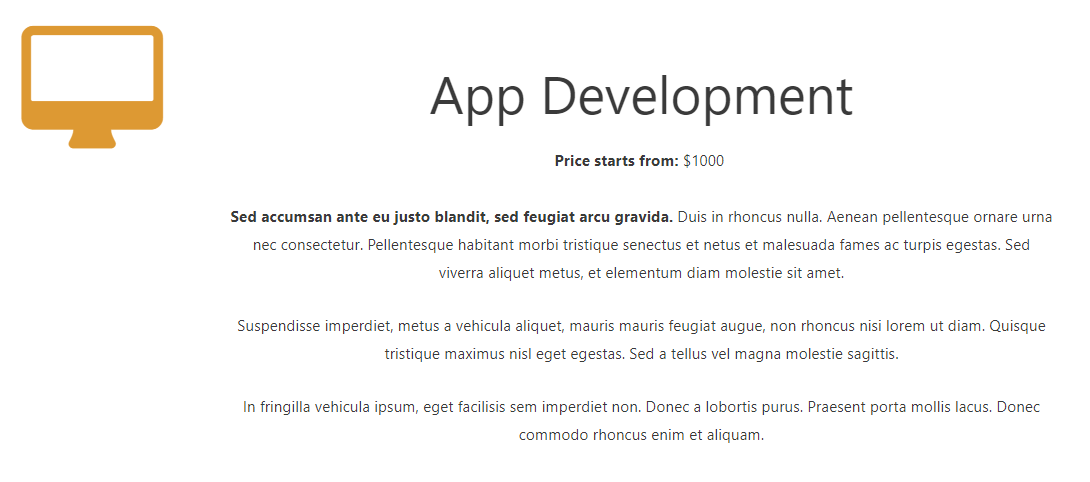 How did we build the Service page (template)?
To build such a template, you can use Toolset Layouts, a simple drag-and-drop editor which allows you to create your own design for pages, posts, custom post types and archives. Below, you can see what our template looks like in the Toolset Layouts editor.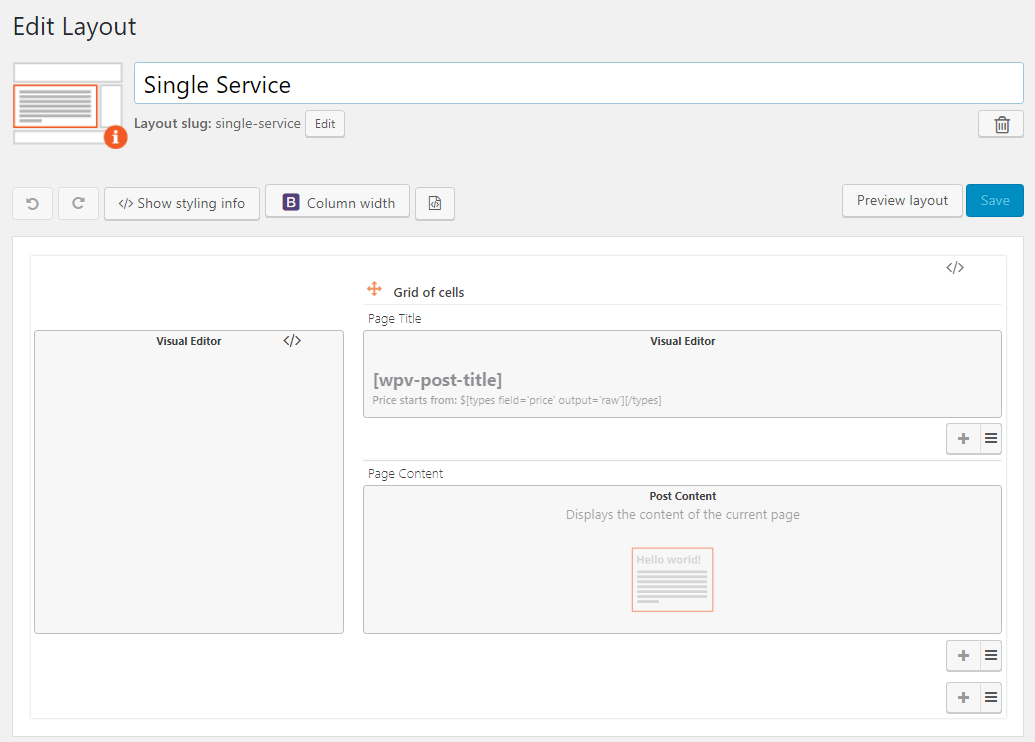 Build front-end submission/editing forms (Toolset CRED Forms)
On our website users can submit testimonials through a form that we created using Toolset CRED (Toolset Forms). Also, this frontend submission form is automatically generated based on the custom fields that we have on for our CPT "Testimonial".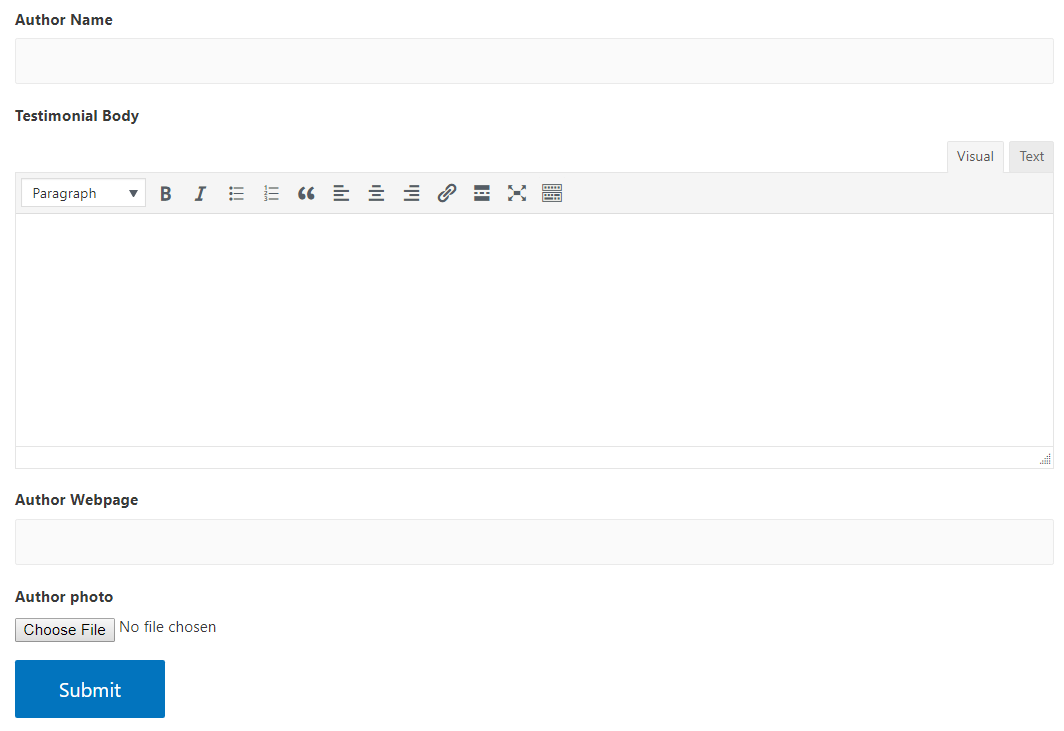 After the user submits the form, we can decide whether to publish the testimonial immediately or set it as draft for you to review and publish later. Know more about Toolset CRED (Toolset Forms).
Role Management and Access control for your pages built with Floox (personal accounts, membership sites)
Let's say that you want to restrict displaying your services to logged in users only. This can be done using Toolset Access. Simply create a new custom role and assign the right access accordingly.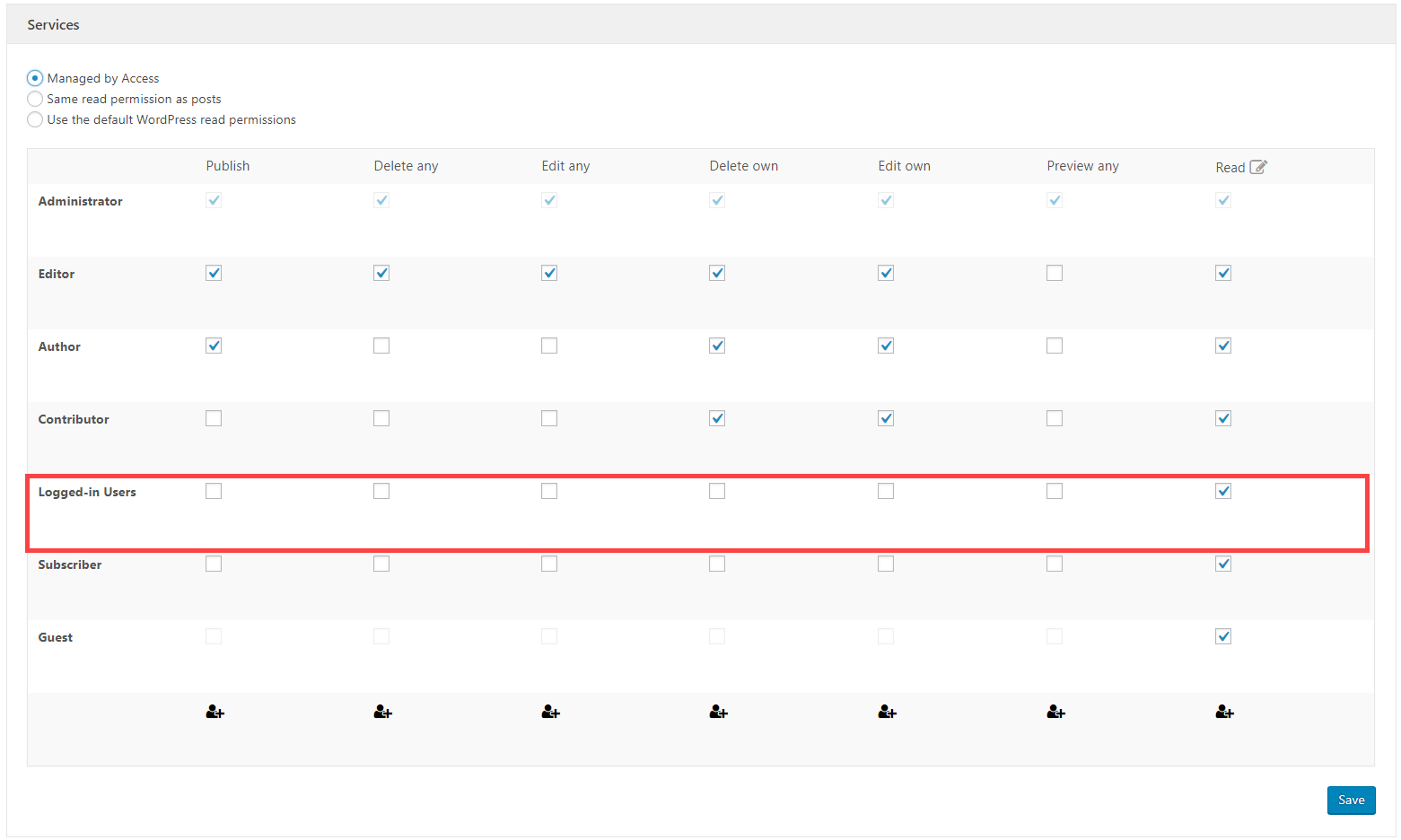 Control theme options for custom post types and archives
When creating a new template using Toolset for your custom post type or archive pages, you can control some of the Floox theme options.
When editing the Service layout or any custom post type layout, you can find all the theme options that you can control in the Theme Options section.