Eventco options
This section will provide you with an in-depth guide on how to use the Eventco Options. To access the Eventco Options page, go to Dashboard > Appearance > Customize > Eventco Options.
Or,
Navigate to Dashboard > Eventco Options > Eventco Options.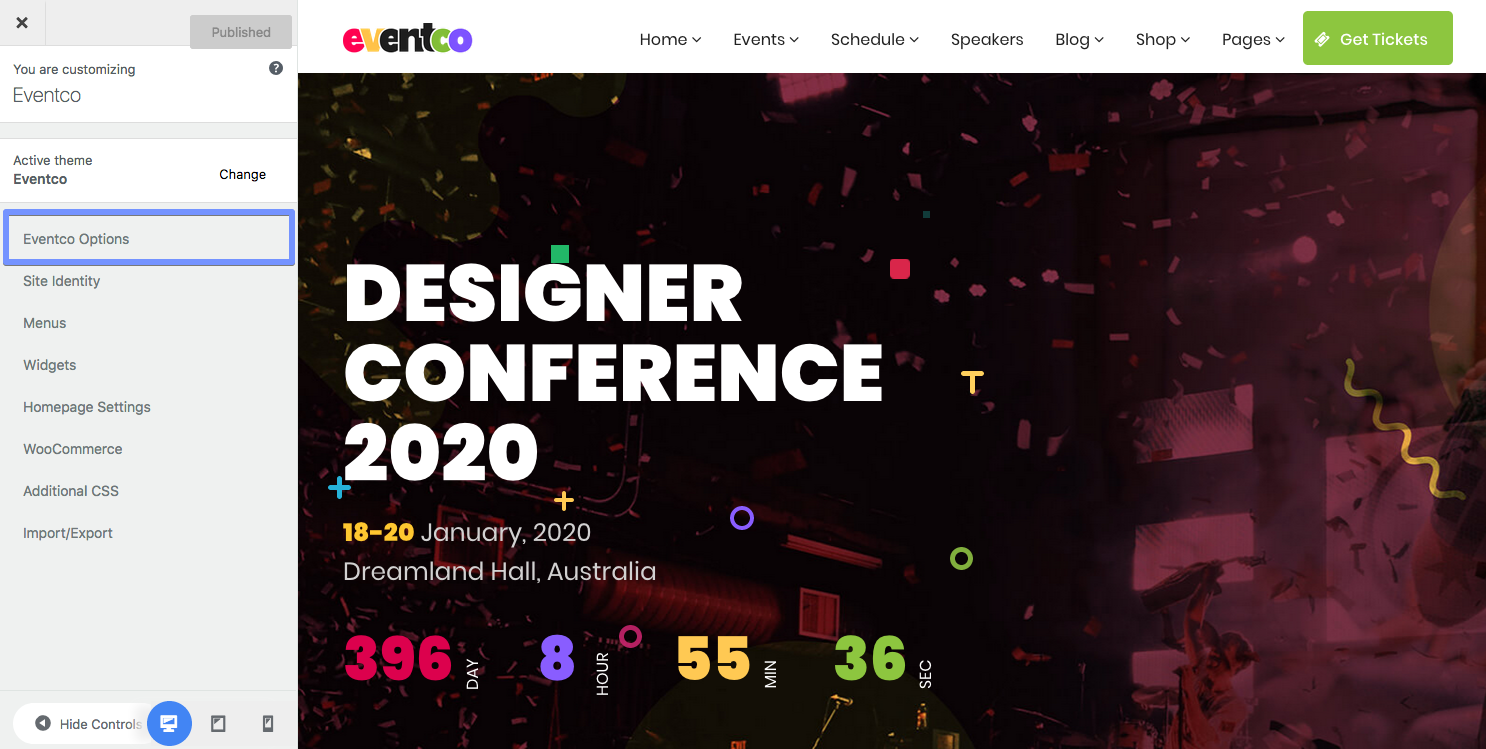 Header Settings
In the Header Settings section, you will have the option to enable or disable the sticky header. You can change the background color for both normal and sticky header. You can also set the top and bottom padding.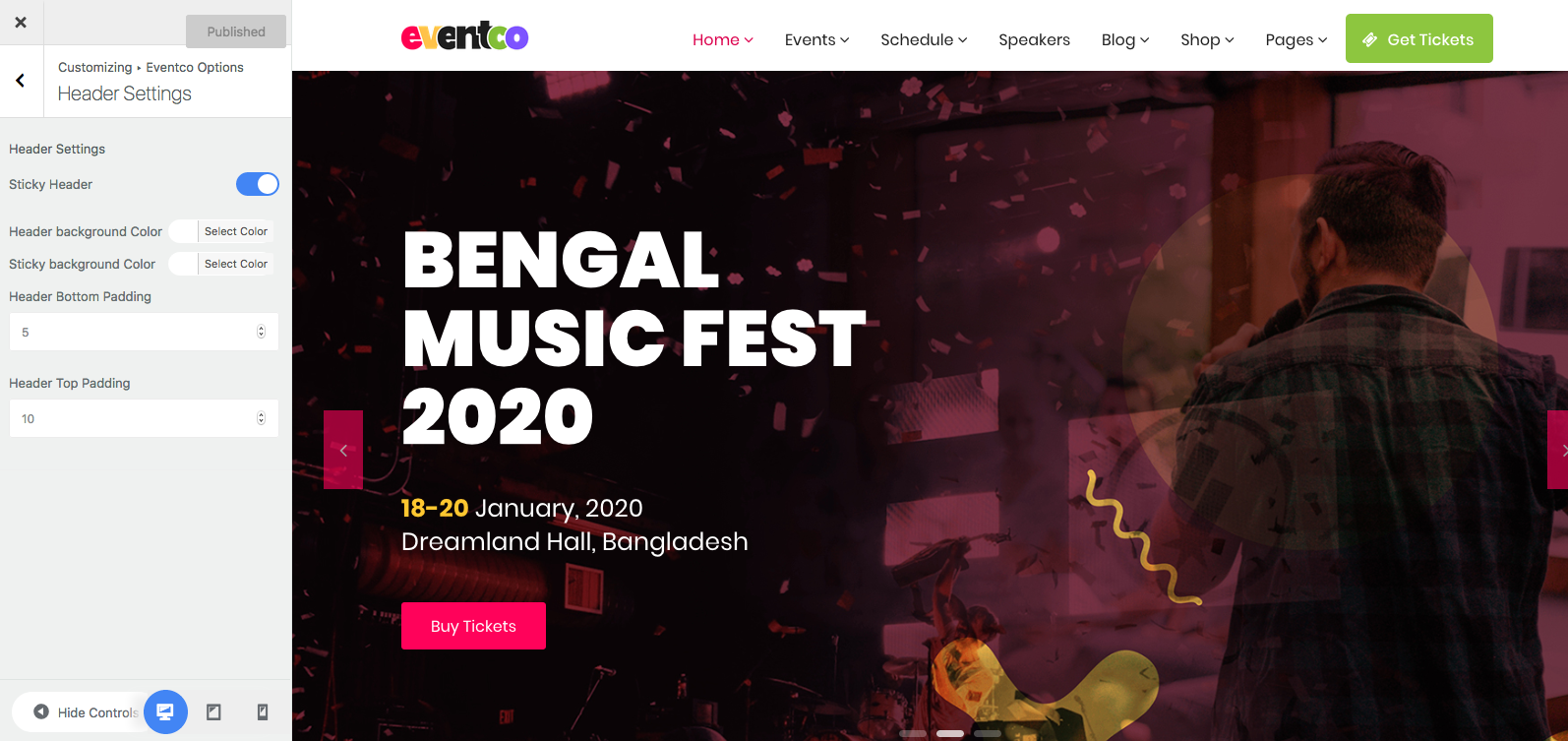 All Logo
This section will let you set everything related to logo. You can set an image logo or text logo. You can even set the width and height for the logo.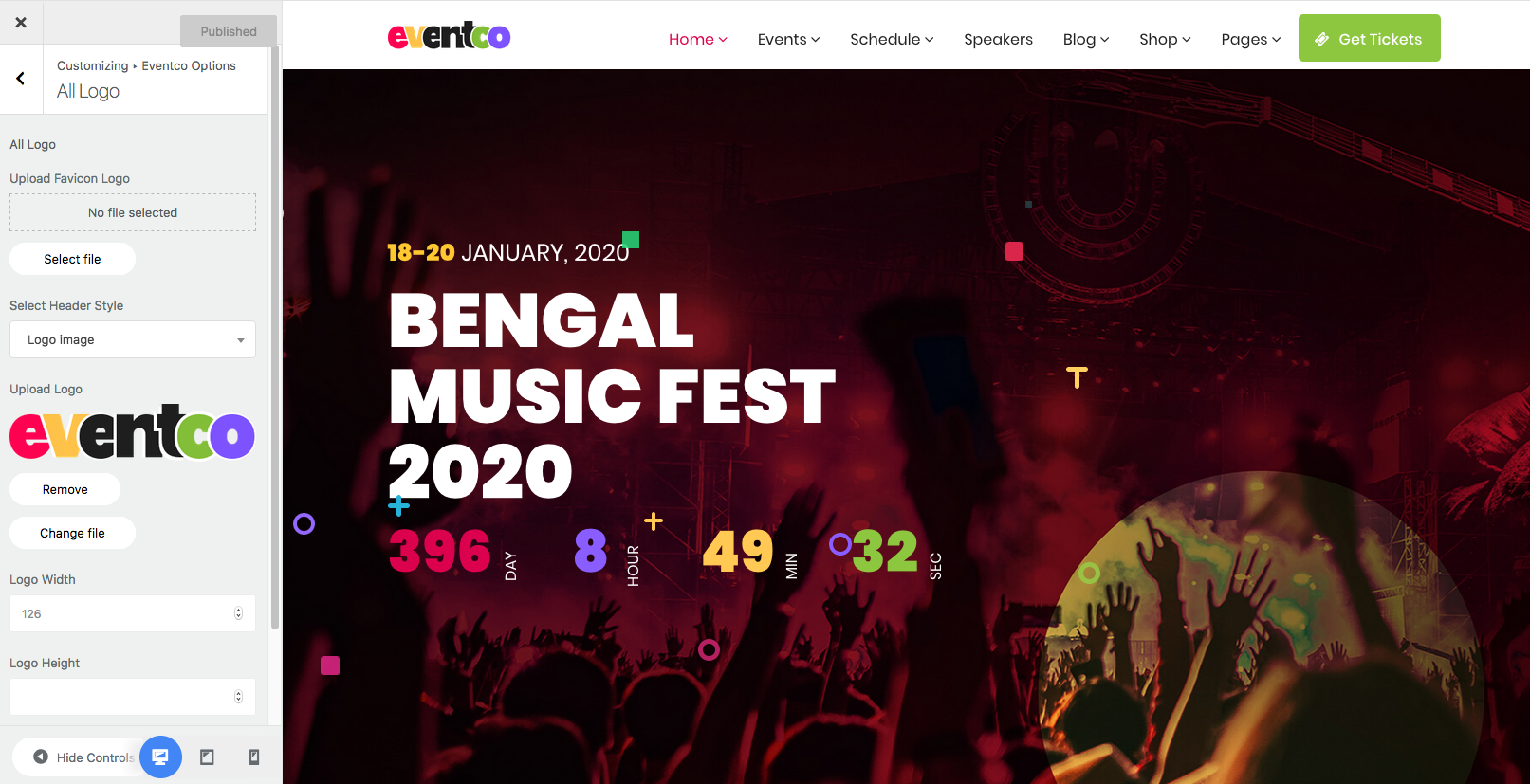 Sub Header Banner
You can set the global sub header settings from this section. To set a different setting for any page, find that page from the backend and make changes to the page settings.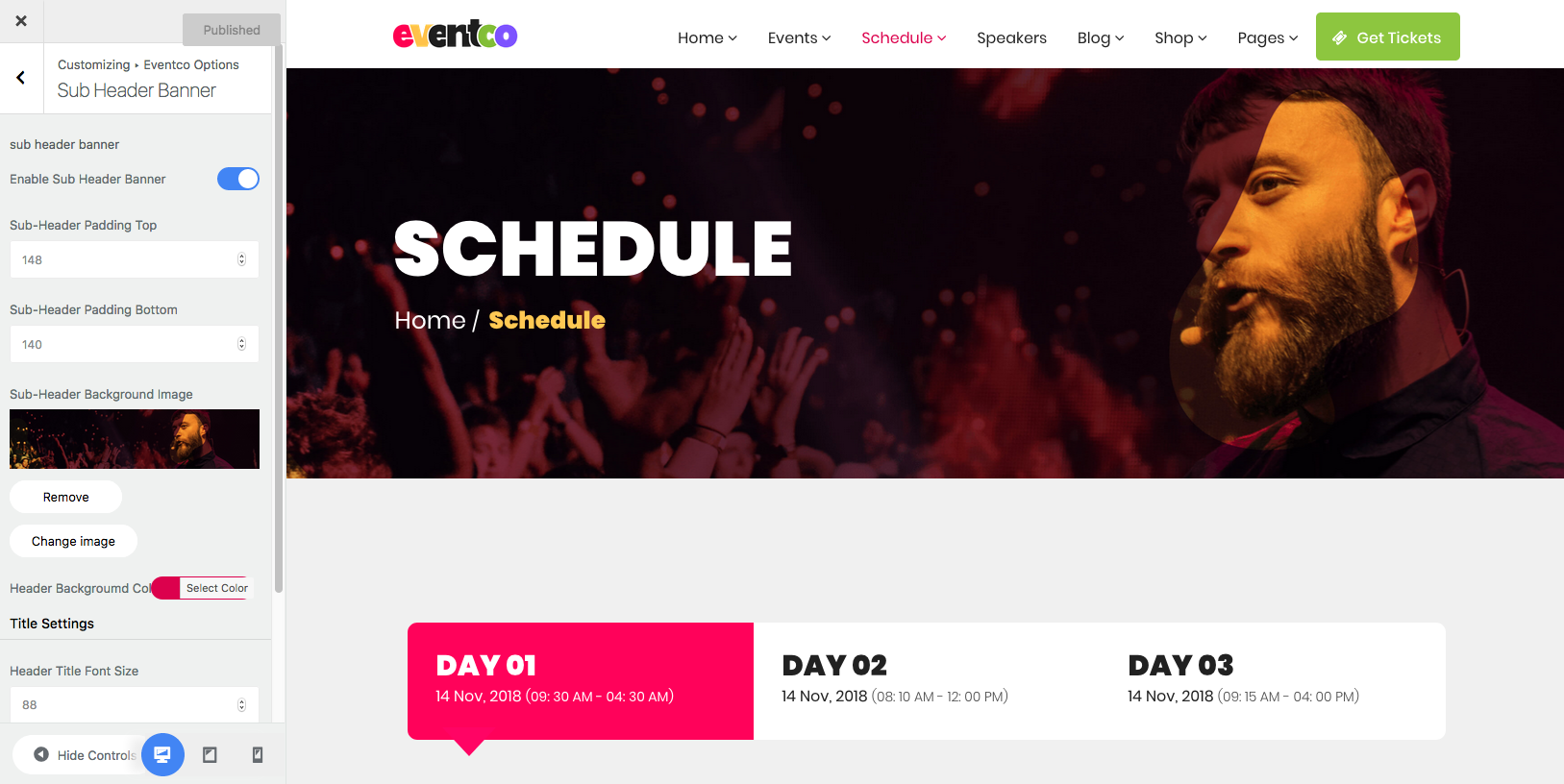 Typography Settings
On this page, you can change your site's font-family, font size, font weight, font color etc. 600+ Google fonts added in this font selection option. Typography settings will let you customize the font options for the body, menu, and heading 1 to heading 5.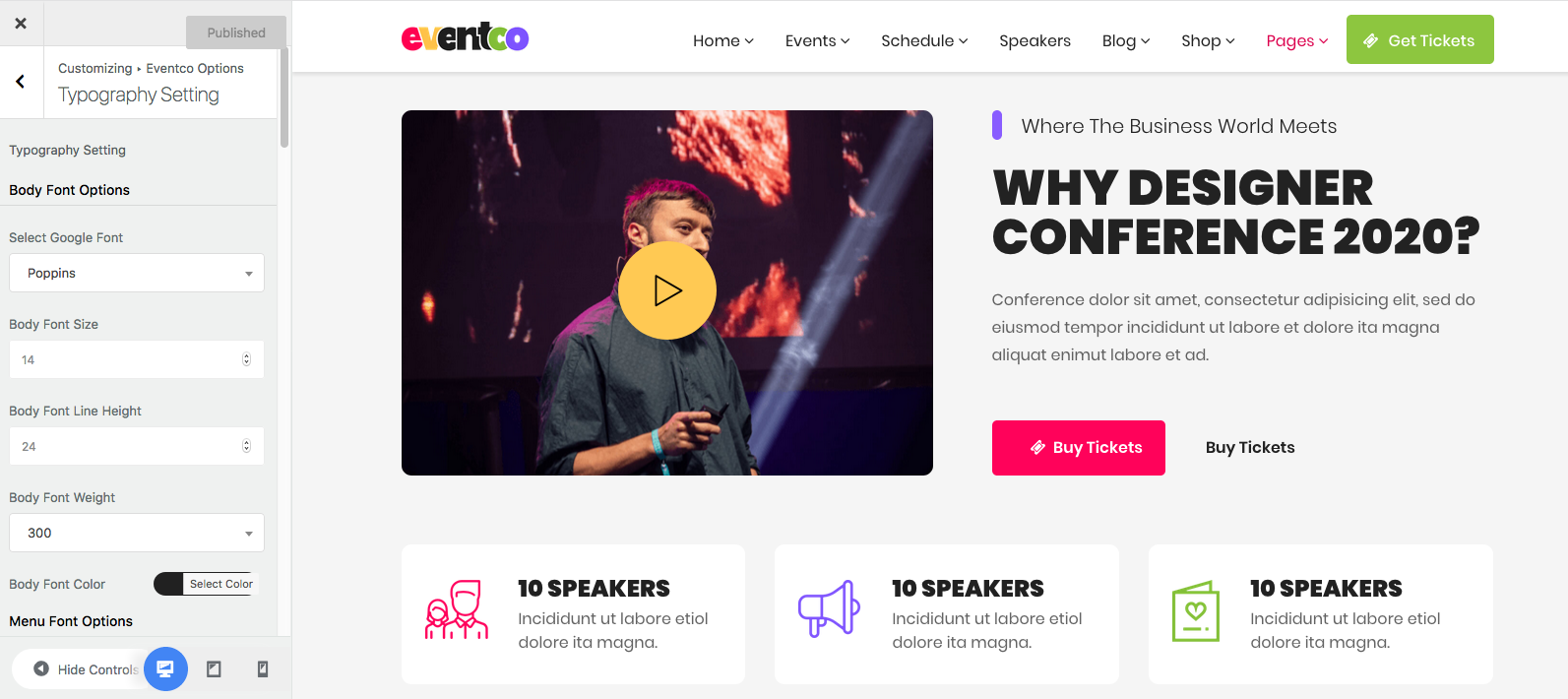 Layout & Styling
These options manage the site layouts, color variations, button color, menu color, sub-menu color, hover color, background color or image etc.
(Note: When you are using WP Mega Menu for customising the Menu you have to use the mega menu settings to change the Menu Appearance. In case you don't want to use WP Mega Menu, you have to change the Menu Appearance from Eventco Options > Layout and Styling: Menu Color Settings & Sub-Menu Color Settings.)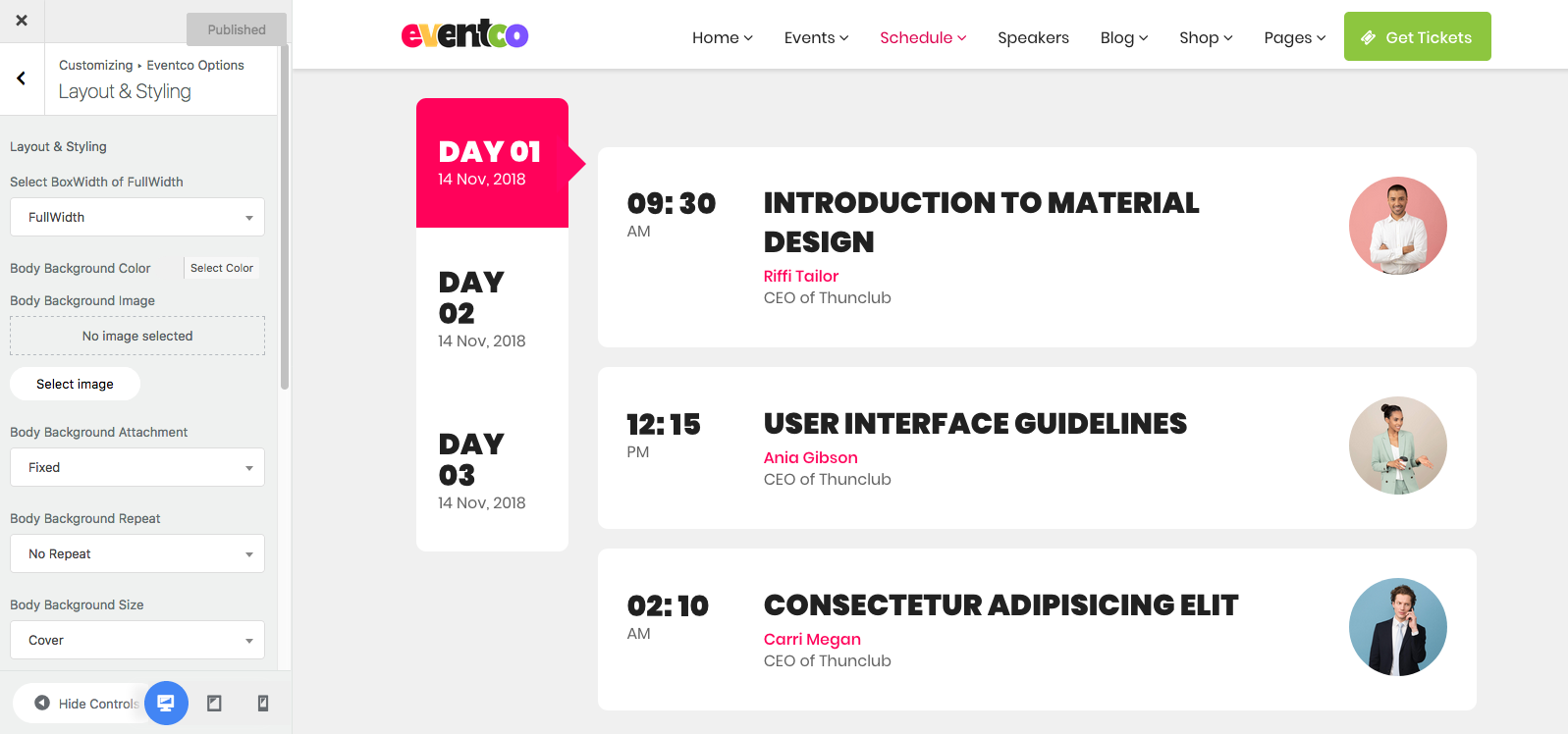 Coming Soon
We've provided a preset coming soon page options. You can set the title, description, social media links to your coming soon page. To use this page, set the date first then publish it.
404 Page
We've provided a preset 404-page option. Create a new page using the 404-page template and then customize it from the Eventco Options page's 404-page section.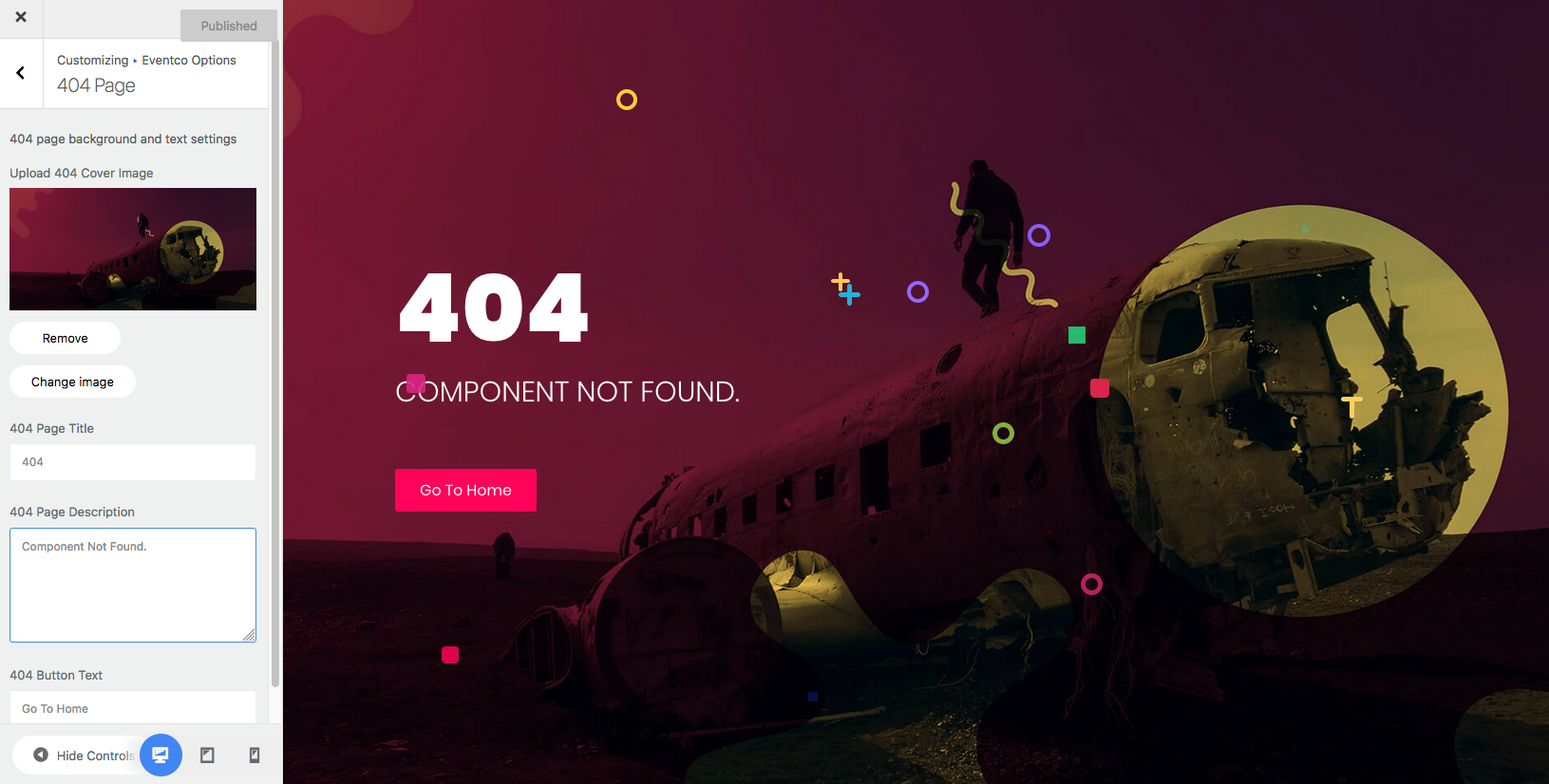 Blog Setting
This section controls the settings of the blog. You can decide if the blog page shows the categories, authors, blog publish date, view count, comments, category, and much more. You can also control how many columns you want to show on the blog page.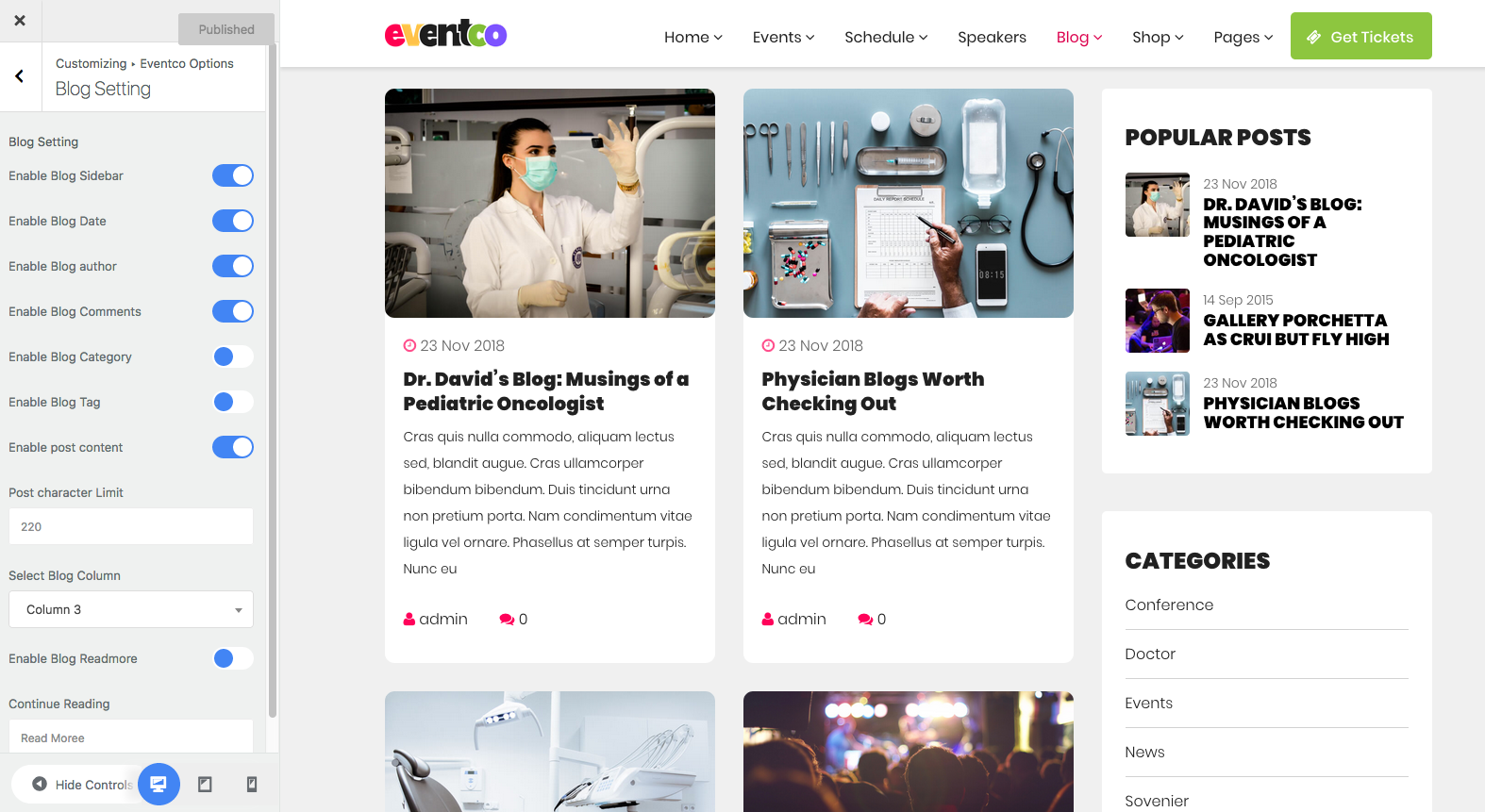 Blog Single Page Setting
You can customize your blog single page from this settings. There's plenty of features to play around. You can control the visibility of sidebar, blog publishing date, view count, comments, and category.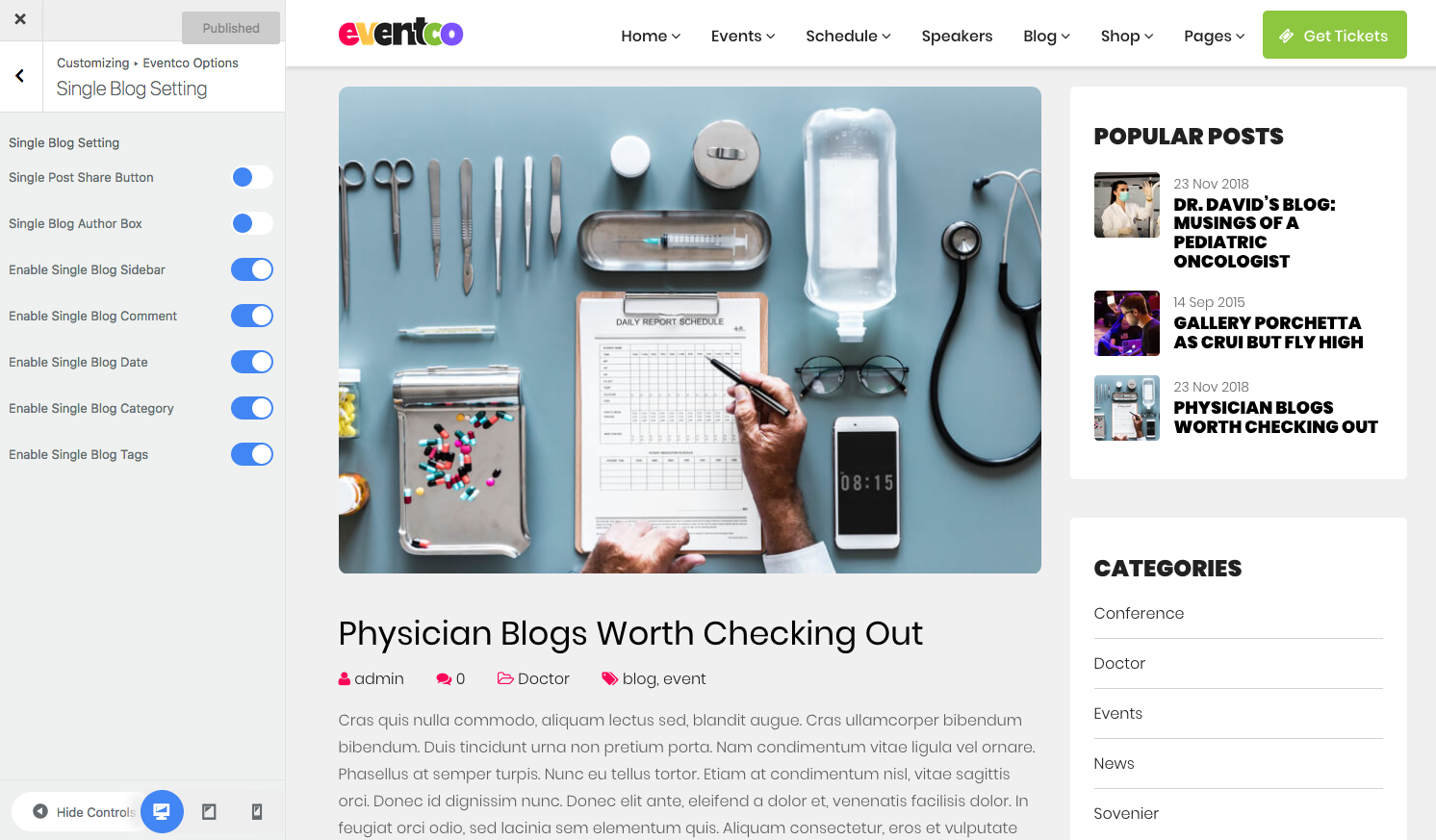 Bottom Setting
Here you can configure the design of the bottom area located before the footer. Choose the number of columns and padding of the bottom area on this page. You can also customize the color of background, text, link, link hover.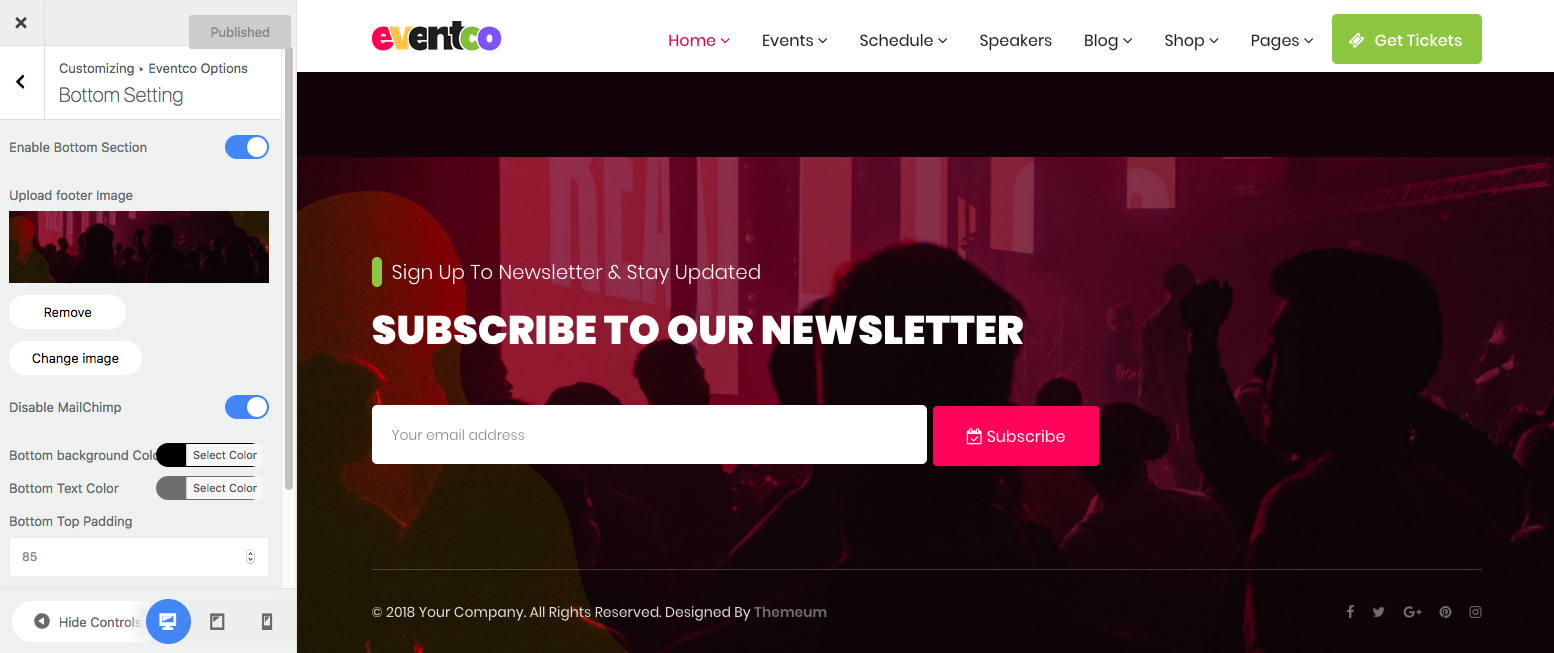 Footer Setting
This section allows you to customize the footer settings and its contents. Adjust these options as you like. Select your preferred color from the color settings.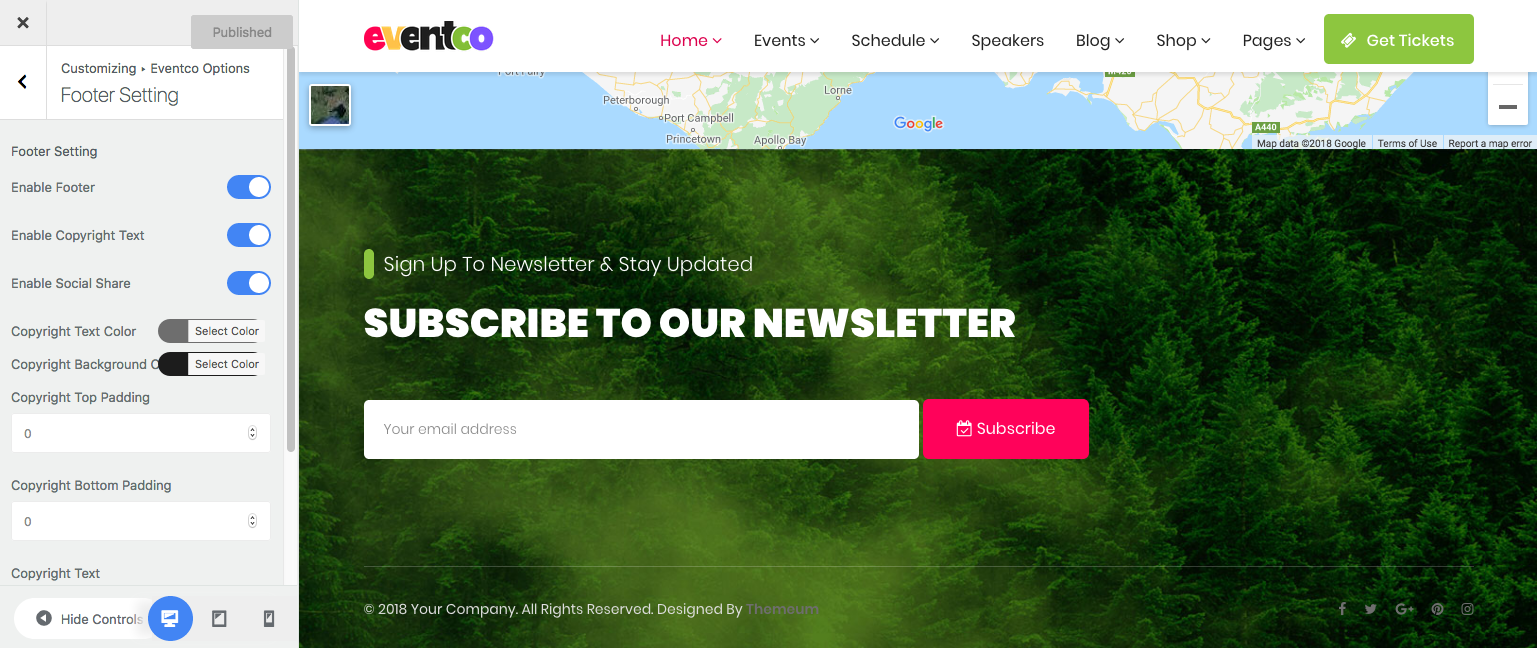 Google Map Setting
In order you use google map, you need a Google Map API key. You can put the API key in this field.